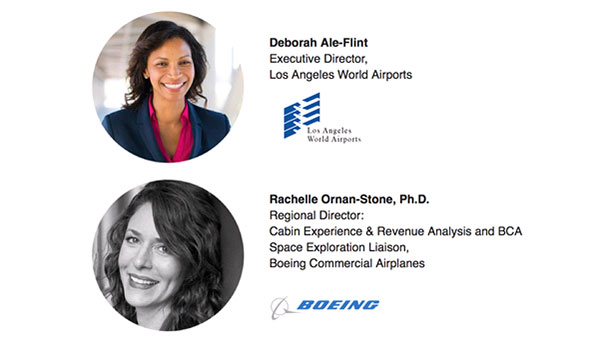 We here at Future Travel Experience are as determined as ever to give a platform to the most progressive industry leaders, which is why we are delighted to announce two more high-profile keynotes for FTE Global 2016. Deborah Ale-Flint, Executive Director, Los Angeles World Airports (LAWA) will deliver a joint opening keynote in the "On the Ground" and new "Terminal Design & Delivery" conferences on the morning of 8th September.
The new LAWA chief, who took up her role last July, is responsible for leadership at Ontario, Van Nuys and Los Angeles International airports, the latter of which is undergoing an $8.5 billion capital transformation programme with guest experience high on the agenda.
Delivering a keynote address in our "Up in the Air" conference will be Rachelle N. Ornan-Stone, Ph.D, Regional Director: Cabin Experience & Revenue Analysis and BCA Space Exploration Liaison, Boeing Commercial Airplanes. Rachelle presented for us fantastically at our first "Up in the Air" conference back in 2013, and since then has broadened her responsibilities to take her experience and design research skills from her work with commercial airplanes into Boeing's Crew Space Transportation (CST) spacecraft project, developed as part of NASA's Commercial Crew Programme. She will share her visions on cabins of the future and how the work on projects both below and above the atmosphere have informed one another.
Deborah and Rachelle join Eash Sundaram, EVP Innovation & CIO, JetBlue Airways & Chair of JetBlue Technology Ventures, as confirmed keynotes for Future Travel Experience Global 2016, which will take place at the Mandalay Bay Resort, Las Vegas from 7-9 September.