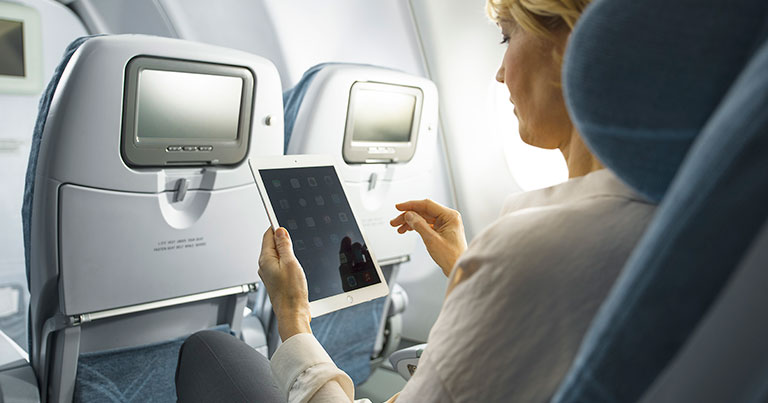 Finnair passengers will be able to enjoy "state-of-the-art" Wi-Fi on the carrier's Airbus A320s from next year, after the airline announced it would be bringing a high-speed connectivity service to the fleet.
The ViaSat connectivity product promises speeds of at least 12Mbps per passenger, which the supplier says makes it the fastest in-flight connection available now in the market. The provider has partnered with Eutelsat to offer the satellite-based connectivity service across Europe.
The installation on the A320s will start in May 2017, with an expected completion date of June 2018. The airline's Wi-Fi service will be available for purchase per hour or for a whole flight, but it will be free for Business Class, Finnair Plus Gold and Platinum passengers.
Finnair announced in July that its long-haul A330s would also be retrofitted with Wi-Fi by May 2017. As the airline already offers connectivity on its A350s, by 2018 the airline will offer over 1,000 route pairs with in-flight connectivity.
Piia Karhu, SVP, Customer Experience Development at Finnair, said: "Our customers increasingly value the possibility of being connected during their flights and this change will also create great opportunities for Finnair to further develop its in-flight portal that will serve customers with news, entertainment and great shopping opportunities on their portable devices. 
"We are very pleased to partner with ViaSat on this project as we will be able to offer our customers the best possible Wi-Fi offering available on the market today, and that has the ability to scale, once the installations are completed."
Don Buchman, Vice President and General Manager, Commercial Mobility at ViaSat, said: "Finnair is a forward-looking airline that is recognised worldwide for customer service. With the ViaSat in-flight Wi-Fi system, enabled across Europe by Eutelsat's service, Finnair can deliver greater value to its customers by giving them the freedom to use their own device to engage with the internet in new ways – from enhanced online shopping to out-of-the-box online entertainment experiences."