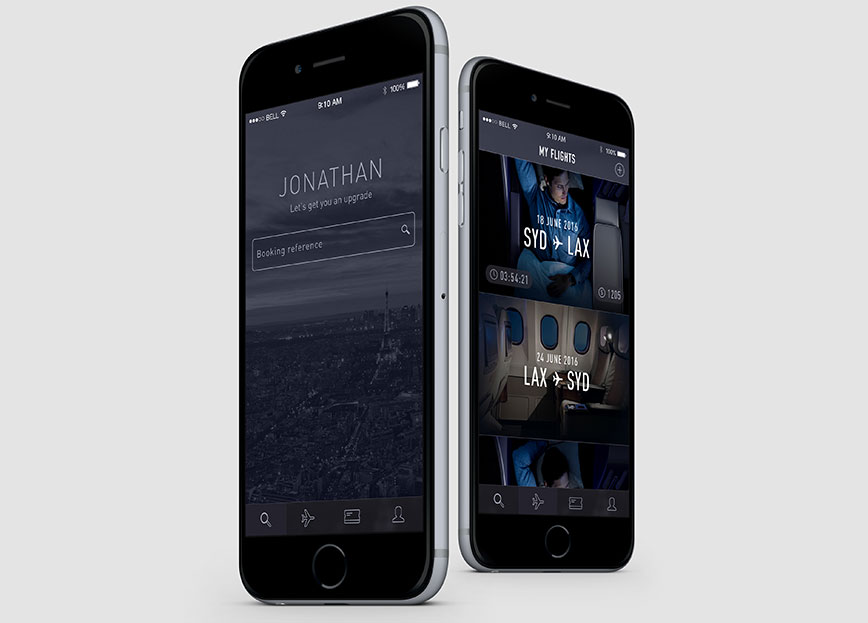 Mobile applications are becoming more and more of an asset for airlines as ancillary revenue sources. Services such as Seateroo, SeatBoost and Seatfrog all offer various solutions for passengers. As more airlines and technology companies tap into this market, it could become very important in providing ancillary sales.
Enhanced in-flight experience
There are several apps already available for passengers who want to upgrade their flight experience. SeatBoost is partnering with Virgin America to offer its upgrade service to passengers, who can bid in auctions and win seats in first or business class. The company's founder and CEO, Kevin Stamler, said the reaction from customers has been "overwhelmingly positive". He continued: "We have hundreds of photos of SeatBoost winners celebrating their upgrade, plus we see a lot of our users turning to social media to thank us and Virgin America for their new seats. I think it has to do with the fact that travelling tends to be stressful, and our auctions are fun and help travellers stay entertained while they are waiting at the gate."
It is not only a positive for the passenger, it is also good for the airline because it can sell seats that would otherwise have been left unoccupied. It also can increase the amount of people talking about the airline online, because passengers can share the 'winning screen' across all social media platforms.
@byLesThomas woo hoo! Glad we could help get you upgraded!

— SeatBoost (@SeatBoost) June 30, 2016
Currently, SeatBoost is working with Virgin America, with more airlines to come, and Stamler said it has had a positive reaction in a business sense too: "Virgin America has been very happy with our performance. They have commented in a few stories recently about our ability to drive a significant number of upgrades to both First Class and Main Cabin Select and continue to open up our service on new routes. Virgin America also cares a lot about their guest experience, so they really appreciate that we make the overall process fun and enjoyable for their guests, while also being sure to prioritise and accommodate the guests in their loyalty programme."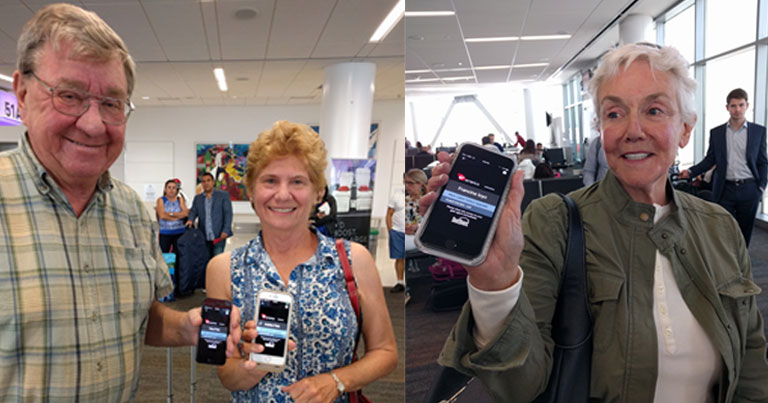 Another application is also on the market: Seateroo, which will be exhibiting at FTE Global 2016 in Las Vegas. This app allows passengers to swap seats with one another, for a fee. The first person's fee is paid to the second person and Seateroo also receives a 15% service charge. The application is available now and although it has been received positively thus far, some airlines are not always willing to be first-movers, according to Seateroo's founder and President, Brad Pursel.
He said: "The reaction among individual users and airlines has been positive. Flights are more crowded than ever and frequent air travellers want more options for obtaining a desired seat. I've had discussions with numerous US and non-US carriers about testing our white label product. On the plus side, each of these discussions have resulted in positive feedback about the potential for our product. On the negative side, most airlines have numerous digital and IT initiatives underway at any given time, which means that there is limited bandwidth to manage a new, unproven product. Some airlines are also not necessarily comfortable with the idea of being the "first" to adopt a new product."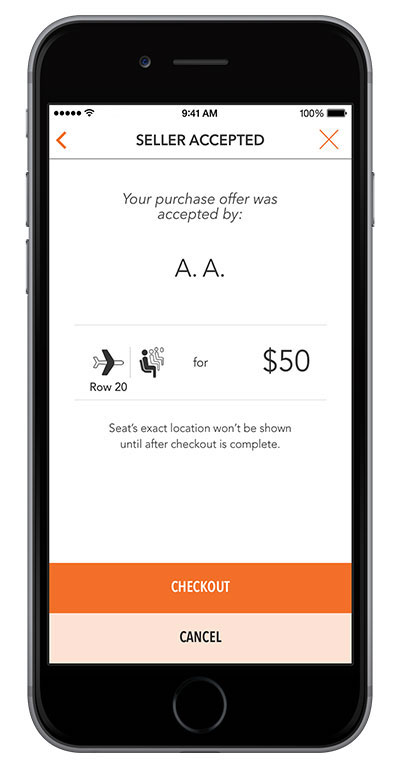 Not only is it a source of revenue for Seateroo, Pursel said airlines will be able to make money from it too: "The plan would be that the airlines would get a significant portion of any revenue stream, such as a service fee, that could be generated through our seat swap platform. In addition, through our platform, we believe that there will be multiple potential revenue streams that could be generated for the airlines."
Another application that is trying to tap into this market is Seatfrog. This app also allows passengers to bid for seat upgrades within a 48-hour window before the flight departure. Although CEO, Iain Griffin, stressed the difference between this service and the other competitors: "Seatfrog is a very different technology and the airlines we talk to see our current and future technology development as a significant step forward for the industry globally. From ticket booking right up to departure, Seatfrog is the most comprehensive automation of the upgrade process in the world and the opportunity for travel providers to drive incremental revenue is exceptional."
He also highlighted how good a solution this app can be for airline ancillary revenue. He said: "For airlines the opportunity is significant, in the realm of 4-5% uplift on total passenger revenue, if not more. But Seatfrog also helps airlines drive long term customer value, it's not only about short term gain for some airlines, and our data science platform helps them find the perfect balance."
Mobile applications as an ancillary revenue source
With the increasing amount of PEDs passengers carry in the terminal and on board the aircraft, a genuine market seems to be opening for using apps as ancillary revenue sources. All of the aforementioned services have become publicly available only in the last two years.
Stamler commented on the current situation of revenue generation from mobile apps: "I think there is a huge amount of opportunity. Currently, the airport experience mostly involves just waiting for your flight or buying retail merchandise in places that are not revenue sources for the airlines. There isn't much interaction with the airline at all, unless a flyer is upset about something. SeatBoost not only is a fun source of entertainment for flyers, but further, we provide a commercial opportunity for the airline that comes with a positive brand interaction. It's a win/win."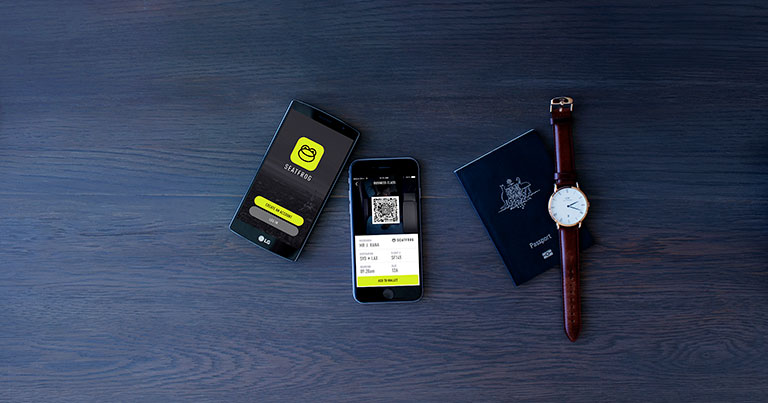 Pursel also agreed there is room for development in this market. He said: "Mobile apps could be a source of more revenue. Although most airlines partially rely upon third party OTAs for bookings, airlines have a financial incentive to push that activity to their own platforms. As a result, airlines can leverage mobile apps to provide air travellers with the tools to enhance their travel experience before, during and after their flight. Airlines that do this well can improve passenger loyalty and maximise per passenger revenues."
Griffin went further when discussing how apps could be central to long-term airline ancillary revenue strategies. He said: "Mobile is not a new thing or a big thing, but the most important strategy. Devices are taking over our daily tasks and almost everything will evolve around it.
"The mobile ecosystem is charging towards 10 times the scale of PCs and it has spearheaded a dramatic shift in global passenger behaviour, with over 83% of users utilising it as their primary travel tool. This provides airlines with a huge real time opportunity to interact with their customers, deliver an outstanding passenger experience and drive revenue like never before."
It is clear that mobile apps are becoming more important for generating revenue for airlines, as passengers become ever more reliant on their devices whilst travelling. Services such as Seateroo, SeatBoost and Seatfrog are beneficial to both parties and with the current trends, look set to become more popular and more successful in the future.