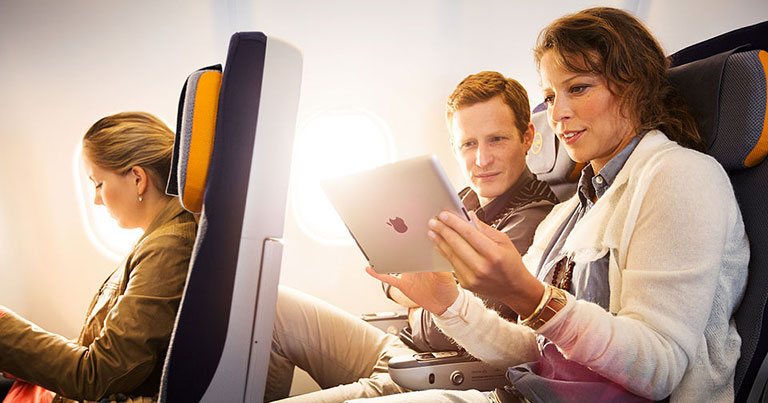 Lufthansa Group has announced that Inmarsat's Ka-band in-flight connectivity service will initially be launched on 10 Airbus A320 family aircraft. The service will enable Lufthansa and Austrian Airlines passengers to access high-speed internet on short- and medium-haul services.
During the next stage of testing, passengers flying on the 10 equipped aircraft will be offered free internet access. Lufthansa Group will then analyse the user behaviour ahead of the full launch.
Before the end of Q1, the number of Lufthansa aircraft fitted out with the connectivity service will rise to around 20. The full Lufthansa A320 fleet will be equipped by mid-2018. Meanwhile, all 31 Austrian Airlines aircraft will be equipped with the 'GX for Aviation' connectivity service by the end of April 2017, while the service will be introduced across the Eurowings fleet in the coming months.
Following the free trial, a three-tier pricing model will be introduced for Lufthansa passengers: FlyNet Message for €3, FlyNet Surf for €7 and FlyNet Stream for €12 per flight. FlyNet Message will allow the use of messaging services such as email, WhatsApp or iMessage; FlyNet Surf will also enable passengers to surf the internet; and the FlyNet Stream service package will also support streaming.
Harry Hohmeister, member of the Board of Directors of Deutsche Lufthansa AG, said: "I am pleased that we can soon offer broadband internet to our passengers on inner-European flights, giving them the chance to have a seamless digital experience. Since the launch of Lufthansa Flynet, it has been our goal to offer added value on board to our customers through innovation – and that also includes our internet provision."