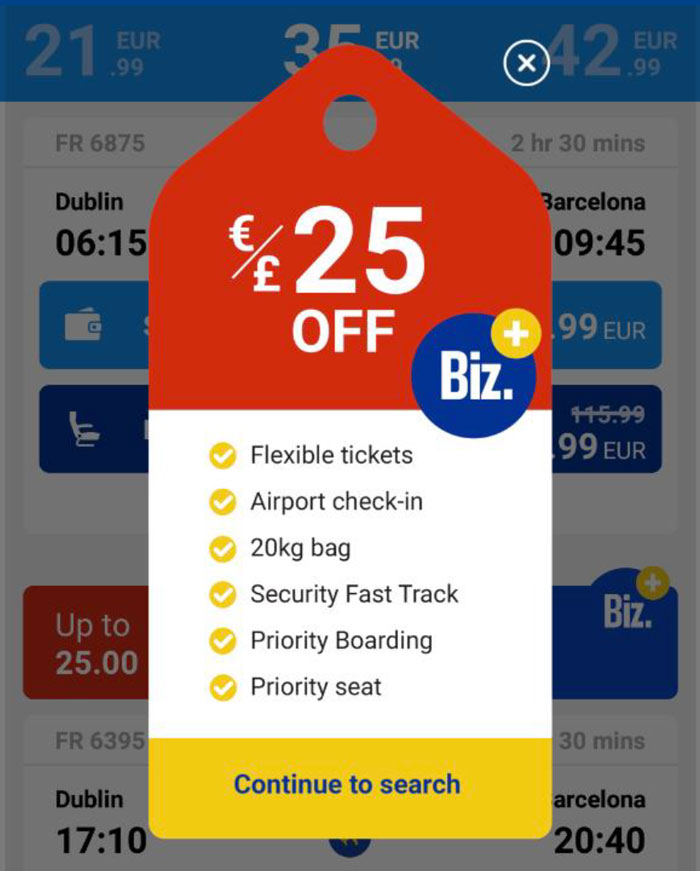 A new report has identified the most effective methods of using mobile technology to enhance airline ancillary revenue.
IdeaWorksCompany researched the in-path booking capabilities of the mobile applications offered by the world's largest 25 airlines. The varied list includes full service and low-cost carriers, and the report highlights some key ancillary-related observations:
Mobile apps are become adroit à la carte retailers. In particular, the apps offered by AirAsia, Delta, IndiGo, Ryanair and United offer five or more à la carte options in their booking paths.
Ryanair, which is the Headline Partner of the Future Travel Experience Ancillary event, provides an exceptional example of seat assignment done right, with ever-present icons to describe seats, colour coding to indicate prices, and in-path alerts for discounted pricing.
Baggage poses a challenge for mobile e-commerce and is too often "treated as an afterthought by airlines". However, the Air France mobile app is an exception and provides a customer friendly and retail savvy collection of screens for pre-paid baggage that provide three layers of easy-to-understand information.
"Book now, pay later" motivates impulse buying. Five airlines – Air France, American Airlines, Emirates, Lufthansa and United – were found to include this feature in their mobile apps.
Airlines are starting to understand the benefits of selling more than assigned seats and bags via their apps, and IndiGo provides a good example. After selecting insurance, assigned seats and pre-paid bags, the customer is invited to add "extras", such as lounge access, priority services and in-flight meals.
The report also makes a special mention of Ryanair: "Ryanair, and its Ryanair Labs group, have obviously been very busy. Its mobile application was the most advanced of those reviewed for this report," it states.
You can learn more about Ryanair's future ancillary plans at Future Travel Experience Ancillary (26-27 June, Dublin), where the airline's CEO, Michael O'Leary, will deliver a keynote address entitled: 'The future of travel and ancillary according to Ryanair'.