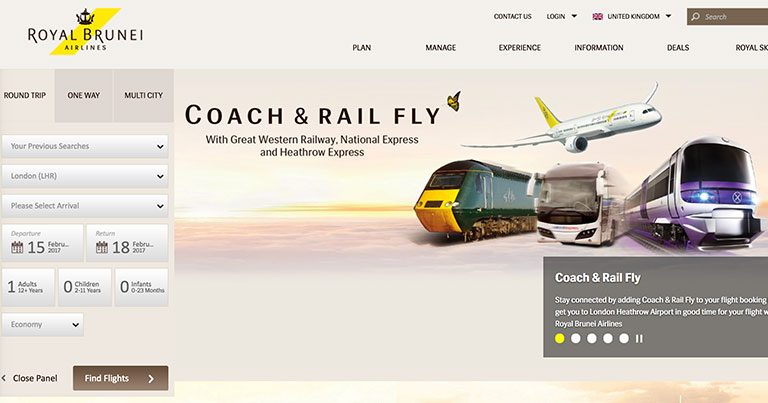 Royal Brunei Airlines has launched a new 'Fly-Rail-Coach' product, which is designed to simplify the end-to-end travel experience for passengers arriving in, or departing from London.
Through a partnership with National Express, Great Western Railway and Heathrow Express, Royal Brunei's Fly-Rail-Coach will enable passengers and agents to book travel to and from the airport, as well as their flights, in one seamless booking.
The product is available for passengers to book with travel agents using a GDS reservation system and with Royal Brunei Airlines directly. The system sources the most suitable itinerary based on flight departure times, and prices the journeys automatically.
Adiel Mambara, the airline's UK Country Manager, commented: "Royal Brunei Airlines operates daily flights from London Heathrow, so we know that passengers' journeys start long before they arrive at the airport. Heathrow is a major hub for the whole country and consumers have often travelled for hours before boarding their flight. Fly-Rail-Coach will help streamline this process and take the stress out of making bookings with several travel operators.
"Agents are also a hugely important part of our operations, so this new product will make their lives easier, as well as strengthening our position in the market."