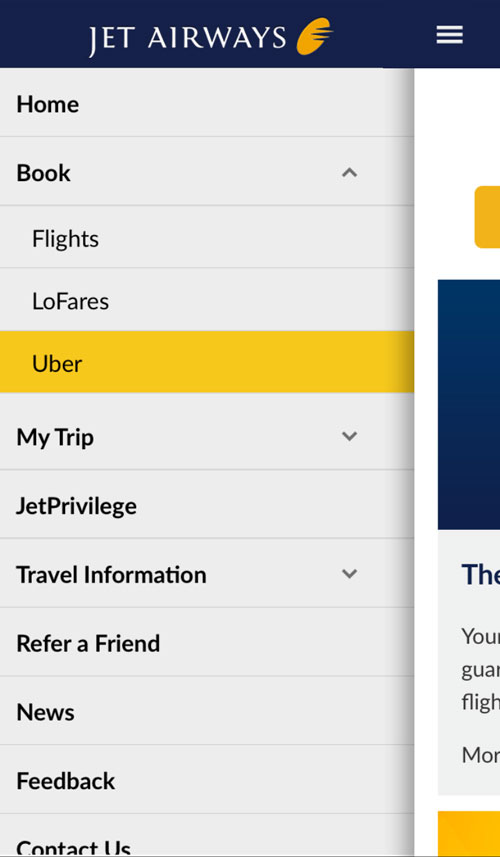 Jet Airways has partnered with ride hailing app Uber to offer passengers the option of booking an Uber via the airline's app.
The Uber booking feature, which can be found in the app's navigation menu, will be of use to Jet Airways' customers in the 29 cities where Uber currently operates in India.
Jayaraj Shanmugam, Chief Commercial Officer, Jet Airways, explained: "Our partnership with Uber for a comfortable and seamless travel experience between their homes or offices and the airport, reflects our ambition to leverage technology to enhance our guest experience.
"More importantly, it is also a meeting of minds, where two leading, technology savvy and innovation-driven organisations have joined hands with an objective to create and promote new and fulfilling travel experiences for their guests in the long term. The association is especially meaningful since both Jet Airways and Uber have substantially similar guest profiles and needs, which will facilitate greater collaboration."
Madhu Kannan, Chief Business Officer, Uber India & Emerging Markets, added: "We are excited to partner with Jet Airways to make travelling in India even more seamless. Through this partnership, Jet Airways' guests across 29 cities will be able to request their Uber when they book their flight.
"That removes any last-minute hassles when heading to the airport and makes for a smooth arrival in your destination city. Uber is all about making travel easy and convenient, and this partnership exemplifies that."