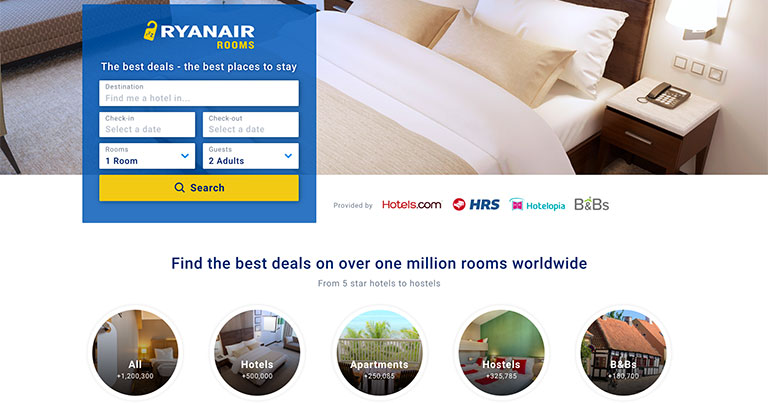 Ryanair's full-year results for the period up until 31 March 2017 show a +13% increase in ancillary revenue to €1.8 billion. This accounts for 27% of the low-cost carrier's total revenues.
The results have prompted Ryanair to raise its medium term guidance for ancillary sales to 30% of total revenues by March 2020.
"Continuing improvements in our website and mobile technology has boosted ancillary revenue, by making it easier for customers to choose travel related services including our "Plus" products, reserved seating, priority boarding, security fast track, etc," the airline states in its full-year results. "Our car hire conversion rates are rising, and we are working hard to boost the sale of "Rooms" and "Holidays" where we are delivering low cost travel solutions for our customers."
The Ryanair app has now been downloaded more than 20.5 million times, and membership of "MyRyanair" grew to 20 million by year-end. Ryanair says it expects this number to rise to 30 million in full-year 2018.
Other key points from the full year report include a +6% increase in full year net profit to €1.316 billion and a +13% rise in traffic to 120 million passengers.
'Amazon of Travel'
Ryanair – the Headline Partner of the Future Travel Experience Ancillary event, which will take place in Dublin on 26-27 June 2017 – has also revealed some of the key areas of focus for Year 4 of its Always Getting Better (AGB) programme.
The report states: "We recently announced Year 4 of AGB which will deliver connecting flights (initially on Ryanair flights, then later with other partners) and last week began selling long haul flights from Madrid with Air Europa.
"We will roll-out Ryanair Holidays to all markets, and continue to build our "Amazon of Travel" platform through better search tools, travel guides, express booking, auto check-in, and onward transport partnerships."