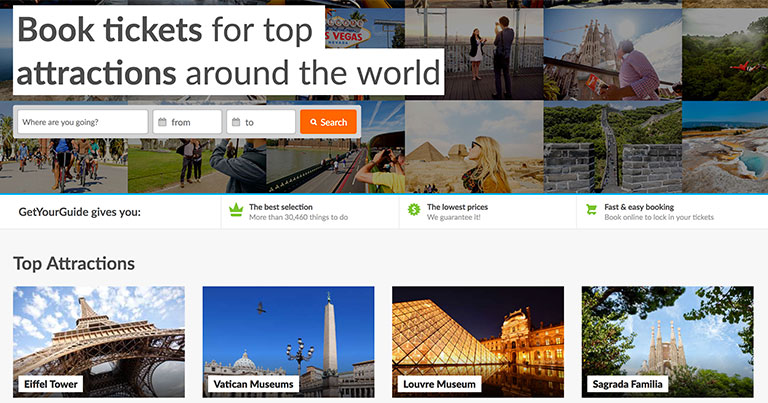 easyJet has partnered with GetYourGuide to offer its customers access to thousands of tours and activities, and create a new and potentially significant ancillary revenue stream.
Travellers flying to Rome, for instance, can book walking tours of the city and queue jump access to the Colloseum, while Dublin-bound travellers can book priority tickets to the Guinness Storehouse, a full-day tour of the Cliffs of Moher, and a 72-hour hop-on hop-off bus tour ticket, for example.
The activities can be booked via a dedicated website and the carrier's mobile app. Travellers will have the option of booking tours and activities either immediately after booking flights or at a later date. The website also offers access to activities in cities not served by easyJet, such as Las Vegas and Dubai. Presumably, the LCC will receive a cut of the revenues from each sale. All of the destinations and activities can be found on activities.easyjet.com.
Most of the tickets are paperless, so customers receive a QR code after purchasing their activities, which are covered by a best price guarantee. The tours and activities are completely integrated with the easyJet app, and customers will receive push notifications reminding them about their booking as the date approaches.
Andrew Middleton, Head of Ancillary Revenue for easyJet, said: "We are excited to bring together easyJet's low fares and award-winning digital platforms with GetYourGuide's comprehensive range of activities to help our customers get the most out of exploring Europe."
Tao Tao COO of GetYourGuide, added: "Travel tours and activities are one of the main reasons people book flights, which is why it makes so much sense for GetYourGuide and easyJet to become travel partners. By joining forces, we now provide easyJet travellers with an easy way to book amazing experiences both before they go or when they are in their destination. GetYourGuide looks forward to innovating with easyJet to provide their customers with the best travel experiences."