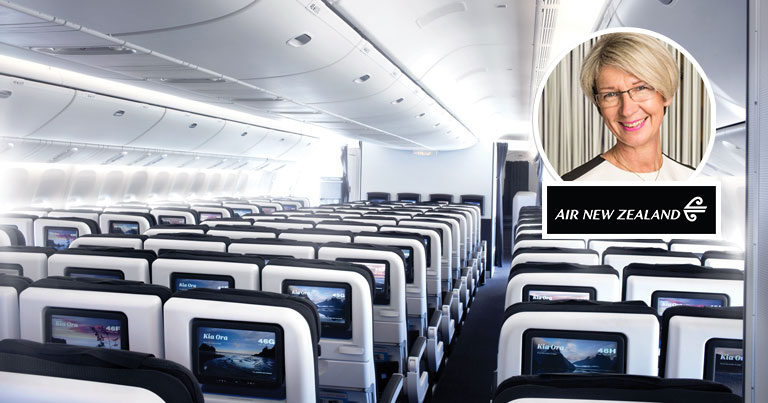 It is becoming more and more evident that airlines must embrace technological innovations and digital channels to better communicate with their customers, and also to increase their onboard ancillary revenues.
One airline that is clearly committed to boosting its ancillary revenues, while taking advantage of the opportunities provided by digital developments, is Air New Zealand.
In an interview with FTE, Dianne Parry-Ernst, Manager Direct Ancillary Revenue, Commercial, Air New Zealand, outlines the airline's proactive attempts to integrate the digital world into its ancillary and passenger communication strategy. "We have been examining the customer journey to identify stages where ancillary products have a limited presence and strengthening the retailing approach at these key points in order to increase customer awareness and offer customers the right product at the right time, via their preferred platform," says Parry-Ernst.
For instance, in February the airline launched its own artificial intelligence-powered chatbot, Bravo Oscar Tango – Oscar for short – to improve customer communication. "We are also reviewing our customer communications, including content or help-based communications such as Oscar our bot, and when appropriate providing a path to purchase ancillaries," Parry-Ernst adds.
Connectivity, pricing, distribution platforms and personalisation
While more traditional onboard sales channels hold little growth potential, Air New Zealand truly realises the benefits of a more digital approach. Ernst explains: "Connectivity, pricing and distribution platforms, along with personalisation, will be key to optimising in-flight ancillary sales. Digital developments enable customers to take advantage of the on-demand economy. Uber has a host of products developed to cater to this increasing societal trend.
"The on-demand customer segment is growing and these customers are increasingly making travel choices closer to departure as the digital ecosystem enables them to do so. Onboard last minute, personalised ancillary sales meet this growing customer need and in-flight Wi-Fi provides connectivity to the airline's pricing and distribution systems, enabling real-time sales and fulfilment of in-flight ancillary."
With Wi-Fi being available onboard, this opens more opportunities for airlines to offer targeted content and products to passengers. Indeed, some airlines have even expressed a desire to become the "Amazon of air travel", by creating a platform for passengers to book not only flights, but also hotels, onward travel tickets, destination experiences and more relevant services.
Ernst highlights three key components when speaking about what shapes a successful "Amazon of air travel" experience: "Customer awareness and the airline's positioning in the market, the airline's ability to personalise the booking process and access to capital, partnerships and the organisational structure, and capability required to launch and sustain such initiatives." She adds: "A few airlines have strong regional travel ecosystems and are accomplished travel retailers, however in the case of an "Amazon of travel", consideration should be given to the global marketplace where the principal competition is likely to be the likes of Google, Facebook, and Uber, which are already taking action as they know they have a competitive advantage with customer reach, data and trust."
Naturally, platforms such as Airbnb and Google can be seen as potential competition to the airline industry. However, Ernst believes that "given Airbnb and Google's global reach, existing customer data, customer trust, and capability to innovate and transform, smart partnership strategies where each party brings benefits to the table are likely to create the most successful, customer-focused outcomes".
Air New Zealand, indeed, offers customers a travel experience beyond flight and in-flight ancillaries, which includes a mix of accommodation, ground transport and destination experiences.