By Raymond Kollau, founder, AirlineTrends
As ancillary revenues are on the agenda of every airline, much has been written and said about the grand vision of carriers as omni-channel retailers, in which the in-flight part is just another touchpoint in an end-to-end, personalised, seamless, digital travel ecosystem.
However, as airlines are only just embarking on this merchandising journey, we take a look at the current state of in-flight retail, which sees the opening up of a cabin environment that was previously 'closed' because of proprietary IFE platforms and a lack of Internet connectivity.
From in-flight entertainment to in-flight engagement platforms

Android-based in-seat IFE platforms, wireless IFE, Internet connectivity, plus the large number of passengers – and increasingly cabin crew – that carry a digital device, provide airlines with much more control over how to move beyond providing just entertainment and to embrace new opportunities to generate ancillary revenues in-flight.
Jeffrey Standerski, Senior Vice President, Information Management Services at Rockwell Collins, summarises this evolution nicely: "Passengers' expectations have evolved from a passive 'Please entertain me' to a proactive 'I want to entertain myself'. Our industry needs a new term to describe a holistic experience that is equal in every way to how people leverage their devices on terra firma. The future of the passenger/cabin interaction is beyond one of mere entertainment and can be more accurately described as one of deep and ongoing engagement: In-flight Passenger Engagement."
A similar vision is described by Thales CFO Fred Schreiner: "We are going to go into a period where it's about engagement. How do we move from an in-seat system, where an airline is looking at cost line, to an in-seat solution coupled with connectivity that moves to a revenue line?" Schreiner said families will be able to plan their holidays from the seatback: booking restaurants and exploring street level views of a city's sights.
Eventually this means that this new 'in-flight engagement platform' – be it seatback systems, in-flight wireless portals or mobile apps – will become another touchpoint in the airline travel ecosystem.
In-flight commerce
And with the proliferation of e-commerce, passengers have come to expect self-service and an on-demand environment up in the air. Besides allowing passengers to order food and beverages from their seat, this means that rather than making money from selling Wi-Fi connectivity, airlines should be turning to third-party merchants with last-minute inventory – such as hotels, restaurants, duty free retailers, transportation companies, sellers of event tickets – to develop a retail environment as part of their in-flight Internet portals.
Finnair 'Nordic Sky'
Finnair, for example, has put its new 'Nordic Sky' in-flight portal to work as a channel to offer new services to flyers, as well as boost ancillary sales. The portal can be accessed on passengers' own devices and gives all passengers free access to finnair.com, plus Finnair services such as destination information, customer care and pre-order duty free shopping – with items purchased being delivered to the passenger's seat on their return flight.
Passengers can also use the in-flight portal to order taxis via Cabforce on inbound Helsinki flights, or book destination services such as trips, dinner cruises and concert tickets with Viator Destination Services. The airline is also considering allowing passengers to pre-order their groceries in-flight.
Lufthansa x Frankfurt Airport – in-flight shopping
An early example of collaborative retail comes from Lufthansa and Frankfurt Airport. Passengers on inbound long-haul Lufthansa flights can pre-order a selection of duty free from retailers at the airport via the Lufthansa in-flight portal and have their orders delivered to them by the airport's 'runners' at their arrival gate.
LEVEL 'Pair & Pay'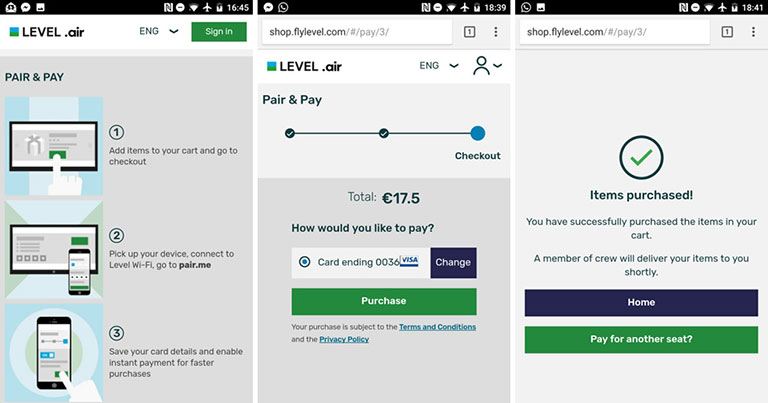 With regard to the on-demand trend, IAG's new long-haul low-cost carrier LEVEL is one of several long-haul LCCs, including Norwegian and Azul, to allow passengers to order food, beverages and travel accessories via the in-seat IFE system and pay with their credit card via a solution called "Pair & Pay".
LoyaltyLobby describes the Pair & Pay system as follows: "After selecting the items on the screen, you got the choice to pair the screen purchase with your Wi-Fi connected device and to pay using the card info stored on your profile. The buying experience is seamless and so easy. Those not willing to open an account could order their items and pay a flight attendant using their card."
Meanwhile in China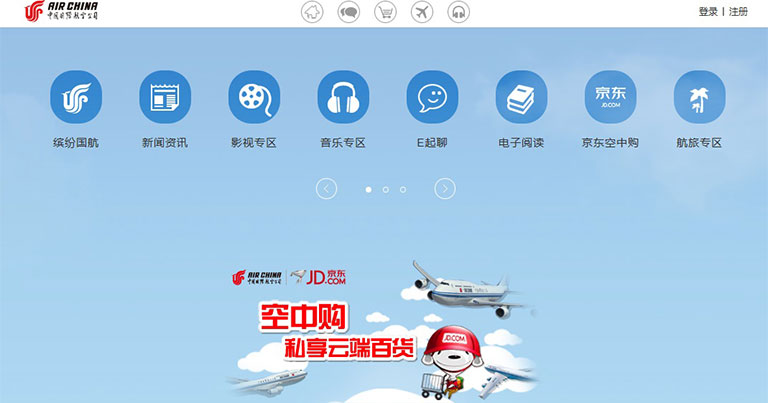 In China, airlines are more opportunistic in their efforts to monetise in-flight digital platforms. Air China has partnered with online retailer JD.com to offer passengers a selection of goods that they can purchase via the in-seat IFE system for delivery to their homes. Meanwhile, Spring Airlines is working on an in-flight portal that allows for online shopping on international flights.
China Eastern's 'In-flight Mall' onboard it's Boeing 777-300s enables passengers to order meals, pay for upgrades, and purchase duty free items through the seatback screen, personal devices or tablets that are provided by the crew. The sidewall of one of the galleys also features a duty free showcase, which displays a selection of the duty free items available for purchase onboard.
Reinventing onboard retail
As IFE systems are evolving into digital platforms, airlines have the opportunity to reinvent in-flight service and retail. Or as trendwatcher James Woudhuyzen puts it in a straightforward way: "Sell things people actually want to buy, so when the flight attendant announces 'Duty Free Goods', it isn't in a tone that shows she fully expects zero sales."
At the co-located FTE Europe & FTE Ancillary (Dublin, 26-27 June 2017) AirlineTrends founder Raymond Kollau will chair a session on "The future of onboard service and in-flight merchandising in the connected era", as well as facilitate the hands-on "PAXEX360 Workshop" in which participants will co-create innovative ideas and concepts around how airlines can generate ancillary revenues in-flight.