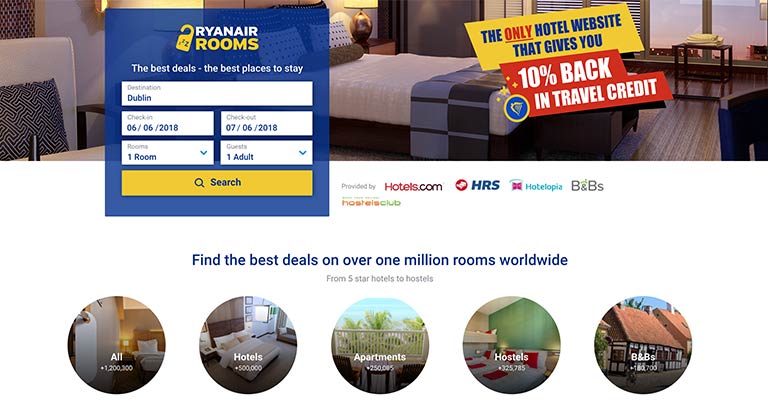 Ryanair has launched Ryanair Travel Credit, a new incentive that gives customers who book accommodation through Ryanair Rooms 10% back in credit to spend on flights. Anyone with a "MyRyanair" account can take advantage of the deal.
If, for instance, you book accommodation in Barcelona for €400, you will receive a €40 credit in your "MyRyanair" account to spend on flights.
Ryanair recently launched an upgrade to the Ryanair Rooms website, as part of its on-going efforts to become the "Amazon of Travel". Through Ryanair Rooms it now offers a wider choice of hotel, hostel, B&B, holiday villa and homestay options. The new website features an improved dynamic search function and simplified booking experience, enabling customers to choose from over 1.2 million rooms worldwide.
Kenny Jacobs, Ryanair's Chief Marketing Officer, said: "This new initiative (Ryanair Travel Credit) is a huge benefit to our customers who will see the same hotels and accommodation in Ryanair Rooms as they will in other popular booking sites, but with the major difference being the 10% 'money back' they will receive to spend directly on flights when they book."
Ryanair is also pressing ahead with its "Always Getting Better" programme. Other recent projects include the development of a more personalised Ryanair.com website, a dedicated Chinese Ryanair website, Ryanair Tickets for concerts and events, Apple Pay integration, and long-haul Air Europa ticket sales on the Ryanair website.