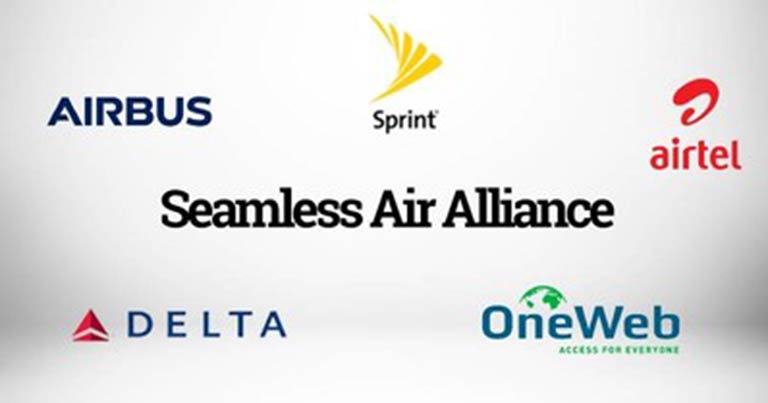 Airbus, Delta Air Lines, OneWeb, Sprint, and Bharti Airtel have announced the formation of the Seamless Air Alliance, which the five parties claim "will usher in a new era of innovation for airlines on all routes".
The alliance says it will empower member mobile operators to extend their services into airline cabins and allow them to continuously provide their customers – via satellite technology – with the same high speed, low latency connectivity from ground, to air and back again. It also hopes to significantly reduce costs for everyone involved.
The Seamless Air Alliance, which plans to attract additional industry operators beyond the five initial members, has ambitions to eliminate the high costs and hurdles commonly associated with acquisition, installation, and operation of data access infrastructure by streamlining system integration and certification, providing open specifications for interoperability, increasing accessibility for passengers, and enabling simple and integrated billing.
Greg Wyler, Founder and Executive Chairman of OneWeb, said: "What if the best internet you ever experienced was in the air? Keeping this goal in mind, together, we will enable an affordable and frictionless experience for passengers everywhere. With the launch of our first production satellites set for later this year, we're one step closer to bridging the global digital divide on land and in the air."
Marc Fontaine, Airbus' Digital Transformation Officer, added: "Easy-to-use, high-speed connectivity is part of the next revolution in aerospace. We're excited to create this seamless experience for our airline customers and their passengers. As we showed with our Skywise aviation data platform, Airbus is committed to innovation that creates value across the aviation industry."
Gil West, SEVP & Chief Operating Officer, Delta Air Lines, which is so far the only airline member of the Seamless Air Alliance, said that the carrier appreciates the fact that passengers now expect reliable connectivity throughout their journey and hopes the Alliance can help to improve the overall customer experience. He also stated that Gogo, a Delta connectivity provider, will be joining the alliance.