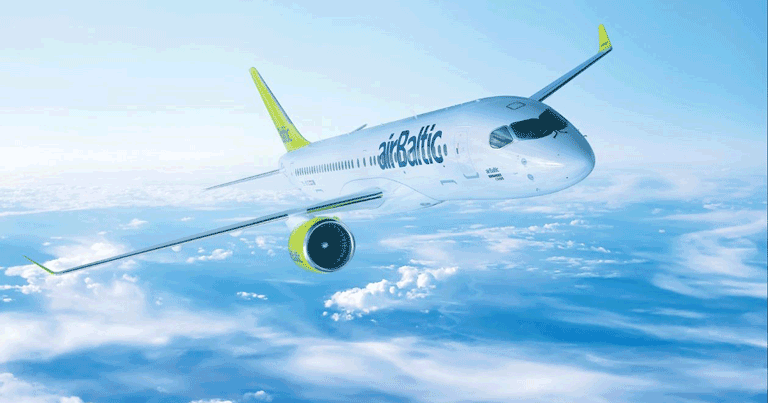 airBaltic and Bombardier Commercial Aircraft announced that they have executed a firm purchase agreement for the sale and purchase of 30 Bombardier CS300 aircraft with options for an additional 30 aircraft of the same type. This order complements the existing order of 20 CS300 aircraft and forms the backbone of airBaltic's new business plan Destination 2025 that builds on the successful progress of the current airline's business plan Horizon 2021, which has laid the groundwork for future expansion.
Martin Gauss, Chief Executive Officer of airBaltic, commented: "As an early adopter of the C Series, we took a forward-looking decision on advanced technology to support our turnaround plan leading to sustainable profitability, and today we are benefiting from the most fuel-efficient small single-aisle aircraft. With demonstrated fuel savings of more than 22% the aircraft plays a vital role in maintaining our operating cost at a low level. In 2017, we experienced outstanding growth and showed the world the unique capabilities and comfort of this innovative aircraft. We successfully executed our fleet modernisation strategy, and are excited to further grow our fleet up to 80 CS300 aircraft while phasing out our other aircraft types in the next three years."
He added: "We are now commencing the implementation of the next phase of our business strategy – Destination 2025, which foresees airBaltic expanding the map of our operations. A critical part of this new strategy is the introduction of a larger and exclusive fleet of all CS300 aircraft, which are the most suitable aircraft for the markets in which we operate."
The new business plan Destination 2025 relies on expansion of routes from all three Baltic countries – Latvia, Estonia and Lithuania, covering essentially the main European cities. The strategy also foresees that airBaltic will achieve a significant increase in passenger numbers and its revenue by 2025.
Uldis Augulis, Minister of Transport, Republic of Latvia, added: "2017 was the most successful year in the history of airBaltic during which the company achieved exceptional operational and financial results. This serves as a solid proof of the success of the strategy and operating model of the airline. The new order is the largest investment in Latvia's history and plays an important role in the development of the air infrastructure of the Baltic region with wide-ranging effects on the exports, economy and jobs."
Deliveries pertaining to this new order are scheduled to commence in the fourth quarter of 2019. Prior to this order, airBaltic had ordered 20 CS300 aircraft. Currently the airline is operating revenue service with eight CS300 aircraft, and is expected to take delivery of 12 more by 2019. Based on the list price of the CS300 aircraft, the firm order is valued at approximately $2.9 billion. This amount would increase to nearly $5.9 billion should all 30 purchase rights be exercised.
"As the C Series aircraft programme continues to gain market acceptance, this significant reorder from our CS300 launch operator is a strong testimony to the aircraft's exceptional in-service performance, said Fred Cromer, President, Bombardier Commercial Aircraft. "Furthermore, we are proud that the CS300 has helped airBaltic maintain its position as one of the world's most punctual airlines. The C Series aircraft is at the forefront in the small single-aisle market, and airBaltic played a key role in demonstrating its value. In the last 18 months, we have witnessed airBaltic's growing leadership in the market, and we wish the airline further success with its expanded CS300 fleet."