More than 500 senior attendees representing international airlines, airports, vendors, technology leaders, startups, travel retailers, academia and industry associations gathered at the RDS in Dublin from 6-8 June 2018 for the co-located Future Travel Experience Europe and Ancillary events.
During the three-day show – which attracted attendees from 50 countries – the future of ancillary revenue, passenger and baggage processing, digital and innovation, and inflight entertainment and connectivity (IFEC) were on the agenda. Attendees also had access to a major exhibition, co-creation roundtables, interactive workshops, the FTE Europe Innovation & FTE Ancillary Awards ceremony, and a unique social and networking agenda, including guided tours of Dublin Airport and Dublin city.
Future-focused keynotes – Hyperloop's travel vision; Ryanair and the 'Amazon of Travel'; plus, retail and ops inspiration from daa and McLaren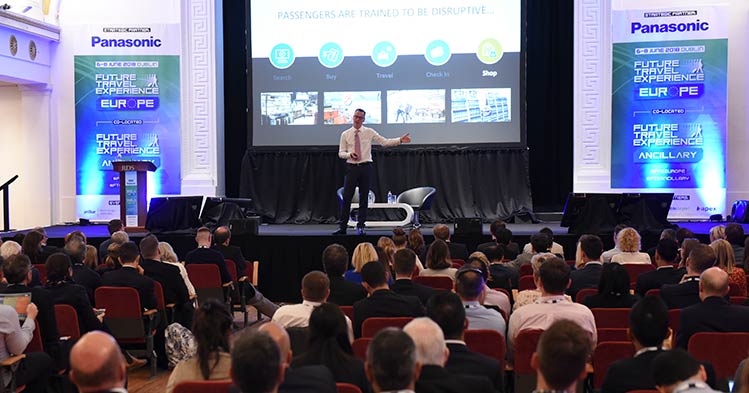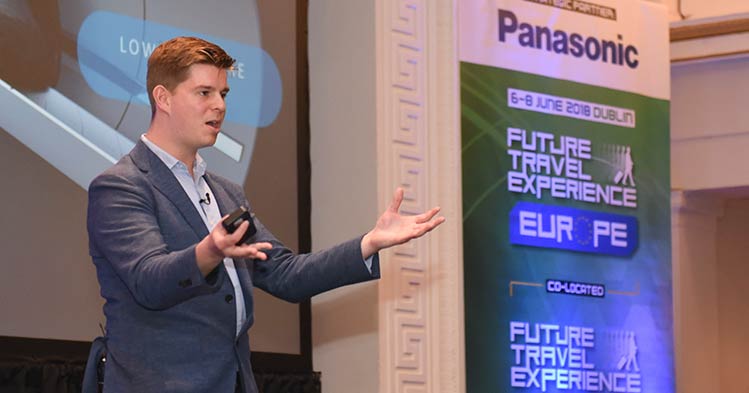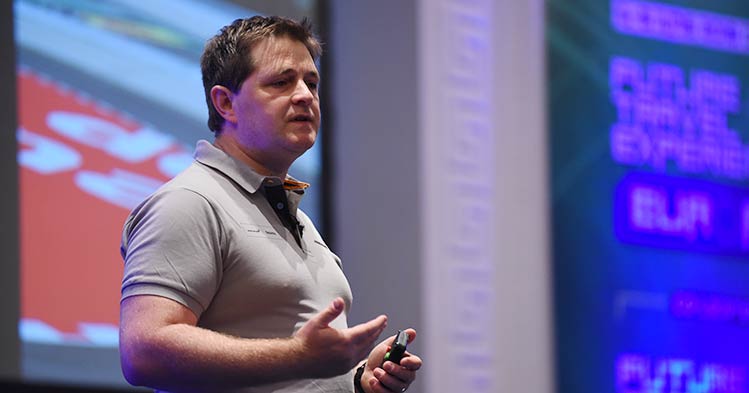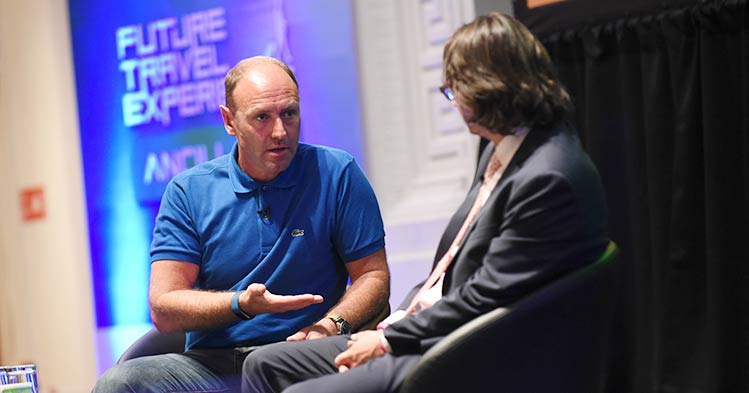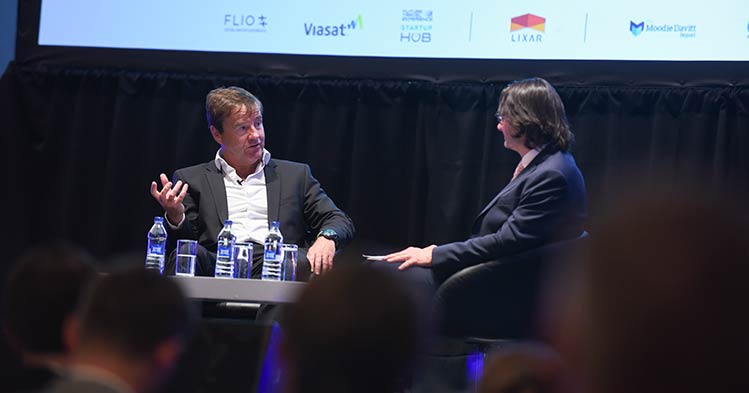 Future Travel Experience events are renowned for their inspiring keynote addresses and the co-located FTE Europe & FTE Ancillary was no exception. After introductions by FTE Founder Daniel Coleman and Airline Passenger Experience Association (APEX) CEO Joe Leader, who declared "FTE events are where the real innovation happens", attendees heard from Dalton Philips, CEO of daa, the operator of Dublin and Cork airports. Philips, who has previously held a number of leadership roles at retailers including Morrisons and Walmart, shared insight into how the air transport industry can better leverage commercial and retail opportunities. "If we don't disrupt, passengers will disrupt us," he stated.
Ryan Kelly, Head of Marketing & Communications, Virgin Hyperloop One, took to the stage next and provided a fascinating insight into how hyperloop can transform the way we travel. He explained that hyperloop – the brainchild of Elon Musk – should not be seen as a threat to air travel, but a complementary mode of transportation. Highlighting this, he explained that by using hyperloop to link airports serving the same city, a "virtual mega airport" could be created, reducing the need to build new infrastructure such as additional runways. "The fifth mode of transportation is closer than you think," he concluded.
Throughout the event, attendees came together for three more inspiring keynotes. In a unique presentation, Jim Newton, Director, McLaren Applied Technologies and Martin Bowman, Aviation Technology Director, Deloitte, outlined how they are applying Formula 1 thinking to aviation; Conor McCarthy, co-founder of AirAsia and now Managing Director of PlaneConsult and Chairman of Stobart Air, took part in a candid fireside chat; and Kenny Jacobs, Chief Marketing Officer, Ryanair, closed the conference with a behind-the-scenes look at what it really means to become the "Amazon of Travel".
Jacobs shared the 10 key learnings from Ryanair's approach to customer experience, innovation and ancillary revenue generation and outlined how the LCC's digital focus has delivered tangible returns over the past five years. He predicted that by 2030 there will be fewer, better airlines and global travel retailers will dominate. "We will be one of them", he stated, as will Amazon. Jacobs also stated that Ryanair's success can be partly attributed to the fact that it has stayed true to its core product (low fares) as it has continued to evolve. He warned that "chasing too much of the new stuff" and "biting off more than you can chew" can prove to be too much of a distraction and ultimately an airline's downfall. He also took a swipe at airport retail, declaring it "not good enough", and suggested that airports should stop trying to replicate the high street with predictable brands and products and instead focus on creating more unique retail experiences, perhaps even with features like barbers, massages, live music and stand-up comedians in airport terminals.
End-to-end exhibition – from digital retailing and IFEC to passenger and baggage processing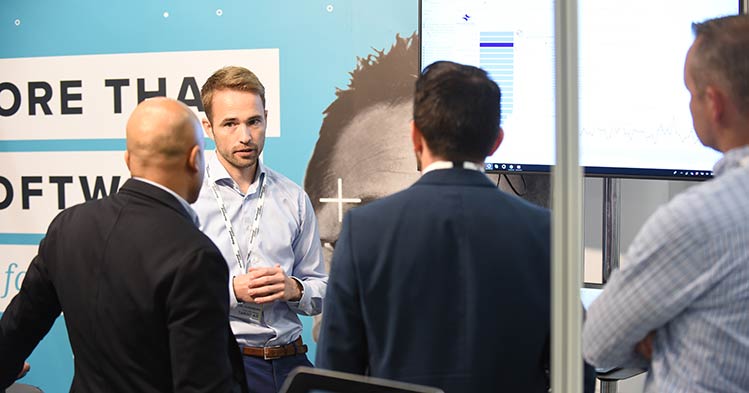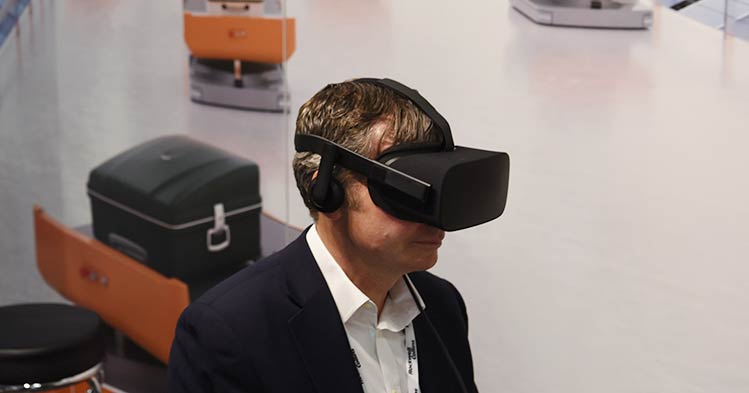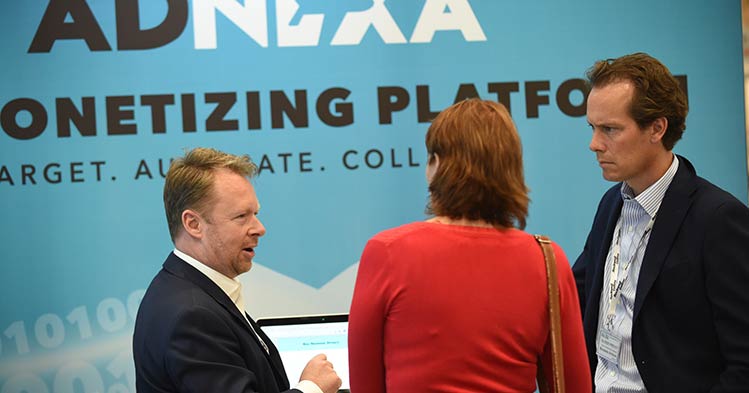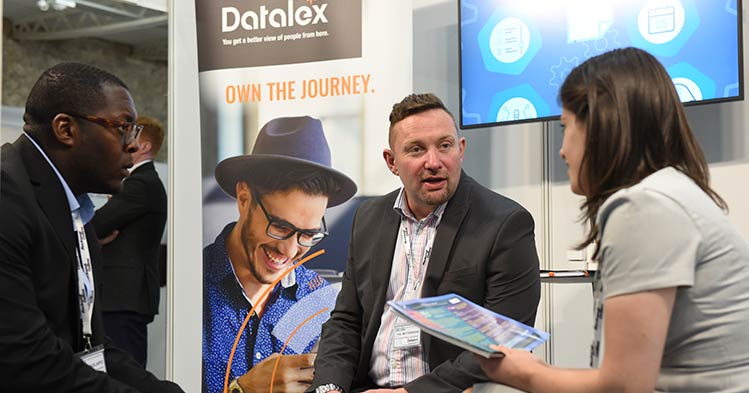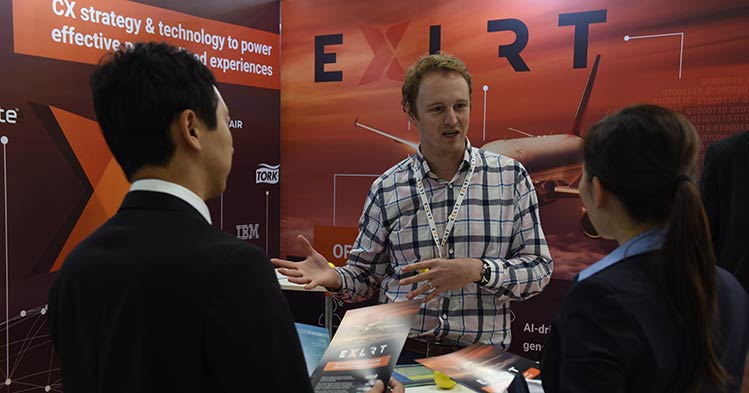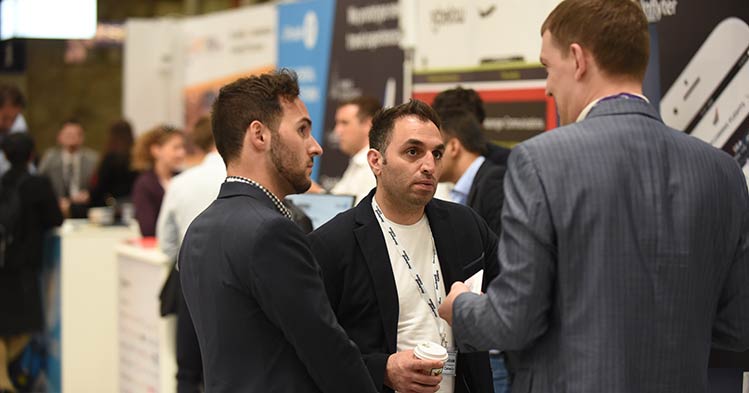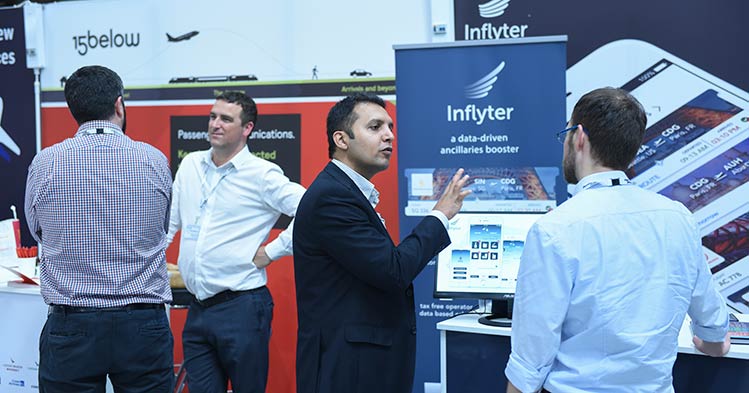 More than 50 of the most forward-thinking vendors in the air transport sector showcased their latest products, services and concepts in the FTE Europe and FTE Ancillary exhibition hall. Ranging from digital retailing solutions and inflight entertainment and connectivity products, to the latest in passenger and baggage processing, attendees had the opportunity to demo a raft of the most progressive solutions.
Highlighting FTE's ongoing efforts to bring together innovators from every side of the innovation spectrum, exhibitors included established industry players such as Panasonic Avionics, OpenJaw, Datalex and SITA as well as fresh startups including the likes of 3D SeatMapVR, airfree and QuietOn. You can view the full list of exhibitors here.
FTE & JetBlue Technology Ventures Startup Competition winner announced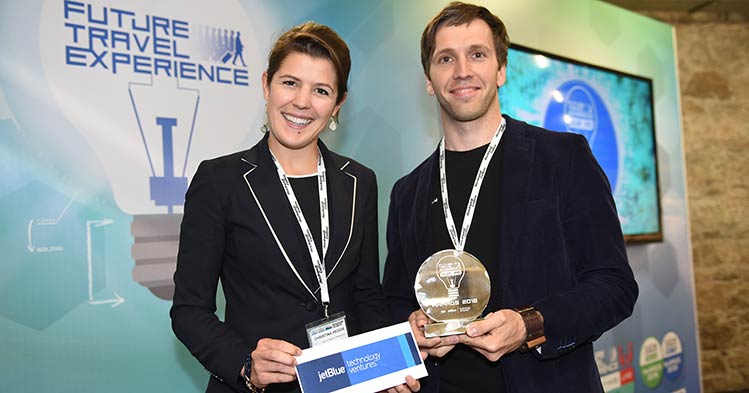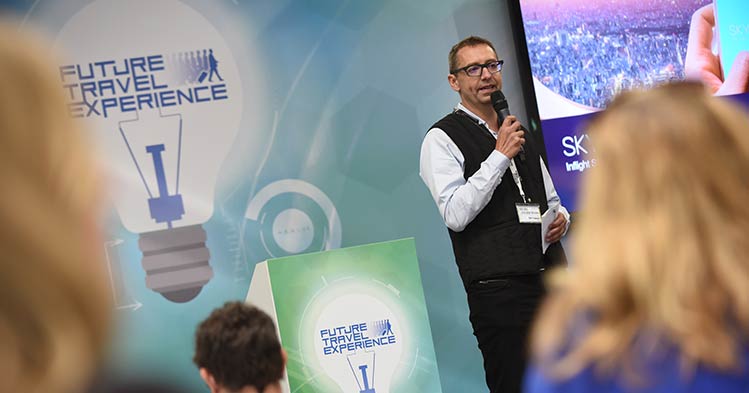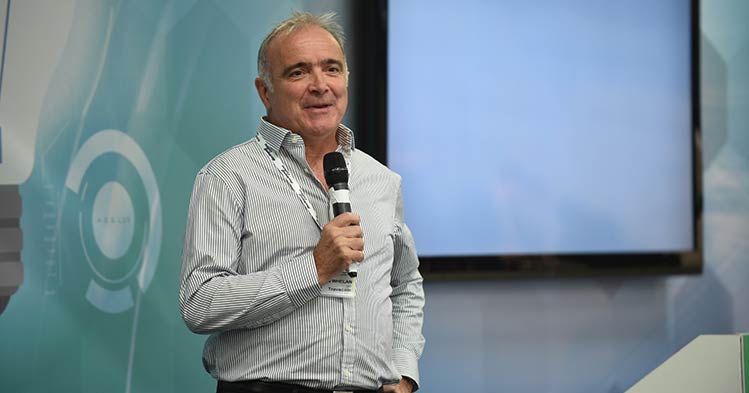 The latest FTE and JetBlue Technology Ventures Startup Competition reached its climax in Dublin, where the four finalists – Conichiwa, RebelRoam, SKYdeals and Travacoin – were given the opportunity to exhibit in the JetBlue Technology Ventures Startup Showcase and deliver an elevator pitch on stage.
Every attendee was invited to vote for their favourite startup and RebelRoam emerged as the winner, taking the "Best New Startup" title and winning complimentary JetBlue flights.
One-to-One Meeting System facilitates unrivalled networking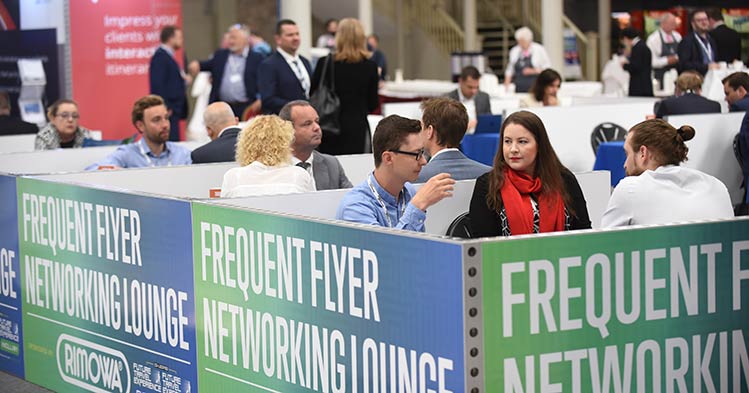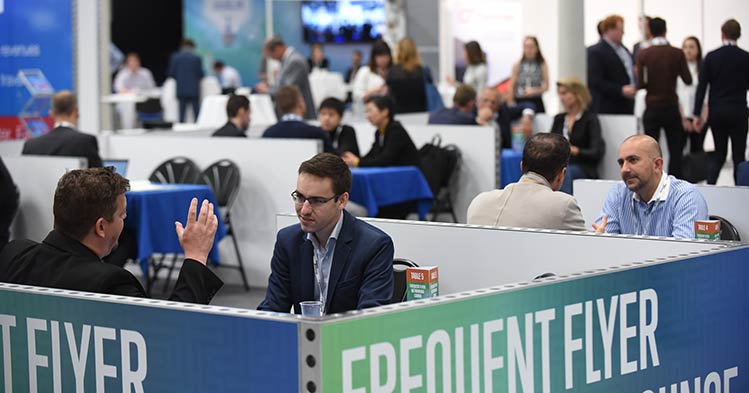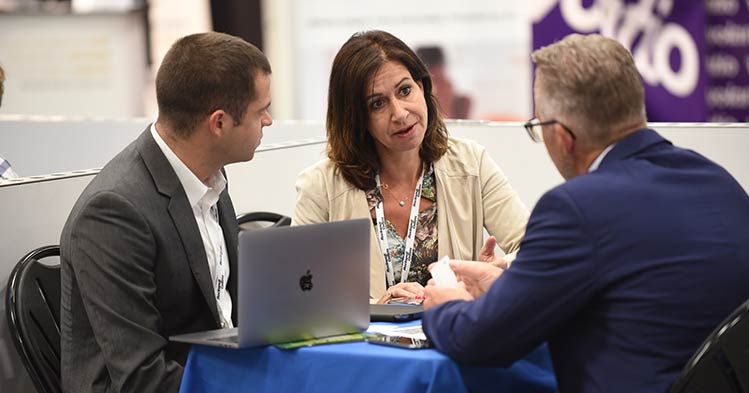 Following the huge success of the online One-to-One Meeting System in 2017, FTE Europe and FTE Ancillary attendees again had access to this invaluable networking tool, which enabled them to arrange meetings before and during the event. More than 750 meetings were pre-arranged between attendees using the system, which facilitated networking and helped to ensure that those in attendance had the chance to sit down with the people they were most eager to meet.
FTE Ancillary and FTE Europe Innovation Awards – and the winners are…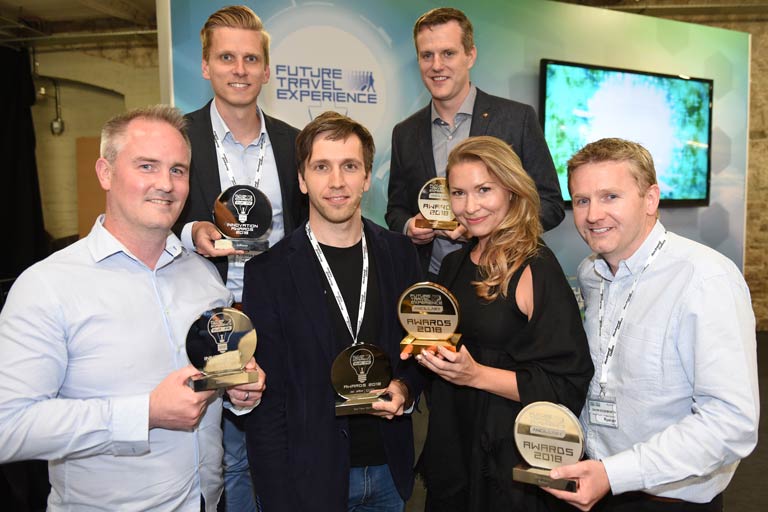 The Networking Drinks reception, which took place in the exhibition hall at the end of day one, included the FTE Ancillary and FTE Europe Innovation Awards presentation ceremony. Five organisations – Lufthansa, Gatwick Airport, Finnair, Ryanair and AirAsia – were rewarded for their ancillary and innovation leadership, while RebelRoam was announced as the winner of the FTE and JetBlue Technology Ventures Startup Competition. The full list of winners, as well as the photos from the ceremony, can be found here.
FTE Ancillary Conference – BARTA update, plus end-to-end ancillary inspiration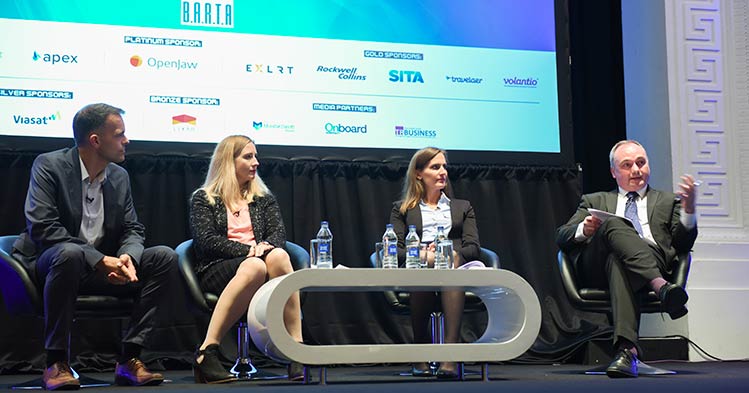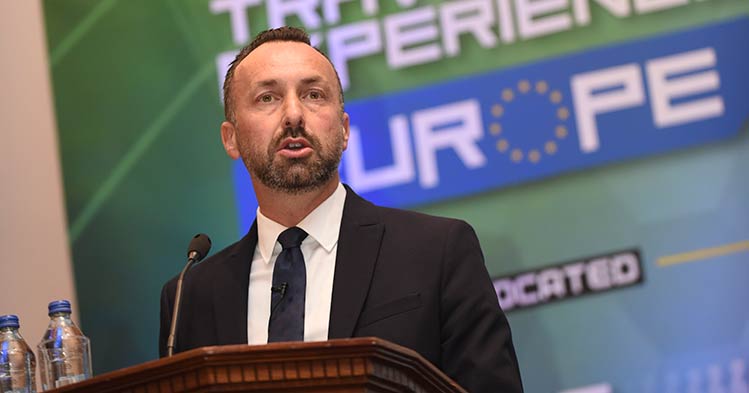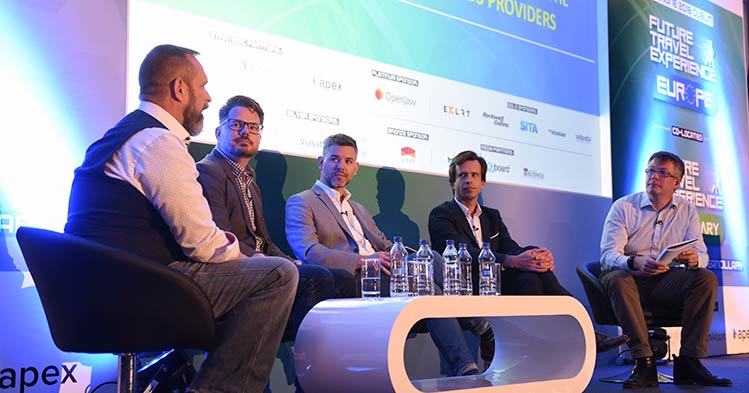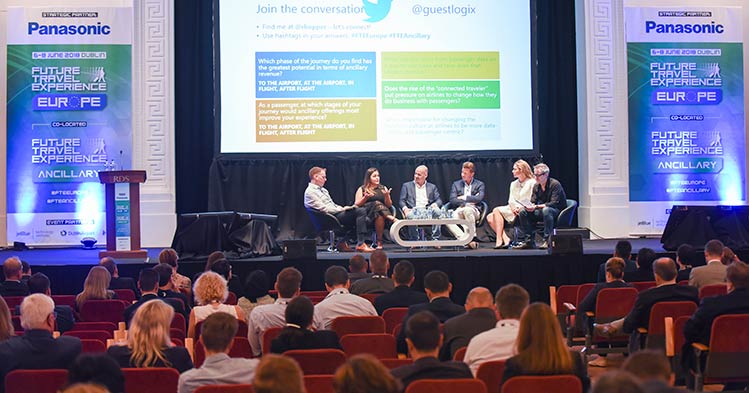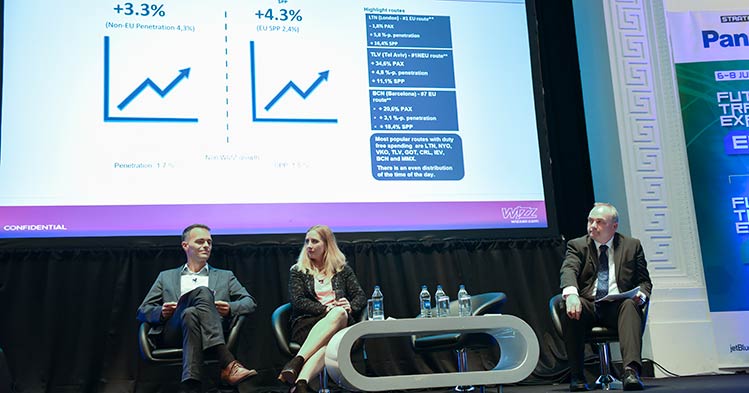 The 2nd FTE Ancillary conference brought together a number of big name speakers from across the industry to share inspiration, expertise and lessons learned on how to use digital channels and new technology to create new ancillary revenue streams at every stage of the passenger journey. Speakers from the likes of Lufthansa Group, American Airlines, Amsterdam Airport Schiphol, Finnair, Dubai Airports, SunExpress, OpenJaw, LikeWhere and Indigo spoke openly on topics including the future of distribution and how to increase revenues before, during and after the day of travel.
A highlight of the FTE Ancillary conference was an exclusive update on the BARTA (Brand, Airline, Retailer, Technology, Airport) trial, which was delivered by Patrick Bohl, Head of Retail & Advertising, Budapest Airport; Ildikó Marcze, Revenue Development Manager, Wizz Air; and Ildikó Jankovich, Managing Director, Heinemann Hungary.
The unique trial, which uses FTE's BARTA framework, started on 1 March and entitles any passenger spending over €50 or €75 at Heinemann Duty Free stores at Budapest Airport to a €4.50 or €7.50 voucher to spend onboard their Wizz Air flight. The parties reported that the collaboration has delivered a healthy rise in penetration and spend, and could provide a template for future industry cooperation. You can read more here.
Digital & Innovation Conference – Tech Download Think Tank launched; IAG, Amazon, KLM, GVA, JTV and Swedavia share innovation insight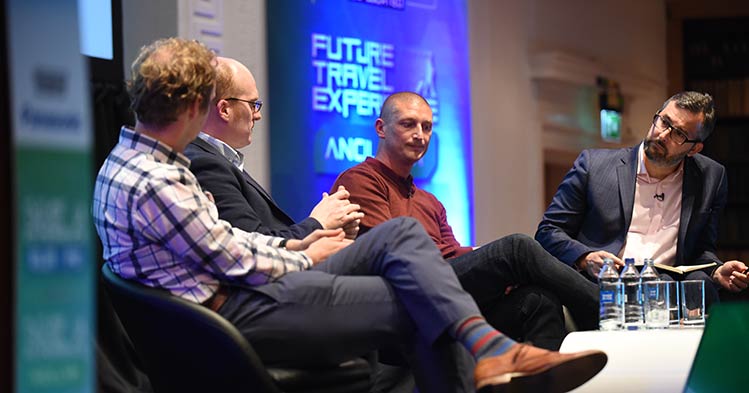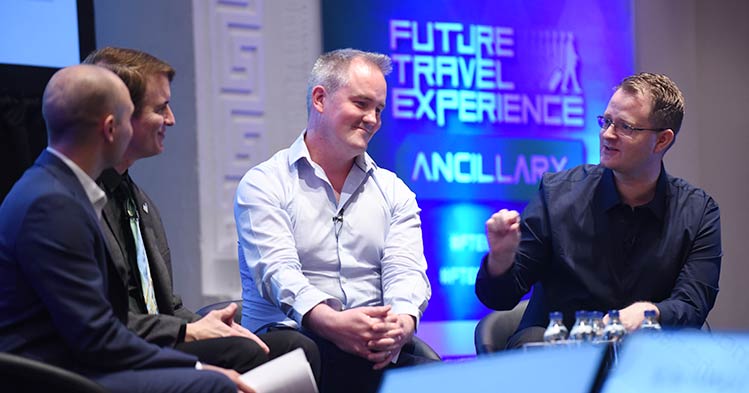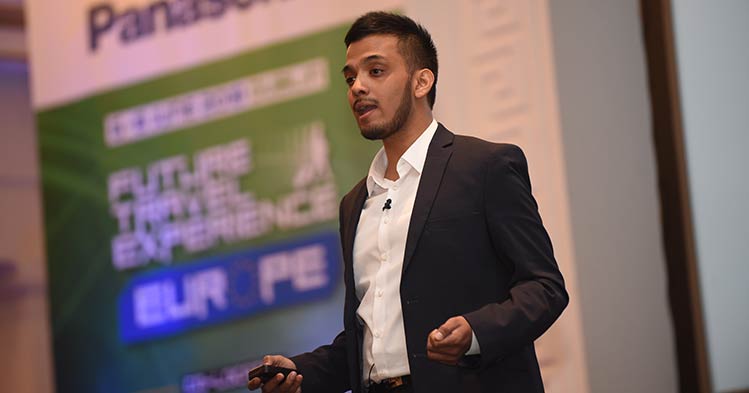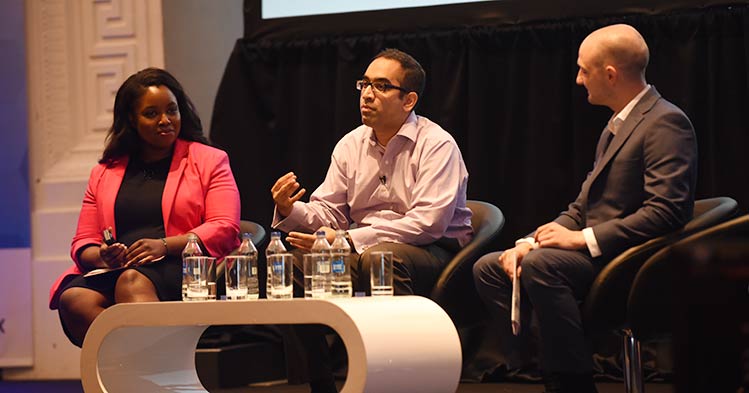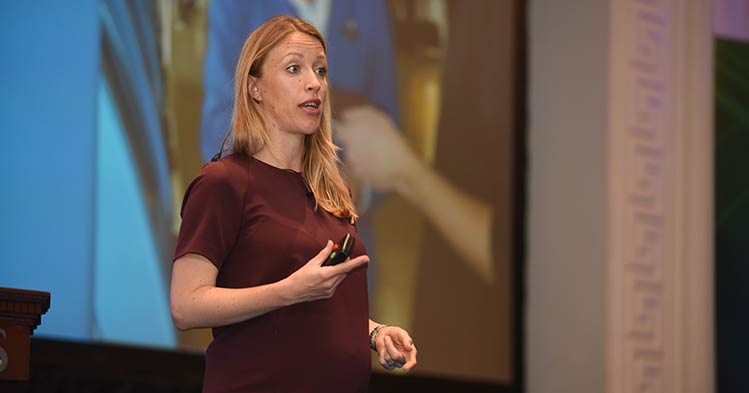 Three other conference tracks were running alongside the Ancillary stream, including the Digital & Innovation Conference. This included the launch of the FTE Tech Download Think Tank – a year-long project which will see FTE collaborate with a number of experts from within and outside of the industry to shed light on the opportunities presented by a raft of new and emerging technologies. Cathal Corcoran, CIO, Gatwick Airport; Sveinn Akerlie, CIO/Head of WOW labs, WOW air; and Joe Leader, CEO, APEX, joined FTE Editor Ryan Ghee on stage to offer their thoughts on the potential opportunities and challenges offered by the likes of artificial intelligence, machine learning, robotics, the Internet of Things and blockchain technology. The second and third instalments of the Tech Download Think Tank project will take place at FTE Global and FTE Asia EXPO respectively.
Dupsy Abiola, Head of Global Innovation for International Airlines Group (IAG), and Azim Barodawala, CEO of Volantio, co-presented on "Disruptive innovation via startups" while high-level speakers from the likes of Brussels Airlines, Amazon Web Services, KLM, Geneva Airport, JetBlue Technology Ventures, Swissport and Swedavia also participated in panels covering innovation and digital personalisation.
FTE/APEX Connectivity & IFE Business Case Summit – American Airlines, SAS, Thomas Cook Group Airlines and SunExpress share IFEC secrets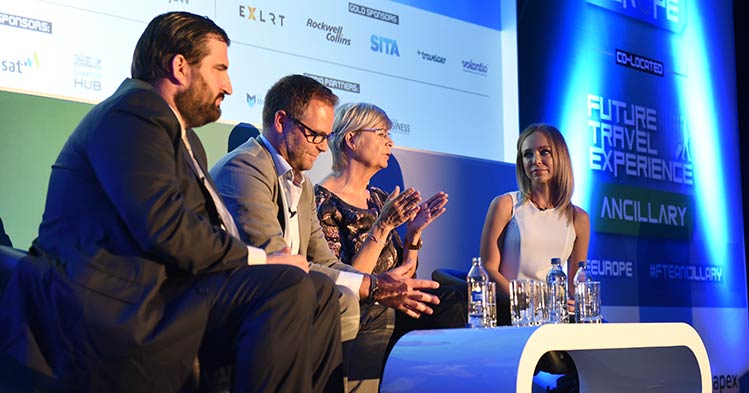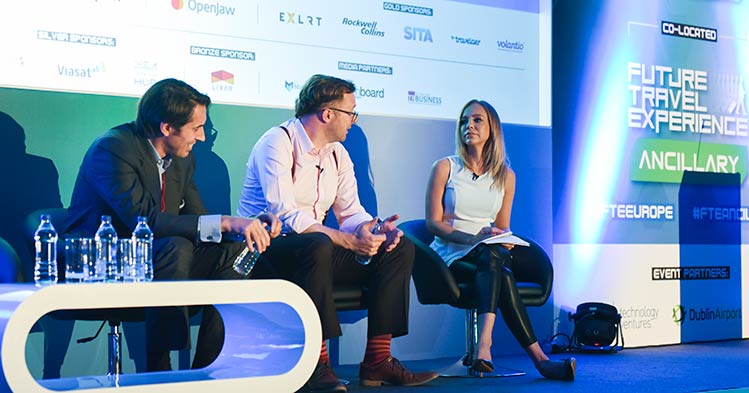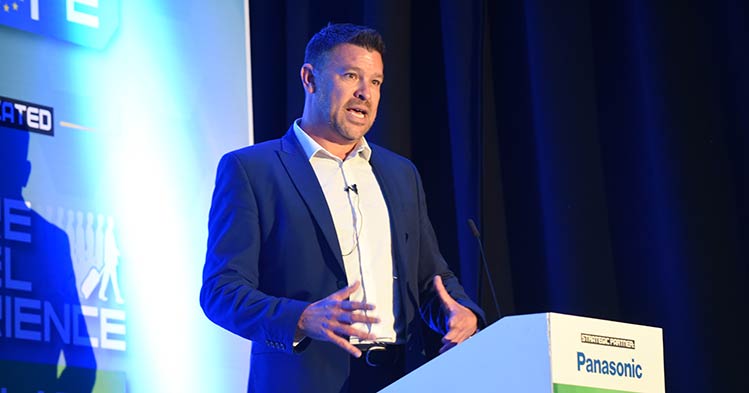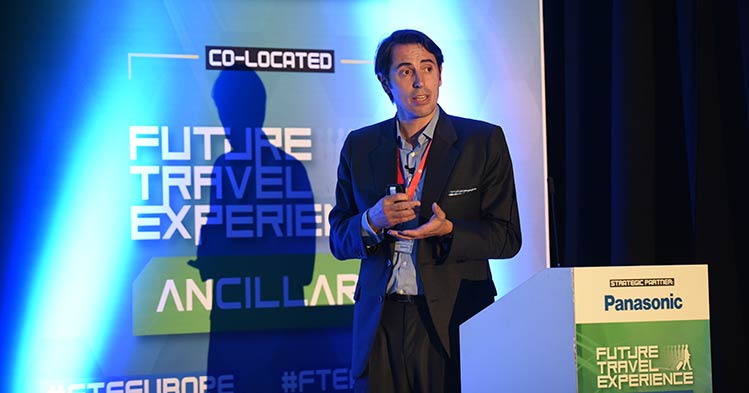 New for 2018, FTE Europe & FTE Ancillary played host to the Connectivity & IFE Business Case Summit, which was delivered in partnership by FTE and Headline Partner the Airline Passenger Experience Association (APEX). Moderated by APEX Media Director Maryann Simson, this unique summit included in-depth case studies by the likes of Brian Richardson, Director of Aircraft Interiors, IFE & Connectivity, American Airlines and APEX President; SAS' Mikael Grönlund, Program Manager Onboard WiFi, and Gunilla Ait-El Mekki, Manager Onboard Connectivity; and Alexandra Miron, Product Manager Cabin Quality, Thomas Cook Group Airlines and Martin Cunnison, Chief Commercial Officer, AirFi. The thinking behind the honest on-stage discussion was to help the airline delegates in attendance make the right IFEC-related decisions for their own carrier both today and for the future. Peter Glade, Commercial Director, SunExpress, and Jacobo Pascual, Global Business Development, Immfly, also used the summit as a platform to announce a new partnership and the launch of "SunExpress Entertainment".
To close out the Connectivity & IFE Business Case Summit, APEX CEO Joe Leader delivered a presentation entitled "IFEC fast forward: The 5 ways to future-proof your airline", in which he looked ahead to 2028 and offered his expertise on the key areas that successful airlines must focus on today in order to future-proof their IFEC selections.
Future Airports & Baggage Summit – future-proofing passenger and baggage processing strategies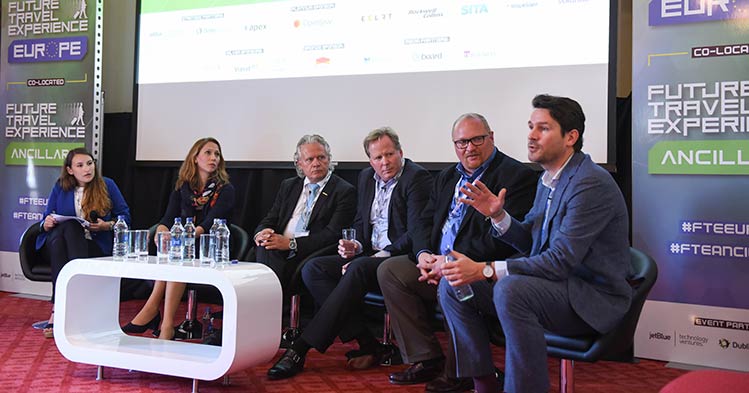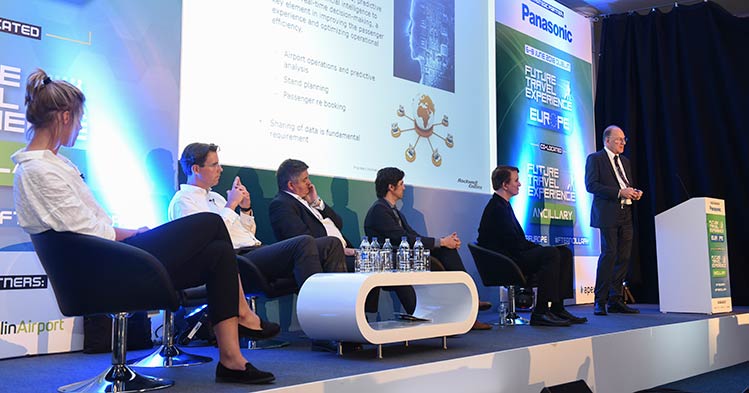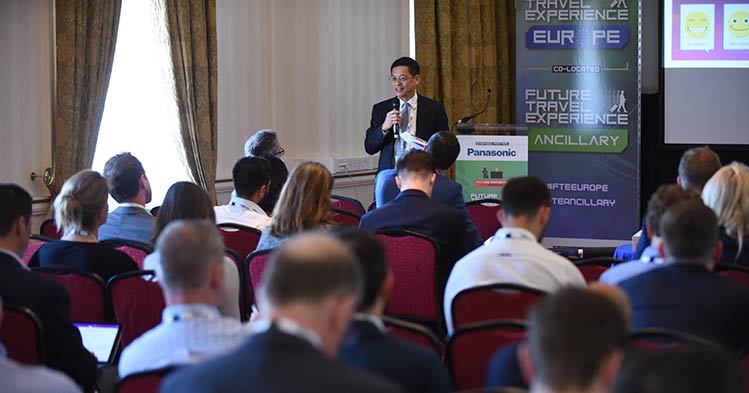 The Future Airports & Baggage Summit was also running concurrently and provided inspiration on the future of passenger and baggage processing. Following opening keynote presentations by Lye Teck Tan, Executive Vice President – Airport Management, Changi Airport Group, and Christian Draeger, Vice President Customer Experience, Star Alliance, attendees heard from British Airways' Raoul Cooper, Design Manager, and Mike Hardin, Director of Policy, Entry/Exit Transformation, U.S. Customs and Border Protection, who shared the latest learnings from the public-private partnership between the two parties to expand the use of biometrics to streamline travel.
Other sessions focused on the future of baggage processing and future airport visions, with senior figures from the likes of American Airlines, Avinor, Lufthansa Group, Rotterdam The Hague Airport, Munich Airport, Vanderlande, SITA, BAGTAG, RABA and Rockwell Collins participating in the high-level discussions.
Co-creation roundtables – promoting cross-industry collaboration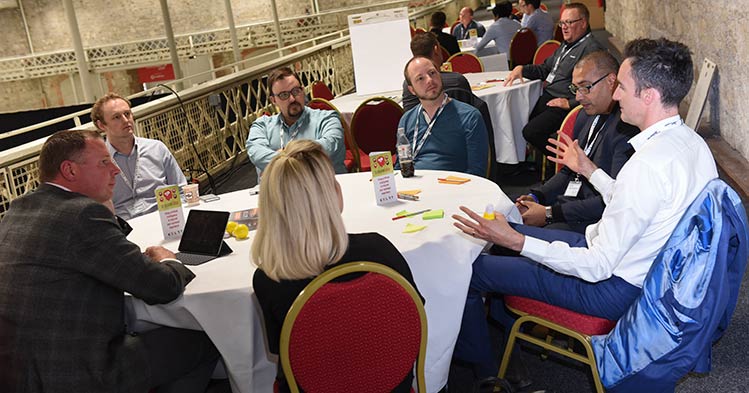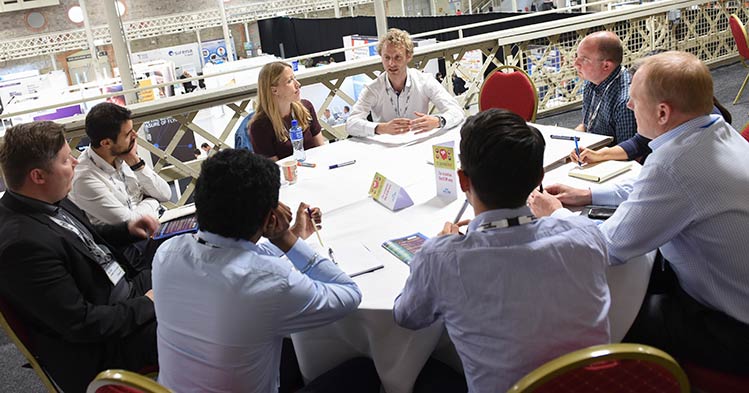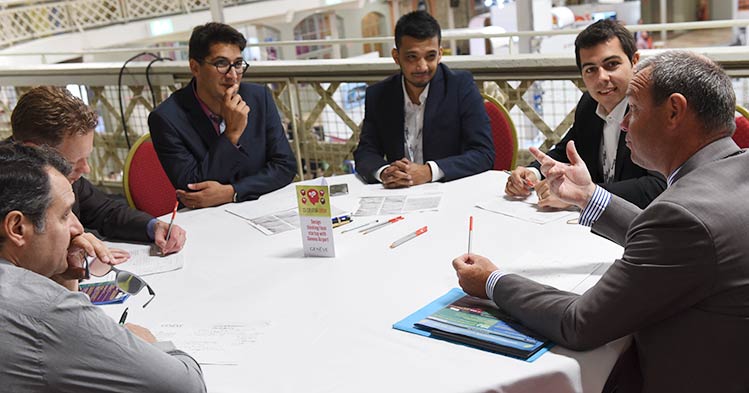 Co-creation sessions are another unique feature of FTE's events and once again proved to be a popular way to bring together senior executives from across the industry to collaborate on a variety of key topics. During the course of the event, senior figures from the likes of Geneva Airport, Munich Airport, KLM, Expedia Affiliate Network, Affinity and EXLRT led highly interactive discussions on topics ranging from design thinking and robotics to driving loyalty and using artificial intelligence to improve customer experiences.
1st FTE Startup Hub Live Day proves a big success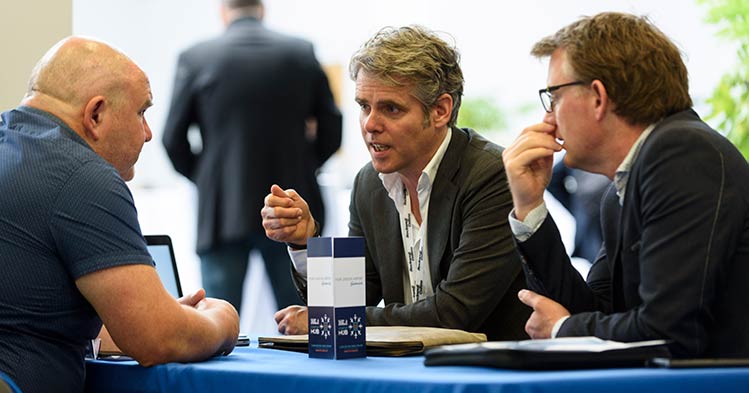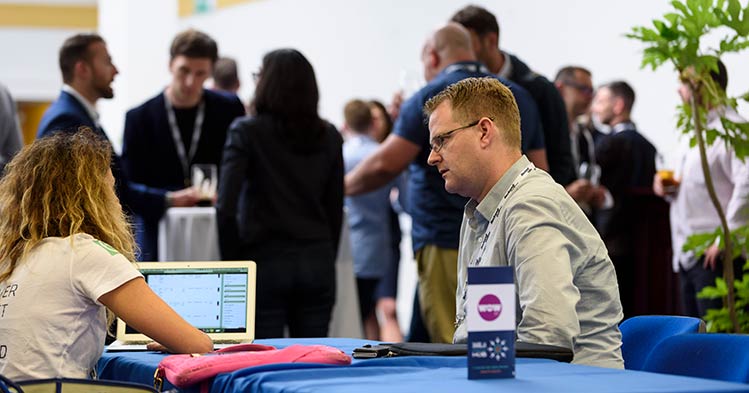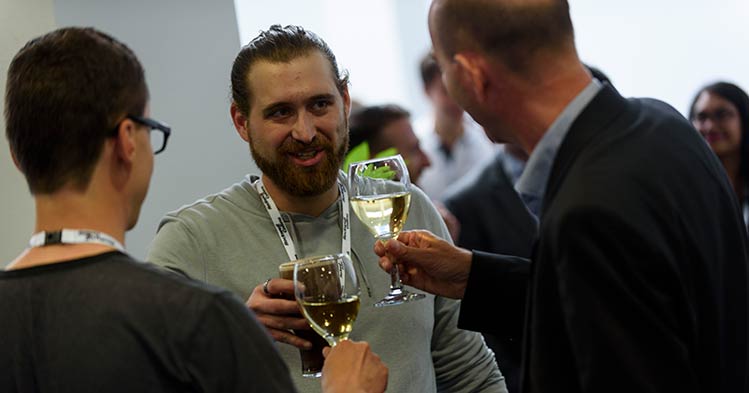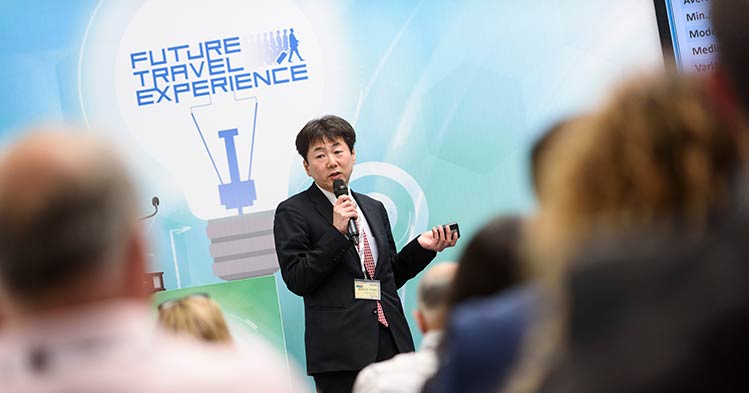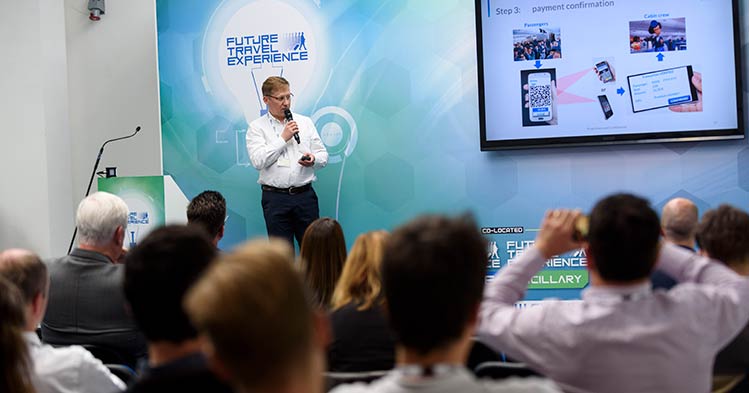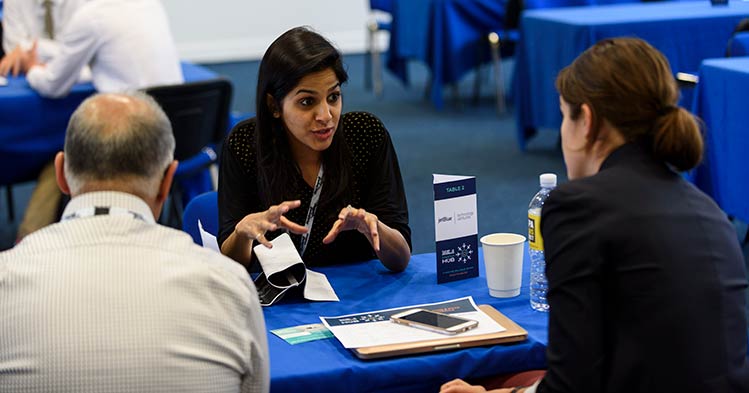 The day before FTE Europe & FTE Ancillary got underway, Future Travel Experience hosted the first FTE Startup Hub Live Day, which attracted almost 40 international startups and a number of Corporate Partners, including JetBlue Technology Ventures, Gatwick Airport, WOW air, Vantage Airport Group, Ryanair and Datalex. Each of the startups had an opportunity to deliver an elevator pitch to everyone in attendance, before participating in one-to-one meetings with the corporates. The corporate attendees were also invited to the Corporate Partners Innovation Network lunch, which provided an opportunity to share experiences of working with startups and driving innovation within their organisations, while there were plenty of opportunities for informal networking throughout the day. The next FTE Startup Hub Live Day will take place at FTE Global 2018 (10-12 September, Las Vegas). You can find out more about the FTE Startup Hub here.
FTE Networking Party showcases Irish hospitality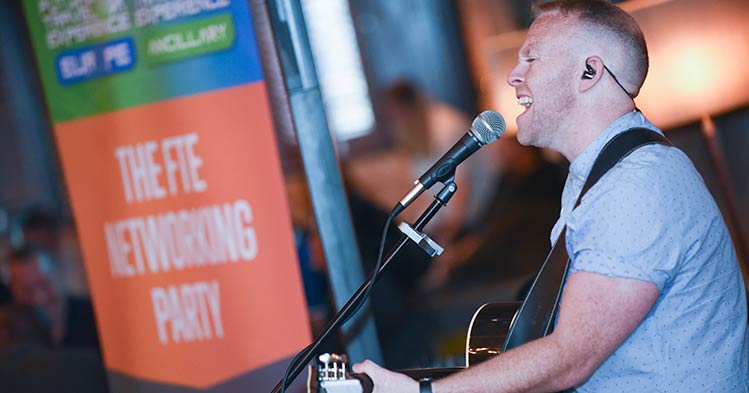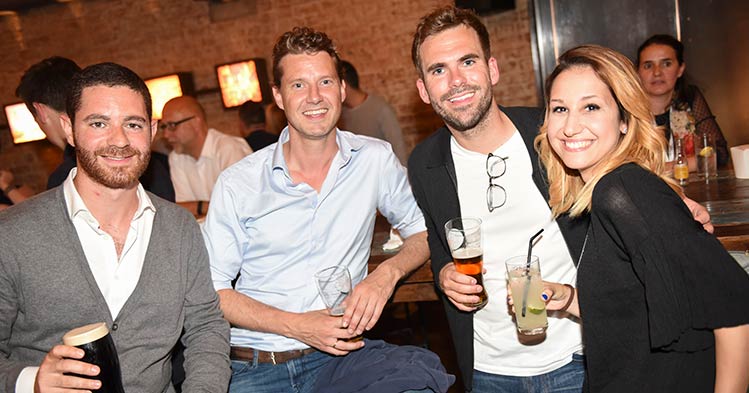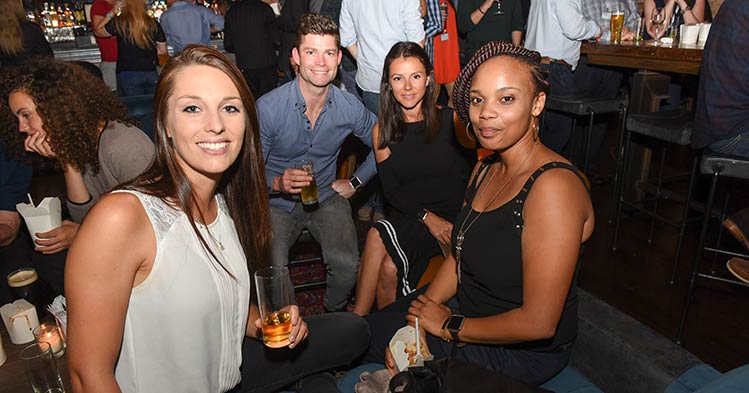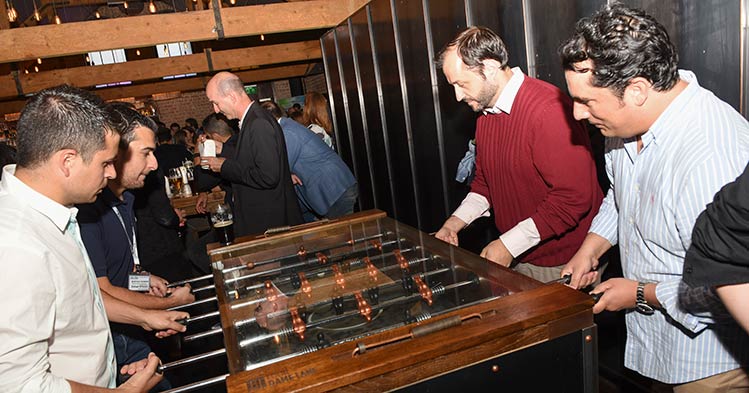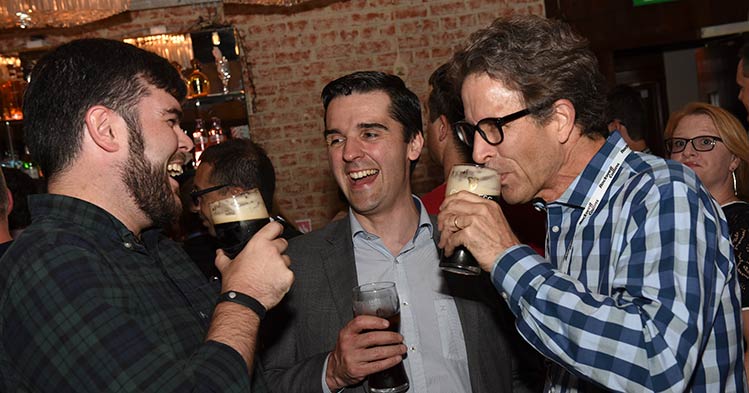 On the evening of Thursday 7 June, FTE invited all delegates and exhibitors to the FTE Networking Party at 4 Dame Lane in the heart of Dublin city for a true taste of the famous Irish craic. Traditional Irish music, food and drink were enjoyed by all, while some delegates even stepped up to the mic to deliver impromptu singing and beatboxing performances of their own!
Dublin Airport and Dublin city tours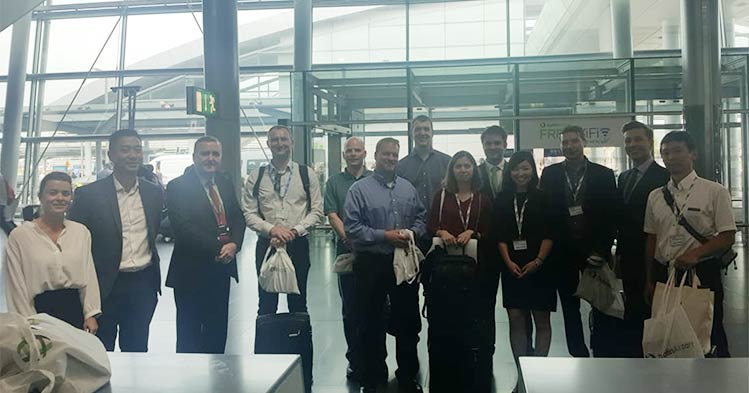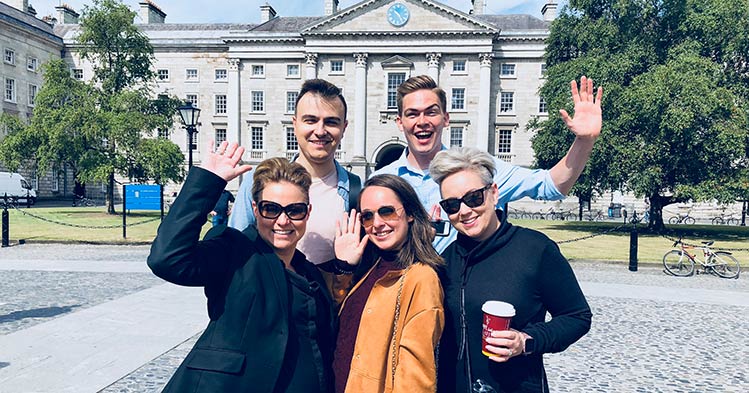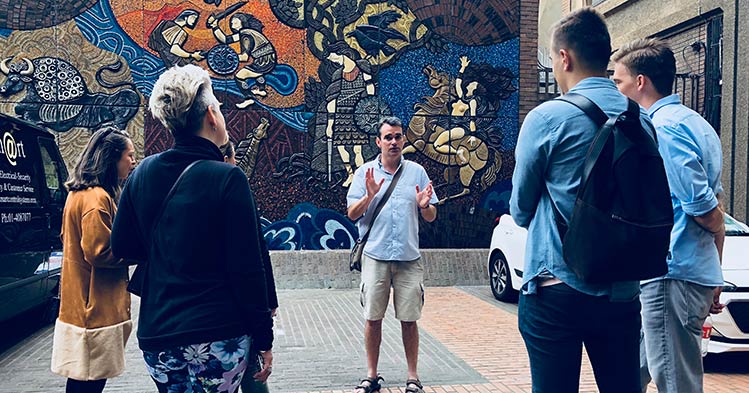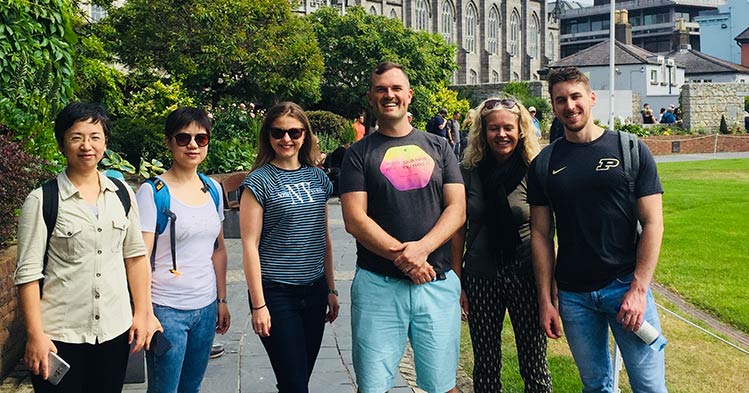 To round off a successful show, event partner Dublin Airport facilitated guided tours for FTE Europe and Ancillary delegates, while Dublin-based LikeWhere led a Culture Walking Tour of Dublin city. The airport tour offered behind-the-scenes insight into DUB's most innovative facilities and services, including the fast track and US Preclearance facilities and the 51st & Green lounge, while the city tour provided a local taste of Dublin in a two-hour guided tour of the historical and cultural sights of the beautiful city.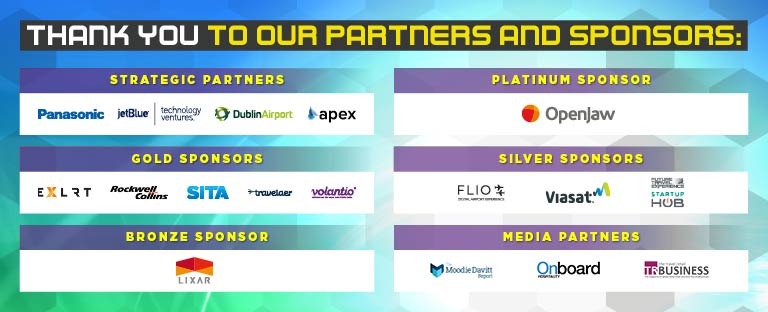 Next up: FTE Global 2018 – C-level speakers from WOW air, Delta, Spirit, Swoop, DFW and NASA already confirmed!
Future Travel Experience Global 2018 will return to the Mandalay Bay Resort Las Vegas from 10-12 September and we are excited to reveal that a number of big name speakers and 50+ exhibitors are already confirmed. The theme of the event is "Disrupt or be disrupted", and confirmed speakers include Skúli Mogensen, Founder and CEO, WOW air; Gil West, Senior Executive Vice President and Chief Operating Officer, Delta Air Lines; Ted Christie, President, Spirit Airlines; Steven Greenway, President, Swoop; Sean Donohue, CEO, DFW International Airport; and Dr. Jaiwon Shin, Associate Administrator for Aeronautics – Aeronautics Research Mission Directorate, NASA. More than 50 leading industry vendors have already signed up to exhibit and the Gala Party will take place at Hyde – an indoor-outdoor nightclub overlooking the fountains at the world famous Bellagio Hotel & Casino.
Visit the FTE Global 2018 website
View the latest exhibition floor plan
Register to attend – discounted pricing for 2018