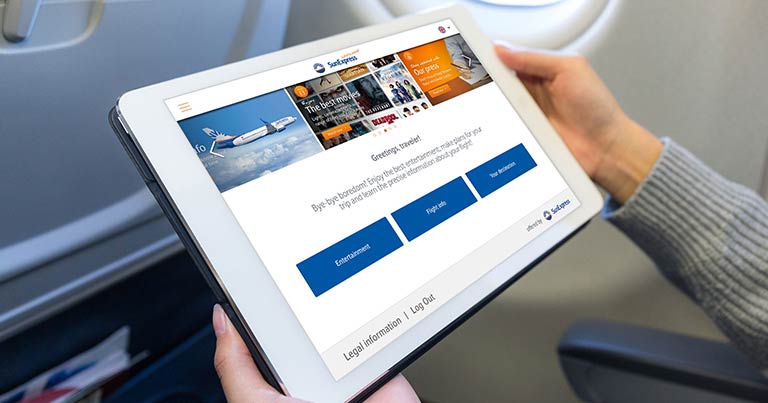 SunExpress has partnered with Immfly to launch "SunExpress Entertainment", a new inflight entertainment (IFE) system. The announcement was made on day one of Future Travel Experience Europe & Ancillary, which is taking place in Dublin, where the two parties will be delivering a joint presentation in the Connectivity and IFE Business Case Summit.
SunExpress Entertainment will be rolled out across the fleet of Boeing 737-800NG and MAX aircraft and will be accessible via passengers' personal devices.
A range of entertainment options such as TV shows, movies, music, games, press and magazines, as well as children's content, will be available onboard. Other features include a 3D flight map and local weather forecasts. To access the content, passengers just have to connect to the Immfly network using their mobile phone, tablet or laptop.
Vincent Tomasoni, Chief Customer and Content Officer at Immfly, said: "In addition to offering entertainment and flight information, Immfly works closely with SunExpress to perfectly fit their digitalisation strategy and enable SunExpress passengers to enjoy a digital seamless travel journey including the onboard experience."
The "Your Destination" feature will provide passengers with guidance on tips on where to go and what to do during their holiday, and the airline's F&B and duty free catalogues will be avaialable on the SunExpress Entertainment platform. Passengers will be able to select and pay for goods using their electronic devices.
"We are happy to work together with Immfly on our inflight entertainment system in the future," said Peter Glade, Commercial Director of SunExpress. "Our guests' experience is of paramount meaning to us, which is why we need a strong partner as Immfly by our side in order to offer a diverse entertainment programme in line with additional services."