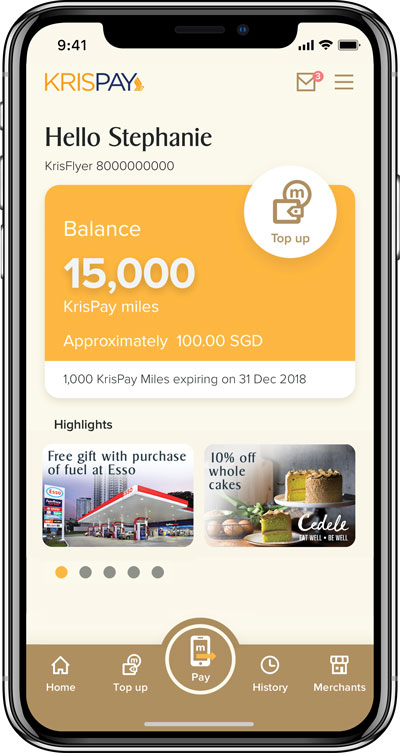 Singapore Airlines Group's frequent flyer programme KrisFlyer has launched KrisPay, which it claims to be "the world's first blockchain-based airline loyalty digital wallet". KrisPay enables members to convert KrisFlyer miles into KrisPay miles instantly for everyday spending at partner merchants island-wide.
Developed in collaboration with KPMG Digital Village and Microsoft, the innovative platform allows members to choose from using as little as 15 KrisPay miles (equivalent to about S$0.10) to pay for their purchases at partner merchants, either partially or in full.
Initially KrisPay miles will be accepted at 18 merchants spanning different categories of beauty services, food & beverage, petrol and retail. Selected partners will offer discounts during the launch period. More merchants will be progressively added to the platform, and members can expect frequent in-app promotions and more app features to be delivered in the coming months.
KrisPay is available for download now on the Apple and Google Play stores. After it has been downloaded, members can easily turn their KrisFlyer miles into KrisPay miles using the app's instant top-up function. Once transferred, KrisPay miles have a validity of six months. To pay for purchases, members simply need to scan the KrisPay QR code at the merchant, and key in the amount they wish to pay with their KrisPay miles.
"We are excited to be introducing KrisPay, a novel way for our KrisFlyer members to digitally access their miles at their fingertips, at any time," said Singapore Airlines CEO, Mr Goh Choon Phong. "By creating a miles-based digital wallet which integrates the use of miles into their daily lives, KrisFlyer members have yet another way to use miles instantly on everyday transactions."