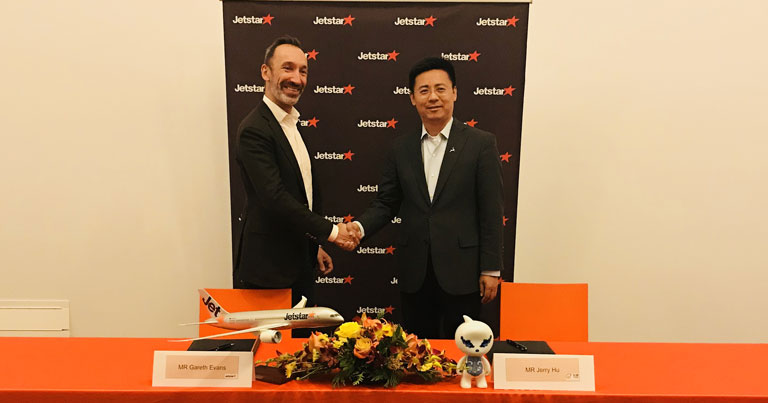 Jetstar customers will soon be able to book flights directly on Alibaba Group's online travel service platform, Fliggy, following the formation of a new partnership between the two companies. The deal will provide Jetstar with access to some of Alibaba Group's 617 million mobile active users in China.
With more than half of its users under 30, Fliggy is a major direct sales platform for airlines and travel providers targeting a younger generation of Chinese travellers.
Jetstar Group CEO Gareth Evans explained that partnering with Fliggy gives the low-cost carrier an exciting opportunity to connect with the growing number of young Chinese travellers. "Our partnership with Fliggy provides another option for more people to access Jetstar's great value fares and network of more than 85 destinations," he said.
"And with many using mobile applications when planning their next trip, having a Jetstar store on Fliggy makes it easier for our customers to research and book flights. This partnership demonstrates our ongoing commitment to China and the broader Asian region helping us bring low fares to more people."
Jerry Hu, Vice President of Alibaba Group, added that Australia is a fast-growing market for Fliggy. "With its wealth of unique travel experiences – from urban attractions to natural wonders – the number of users booking travels to Australia and New Zealand on Fliggy increased by more than 50% in the last year.
"The partnership with Jetstar will further enrich our offerings for those interested in exploring Australia and the neighbouring regions, especially budget-conscious young consumers. And, consumer insights from our platform will enable Jetstar to better understand their customers and develop an informed product and marketing strategy."
The Jetstar Group offers more than 30 return flights a week into 11 Chinese cities, including Shanghai, Sanya and Zhengzhou, from Singapore, Vietnam, Japan and Australia.