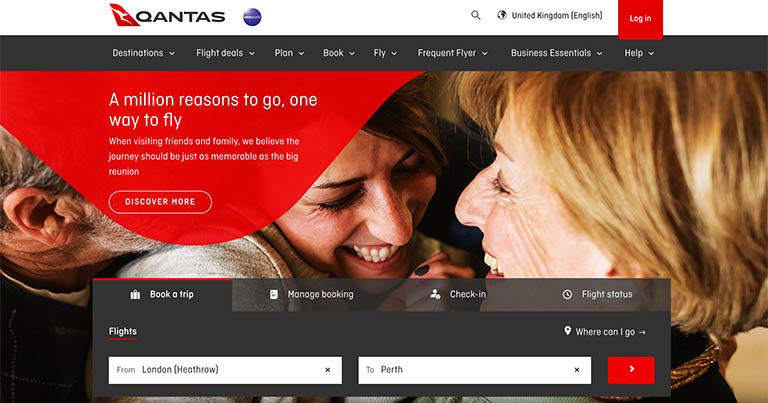 Qantas is making progress with the evolution of its indirect agent booking channel with the first Australian travel management company (TMC) now making bookings through the airline's new technology platform.
Corporate Travel Management (CTM) now offers select corporate customers the opportunity to book via the new Qantas Distribution Platform (QDP). The Qantas Distribution Platform was announced earlier this year as part of the airline's plans to enhance the airline retailing, booking and servicing capabilities for its trade partners and deliver a more personalised experience for customers.
One of the benefits of the QDP is its support for enhanced ancillary selling. The new functionality makes it easier for agents to sell Qantas ancillary options including extra bags and seat selection.
A pilot group of customers using CTM's online booking tool, Lightning, will be the first users to access rich Qantas content via the QDP, which is seamlessly integrated into the Lightning fare display. The QDP enables CTM to provide customers with options tailored to their preferences, including the reward and recognition of Qantas Frequent Flyer members. Qantas and CTM will roll out QDP content more broadly to their mutual customers over coming months.
CTM was announced as an early adopter of the QDP when Qantas first launched the technology in May. Qantas is continuing to work with its GDS, agency and other channel partners to adopt the new technology. Utilising IATA's industry standard New Distribution Capability (NDC), the QDP is a key part of a broader digital evolution of Qantas' indirect booking channels and an important step in the delivery of the best possible experience for trade partners and customers.
Qantas Chief Customer Officer, Vanessa Hudson, said: "We're pleased to welcome CTM as the first travel management company to deliver tailored Qantas offers to corporate customers through our new technology. We've collaborated closely with CTM to integrate their booking tool with our platform. It will enable CTM to provide our mutual customers with a more personalised experience, beyond what traditional technology has been able to deliver."
Mark your diary for Future Travel Experience Ancillary 2019, the industry's definitive digital airline retailing show, which will be co-located with Future Travel Experience EMEA in Istanbul, 18-20 June 2019.