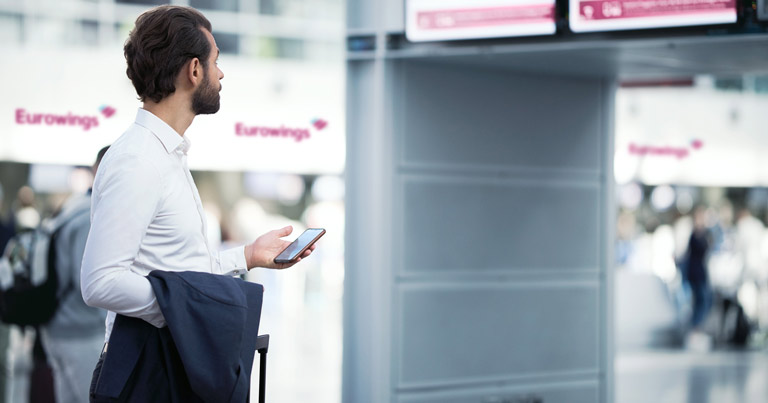 Eurowings customers can now book tickets for travel with mobility provider FlixBus directly through the airline's app. Eurowings and FlixBus will be offering trips from over 300 points of departure initially to Cologne Bonn, Stuttgart and Munich airports.
Following the existing cooperation with 'mytaxi', and the cooperation with hotel provider HRS, the partnership with FlixBus is the next strategic step towards creating a smart travel platform for Eurowings customers.
"Thanks to partnerships like the one with FlixBus, Eurowings is increasingly becoming a digital travel companion for its customers, accompanying them along every step of their journey and making a rich range of digital products and services available to them at the same time," says Eurowings Managing Director and Chief Commercial Officer (CCO) Oliver Wagner.
According to Wagner, the strategy has a clear goal: "Soon, we want to be able to seamlessly offer our customers the entire travel experience, beyond just the flight: the inspiration for the trip, the drive to the airport, their hotel stay, an event at their destination – and much, much more."
"The cooperation between FlixBus, Europe's largest long-distance bus travel provider and Germany's largest domestic airline Eurowings is a logical move," says Daniel Krauss, co-founder and CIO of FlixMobility, the parent company of FlixBus. "It sets a strong signal for how mobility can be intelligently networked through digitalisation." Krauss also said that for travellers, the additional FlixBus option is ideal. "Booking a trip from your front door to your flight's destination – it doesn't get better than this." He adds that FlixBus and Eurowings are already considering additional possibilities for cooperation.
The partnership between Eurowings and Flixbus is made possible by the digital platform Yilu. Thanks to Yilu's tech solutions, Eurowings customers can book their bus tickets in the airline's customer app without having to leave the digital environment of the airline.
At Eurowings, the subsidiary Eurowings Digital is responsible for bringing the "digital travel companion" to life for customers, as well as for the bundling and further development of all of the airline's customer-relevant digital activities.
Oliver Wagner emphasises that an amount in the high double-digit millions will be invested and that the expansion of Eurowings Digital will be vigorously advanced: "Eurowings Digital will be hiring roughly 150 digital experts over the next three years and significantly increasing the digital footprint of our airline in the aviation industry."