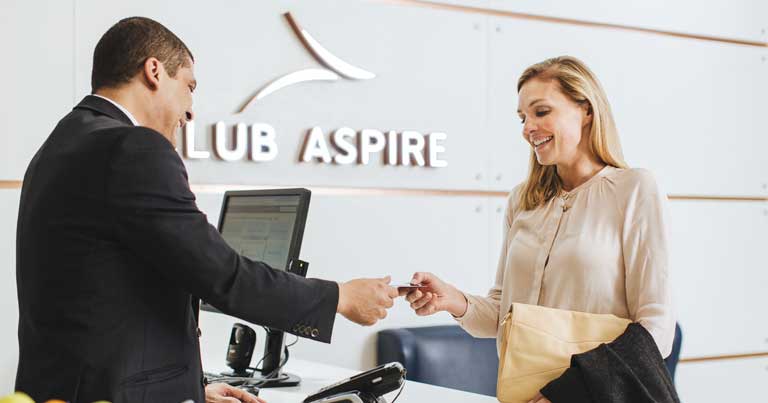 Club Aspire co-operators Airport Lounge Development (ALD) and Swissport have announced that Heathrow Rewards members are now able to collect loyalty points when they purchase entry to Club Aspire lounges in Heathrow Terminals 3 and 5.
Moreover, Heathrow Rewards and Aspire Rewards members will be able to collect points for both loyalty programmes. For the first four weeks until 1 July, Heathrow Rewards will also be offering its members double points when buying entry to the Club Aspire lounges.
Kylie Andrews, Head of Heathrow Rewards, said: "We know Heathrow passengers greatly value these lounges and so rewarding them for making the most of their time at the airport is an important part of enhancing their experience. As an airport voted Best Airport in the World for Shopping, we know they will enjoy spending these rewards with us."
Heathrow Rewards members can collect points online when pre-booking lounge entry or in person when presenting their membership card or mobile app on arrival. Additionally, groups purchasing entry at the lounge can split the points between them, even if they are signing up to the loyalty programme for the first time.
Points can be exchanged for vouchers that can be used at outlets throughout the airport, such as Ted Baker, Jo Malone and MAC. They can also be put towards parking and travel on the Heathrow Express.
At Heathrow, Aspire Rewards points can be collected when checking in at the Club Aspire lounge in T3 only, with points able to be redeemed for free lounge entry, retail vouchers and more. As well as providing a premium space to relax in ahead of their flight, Club Aspire lounges provide guests with free unlimited WiFi, complimentary food and drinks, ample seating areas, work zones for those travelling for business and showers.
The Club Aspire lounge in T5 is not included in the Aspire Rewards programme, however, all other Aspire, Club Aspire and Aspire Plus lounges in the UK and Ireland are included in the scheme.
Errol McGlothan, Director at Airport Lounge Development, co-operator of Club Aspire, said: "We are very excited to be partnering with Heathrow Rewards on this new venture, providing our guests with even more benefits when they visit our Club Aspire lounges at Terminals 3 and 5. Not only will our guests have time and space to relax and unwind before their flight, they'll also be able to earn points that will help them get even more out of their time at the airport and enjoy all that Heathrow has to offer."
Shaun Weston, VP Global Lounges at Swissport, co-operator of Club Aspire, added: "We are delighted that our visitors will now be able to add to their Heathrow Rewards points alongside their Aspire Rewards. Being able to form partnerships like this is essential to meeting the increasing needs of global travellers and furthers our commitment to delivering a high quality experience at the airport."