Future Travel Experience was present at the TFWA Asia Pacific Exhibition & Conference in Singapore this week to find out about the latest developments in the travel retail industry. In a region renowned for its hospitality, the conference explored how airlines, airports and retailers are successfully engaging customers to create a personalised omnichannel experience at every step of the journey.
E-commerce is no longer enough
3Sixty Duty Free, previously the DFASS Group, has claimed it is "redefining travel retail" by embracing a new omnichannel approach, typified by its KrisShop joint venture with Singapore Airlines and SATS. Speaking at the conference, the retailer's Executive Vice Chairman, Roberto Graziani, said: "The development of the smartphone and tech has dramatically changed the retail industry in the past few years and will certainly continue its impact. So, the question is how we can grow the industry in a healthy way, leveraging the power of digitalisation." Indeed, the average person spends nearly four hours daily on their smartphone, and Graziani explained that 25% of all e-commerce sales in the US are made on mobile.
It is evident that online channels will soon overtake offline channels, and Graziani predicts that this will happen faster in travel retail categories. Referring to the biggest online retailer in the world Amazon, he said: "Successful retailers are directing their efforts toward a more customer-focused model, and e-commerce is no longer enough."
However, to fully leverage the omnichannel experience, airports and airlines must engage customers at every step of the journey. For instance, 51% of customers make purchasing decisions prior to arrival at the airport, so Graziani highlighted that full digital engagement prior to travel is essential to capturing these potential purchases.
Graziani concluded that omnichannel can elevate duty free retail to compete with new domestic omnichannel retailers, but only if all stakeholders are partnering effectively.
Providing the airline perspective, Campbell Wilson, SVP Sales & Marketing at Singapore Airlines, said: "As part of our onboard transformation, we took a fresh look at what we wanted to achieve. The only time we can interact with customers is onboard, so we are taking this opportunity. The omnichannel model is giving the customer what they want, when they want it, whether they are onboard or at the airport."
Wilson also shared that currently the airline is trialling purchases completed 60 minutes before departure and exploring the potential of retail through inflight entertainment (IFE).
Engaging the customer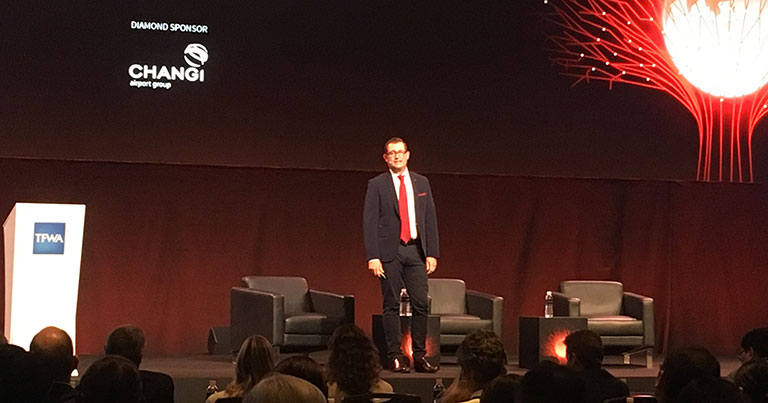 In a candid and passionate address, Przemyslaw Lesniak, CEO, Lagardère Travel Retail Pacific, shared his personal story on how living in the Australasia region has challenged his perspectives and how this has driven positive change within the company. Taking these learnings and inspirations and applying them to its concessions in Christchurch Airport, for instance, the retailer has successfully created an engaging shopping environment, showcasing a strong element of local sense of place.
Taking this idea further through a partnership with New Zealand's national rugby team, the retailer has opened a unique All Blacks Store in Auckland Airport that provides a visual illustration of the power and passion behind the New Zealand national rugby union team. The shop features an eye-catching LED archway entrance, a Wall of Champions, and a virtual reality (VR) experience to replicate the atmosphere experienced by the current world champions. "The challenge is to create an amazing, personal customer experience that captures the travel experience, so that we give the customer a clear purpose to buy from the airport and not the high street."
"The lesson for the travel retailer is clear," he said. "Ultimately it is our responsibility to engage the customer. When at the airport, the traveller belongs to everybody, so we all have a part to play in the creation of a seamless experience. This takes long-term thinking; it needs hard conversations about using omnichannel, but the winners must always be travellers.
Incheon International Airport – biggest airport by retail revenue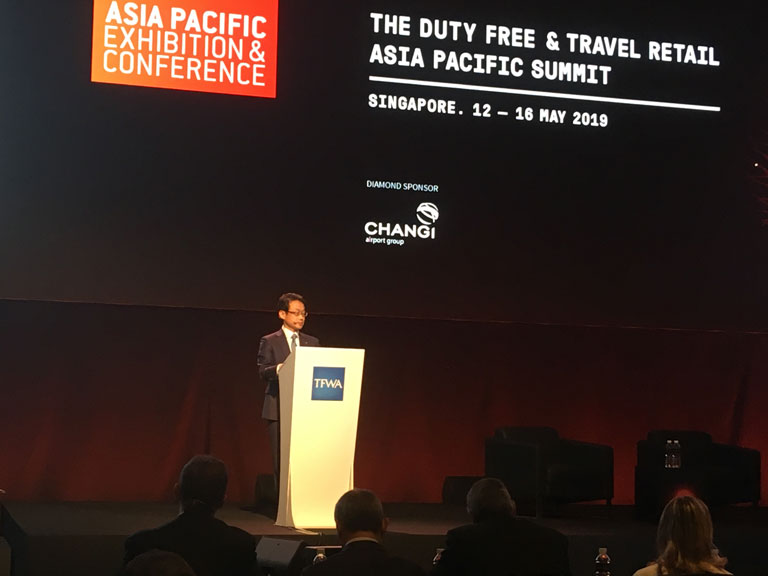 In a detailed address, Dong-Ik Shin, Director of Concessions Planning Team, Incheon International Airport (ICN), discussed the role of retail in the airport of the future, as ICN awaits a wave of tenders later this year. With duty free sales of US$2.4 billion last year, South Korea's Incheon International is the world's biggest airport by retail revenue.
Shin started by highlighting Incheon's strategic geographical positioning. However, recent political tension between South and North Korea has been a threat to the development and growth of the region. Nonetheless, the airport has experienced a sharp increase in revenue from the successful opening of its Terminal 2 back in January 2018.
"Duty free revenues are growing much faster than passenger traffic. We opened a new passenger terminal last year, which has largely contributed to our duty free business. We are also planning to open our first Arrival duty free shop at the end of this month for the first time in South Korea – two shops in Terminal 1 and one shop in Terminal 2. This would provide an extra 700sqm of retail space with items from most categories, excluding tobacco."
Looking into the airport of the future, Shin envisioned a virtuous cycle, defined by lower airport charges, which will in turn encourage airlines to bring more passenger traffic to airports, ultimately leading to increased commercial revenue.