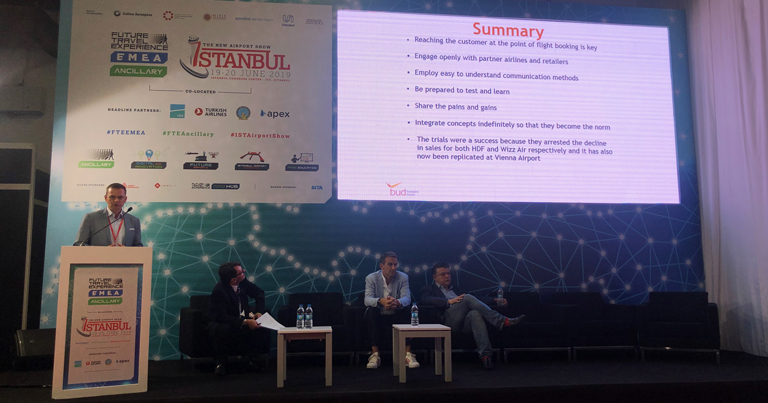 During a dedicated session on the future of airport commercial activities at the Future Travel Experience (FTE) Ancillary conference in Istanbul last week, attendees heard a deep-dive session on FTE's collaborative BARTA initiative (BARTA = Brands, Airlines, Retailers, Tech companies and Airports). BARTA was launched by the founding collaborative partners at FTE Ancillary in Dublin in June 2017.
The premise is that airport retailing is beset with disruptors – with several airports including Frankfurt and Schiphol reporting sales-per-passenger declines, although these are masked by continued passenger growth. Research by Airport Council International (ACI) and others indicates that airport duty free and other retail is suffering from the same competitive effects of online competition as mainstream retail, especially price comparison sites – Asian travellers are particularly strong users of price comparison apps.
The central argument of BARTA is that airlines have 100% connectivity with travellers who book online, and that airports have very little connectivity – frequently they have no idea who is turning up at their airports on a given day (or if anyone is coming at all!). If airports and airport retailers could harness that connectivity – with offers and information to airport shoppers – then a near 5% decline in airport retail revenues could be reversed. Indeed, a 5% increase in European retail sales would be worth $1 billion.
Budapest Airport has completed two BARTA trials in collaboration with Wizz Air and its main duty free concessionaire, Heinemann. The results of the two three-month trials completed in 2017/18 and 2018/19 were presented by Mirko Fechner, Head of Commercial Business Development, Budapest Airport. The key device used in the Budapest BARTA trials was a scheme to award duty free shoppers with a voucher to spend on board Wizz Air flights.
The key findings of the Budapest BARTA trials were:
Sales at the onboard Wizz Air Café from Budapest increased 5%, versus declines exceeding 10% at other bases.
5% declines in spend per passenger at Budapest Airport duty free were reversed.
The voucher redemption rate was 77% and penetration across all users of the Wizz Air base at Budapest exceeded 3% – exceptionally high by industry standards.
The overall conclusion was that if this level of result was produced in Budapest from a mere voucher-based trial, a fully-fledged collaborative BARTA scheme involving the full scope of collaborative partners – spanning retail, parking, inflight, and especially brands and tech companies – could reverse airport and inflight sales declines and produce substantial results possibly exceeding $1 billion in Europe, and significantly more globally.