A number of the world's most forward-thinking airlines, airports, suppliers, startups, technology giants and disruptors gathered in Istanbul last week for the co-located Future Travel Experience EMEA and Ancillary shows, which attracted the largest attendance of any FTE show ever staged in Europe.
The two-day event featured inspirational keynotes and interactive conference streams focusing on digitalisation strategies, the future of ancillary revenues and the passenger experience. The event also celebrated the opening of the new Istanbul Airport mega-hub with a dedicated conference stream focusing on the design, construction and delivery of the biggest airport in the world. Complementing this was an end-to-end exhibition, startup pitch sessions, an exceptional Gala Evening hosted by Turkish Airlines, and guided tours of the new Istanbul Airport. Here we highlight some of the most memorable moments from the show:
Thought-provoking keynotes from Amazon Web Services, Lufthansa Group and exclusive unveiling of the Air Transport 2035 Think Tank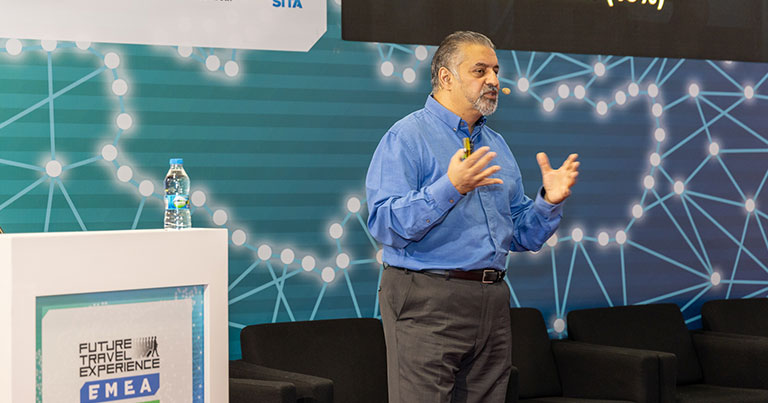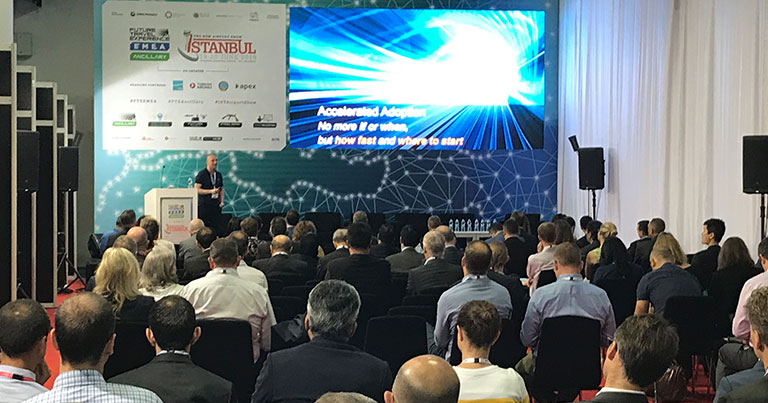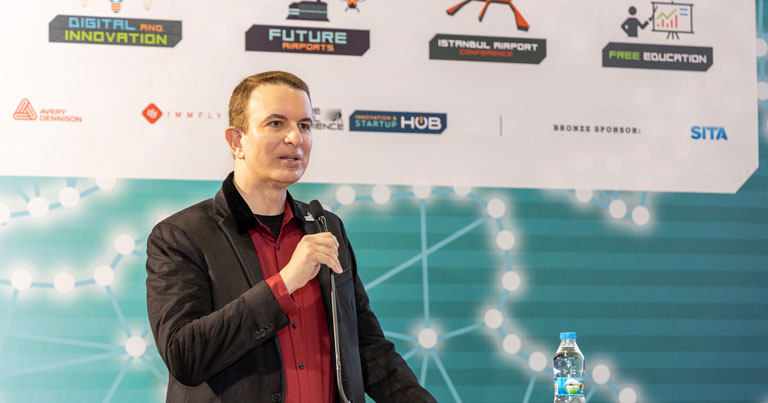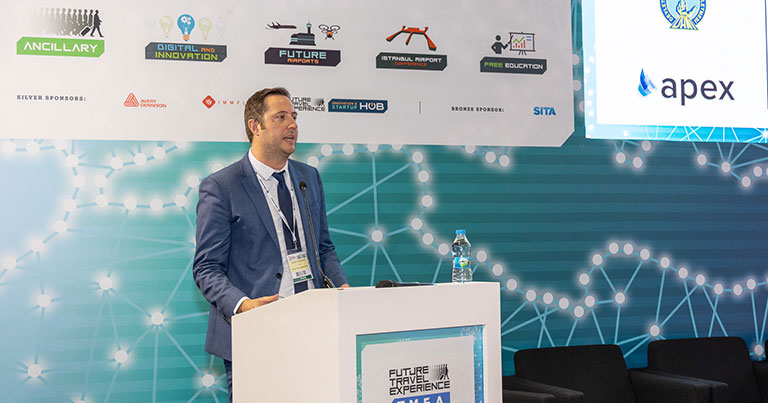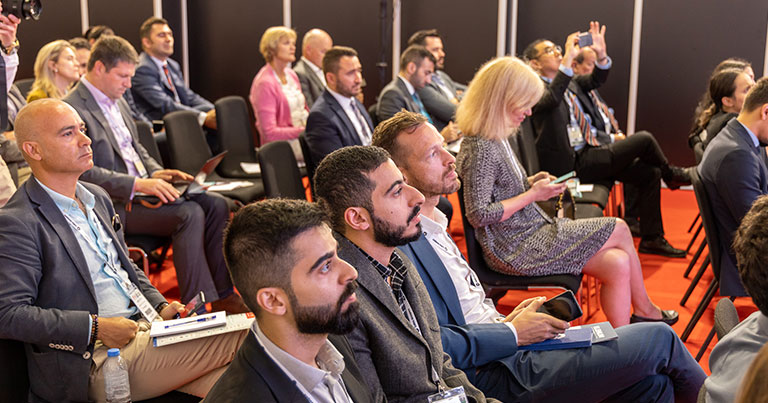 After welcome addresses by Paul Hogan, Event Director, The New Airport Show Istanbul; Daniel Coleman, Founder, Future Travel Experience; and Joe Leader, CEO, APEX & IFSA, attendees heard an inspirational keynote from Paul Armstrong, Enterprise Solutions Architect at Amazon Web Services (AWS). Armstrong spoke passionately about how the air transport industry should utilise technology to improve the customer experience. "Airlines and airports are becoming digital businesses," he said, recognising that this change in culture is also a major challenge. "You can't change overnight from a traditional risk-averse organisation to an agile, experimenting culture. It takes time, commitment and focus." In his address, Armstrong advised airlines and airports to "think like a startup, embrace the flexibility of the cloud, use the right tool for the right job and experiment". He also shared that one of the key Amazon principles is putting the customer at the centre of everything.
Rohit Talwar, CEO of Fast Future, took to the stage next to share provisional results from the crowdsourced Air Transport 2035 Think Tank, which has been launched in partnership with FTE to explore the forces and factors that could shape the future of aviation in the next two decades. In his future-focused presentation, Talwar said: "Digital is rewriting the future of every sector." The global survey will remain open until August 2019 and the latest instalment of the findings will be unveiled during Future Travel Experience Global in Las Vegas, 4-6 September 2019.
In another engaging presentation, attendees heard from Guido Woska, Head of Passenger Experience Design at Lufthansa Group. Woska addressed the need to adopt a customer-centric approach to create holistic experiences for travellers. "We design processes, tools and methodologies to create products and services from a human perspective." He advised delegates that going forward the industry must "foster customer-centricity, create holistic experiences, design what really matters, stay relevant, and drive loyalty and revenue". He shared Lufthansa Group's ambition to become the world's most customer-centric group of premium airline brands by providing hyper-personalised, seamless, integrated and experience-driven services.
Wide-ranging exhibition – 70+ pioneering exhibitors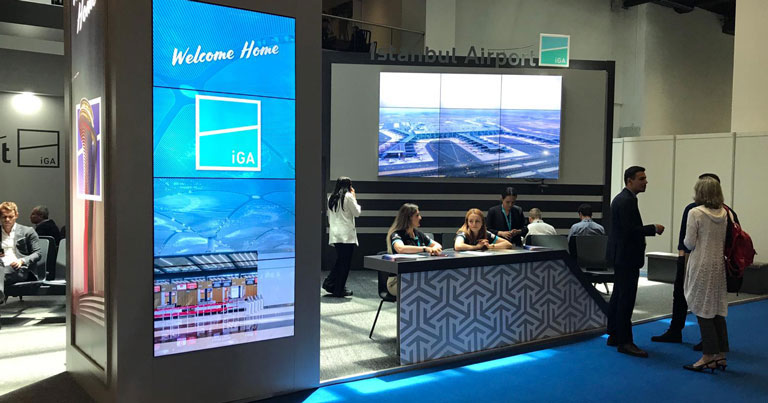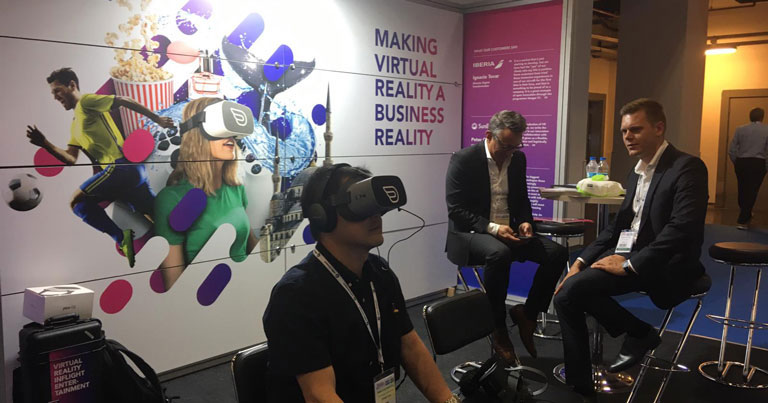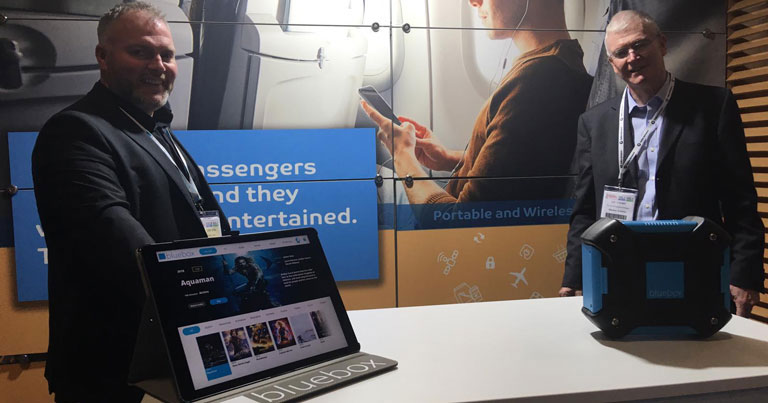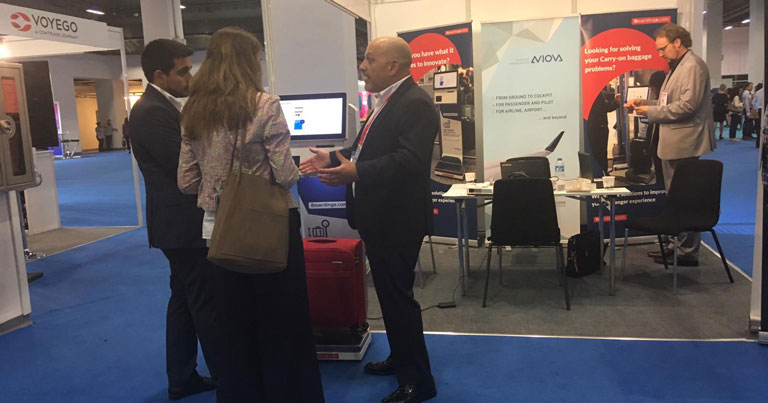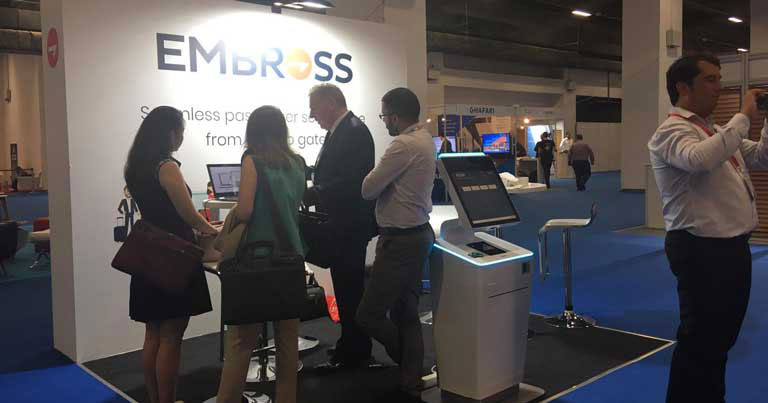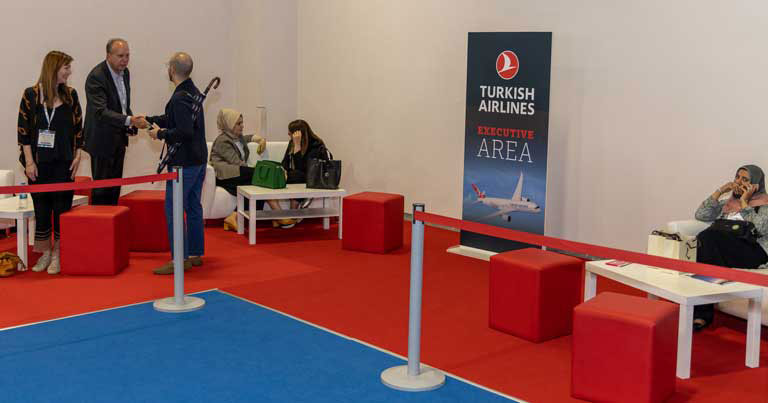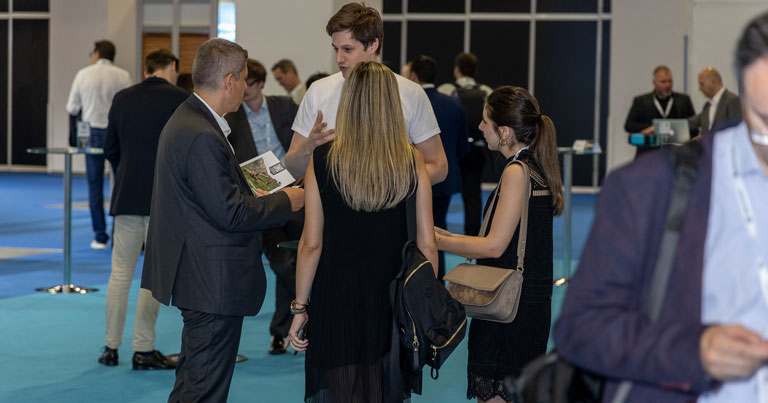 The free-to-attend exhibition floor featured more than 70 of the most innovative vendors, who showcased their products, services and concepts. The expo included dedicated zones for different interests, ranging from end-to-end biometric and baggage solutions to inflight retail, wellbeing and catering.
Visitors had the opportunity to demo a raft of innovative solutions from established industry players such as Panasonic Avionics, ADB Safegate, eezeetags, Elenium Automation, Bluebox Aviation, Embross and Formia, as well as promising startups. In fact, the 10 finalists in the FTE Ancillary Startup Competition also showcased their products and services in a dedicated Startup Showcase within the expo.
Premium Pass holders once again had access to the bespoke FTE One-to-One Meeting System, which enabled them to meet with the right people throughout the show who can help them redefine their organisation's passenger experience and business performance strategies.
Ancillary conference – the future of distribution, ancillary revenues and retail; exclusive BARTA update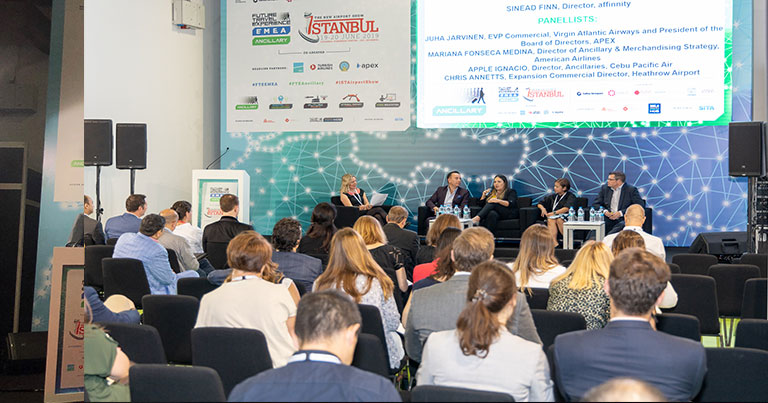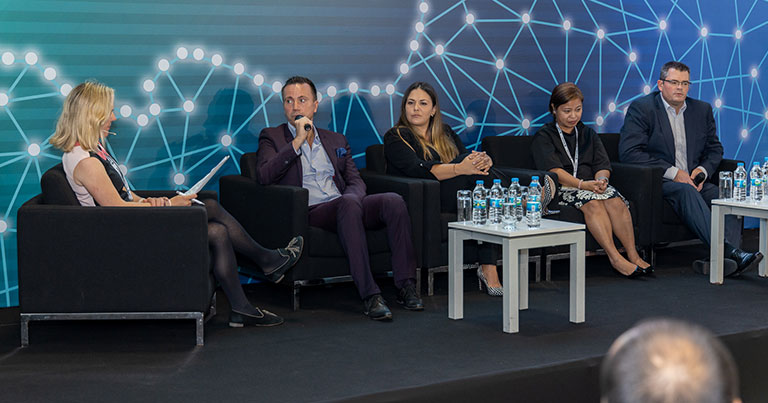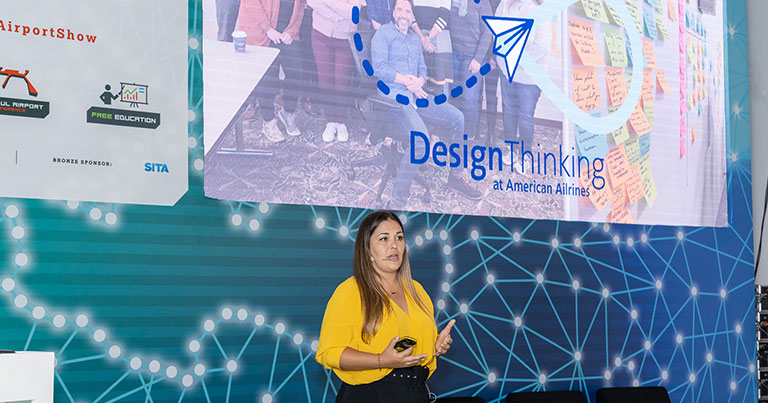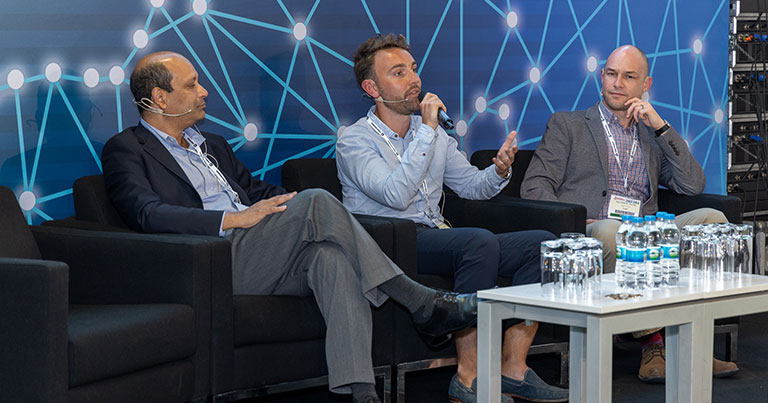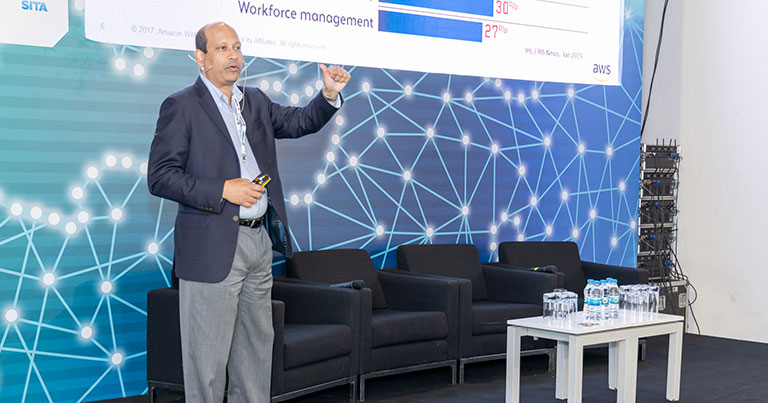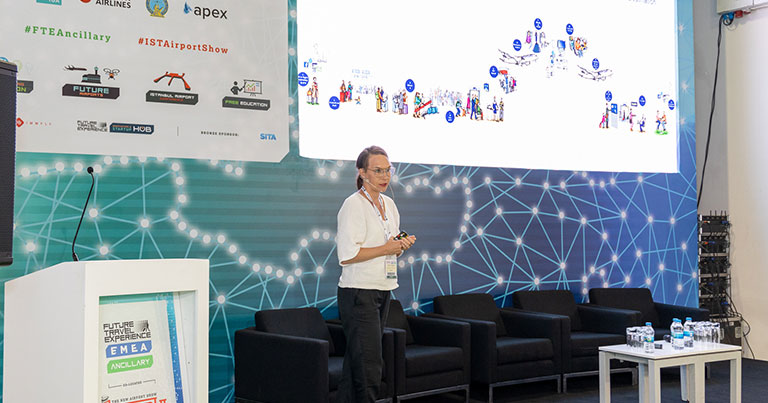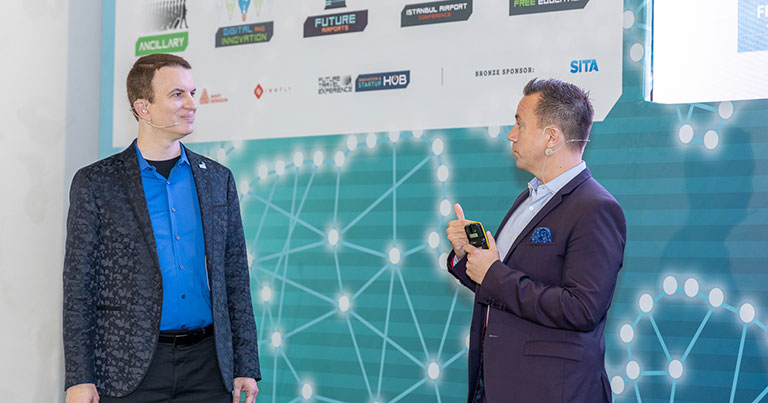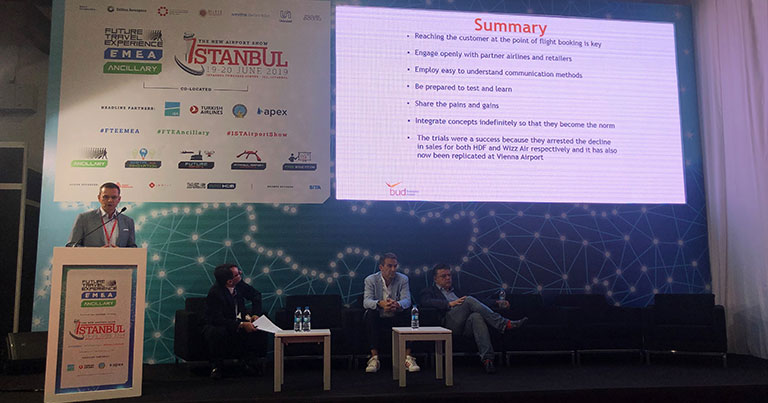 Meanwhile, the Ancillary conference track kicked off with a scene-setting panel discussion from members of the FTE Ancillary Advisory Board: Juha Jarvinen, EVP Commercial, Virgin Atlantic Airways and President of the Board of Directors, APEX; Mariana Fonseca Medina, Director of Ancillary & Merchandising Strategy, American Airlines; Apple Ignacio, Director, Ancillaries, Cebu Pacific Air; and Chris Annetts, Expansion Commercial Director, Heathrow Airport, who shared insights and inspiration on their strategies to drive ancillary revenues.
Experts from a wide range of companies including SunExpress, Pakistan International Airlines, YOTEL and Hepstar then joined moderator Simon Lamkin, CEO, LamTech Solutions & former CIO of Brussels Airlines, to discuss the future of distribution and how airlines can maximise revenues through direct and indirect channels.
The fourth working session – moderated by Sinead Finn, Director of affinnity – focused on how airlines and airports can boost traditional ancillary sales while tapping into new revenue opportunities in the window between ticket booking and departure, also referred to as the "Golden Selling Window". Emilio Chacon Monsant, SVP Ancillary Revenues & Direct Sales, Aeromexico, shared how the carrier, which is delivering consistent double-digit growth in ancillary revenues, is leveraging digital channels to boost ancillaries through effective upselling. Niraj Batra, Associate Vice President – Ancillary Revenue, Business Development & Distribution from IndiGo, then shifted the focus to the Indian market to share some of the challenges and opportunities for a low-cost carrier in selling ancillaries to Indian consumers, while TUI's Senior Ancillaries Manager, Katarina Hlavata, spoke about taking advantage of TUI's unique booking relationships with holidaymakers to drive ancillary sales through technology and innovation.
The Ancillary conference drew to a close with a candid address, delivered by Ben Robertson, Project Manager – Ancillary Revenue, easyJet, who discussed how easyJet is digitally optimising its proposition to meet the evolving needs of its passengers while creating new revenue streams. Providing welcome inspiration from the hospitality sector was Matthew Elgie, Digital Director, YOTEL, who focused on the significance of using data, video and tech to reach customers, while Ravi Bagal, Head of Worldwide Business Development, Consumer & Retail, Amazon Web Services (AWS), shared the retail giant's perspective on innovation and culture. "Innovation is about experimentation," he stated.
The second day of the Ancillary Conference kicked off with an exclusive thought leadership presentation by Joe Leader, CEO of APEX and IFSA, and Juha Jarvinen, EVP Commercial, Virgin Atlantic Airways and President of the Board of Directors, APEX, who provided the APEX view on the future of personalisation – from onboard cameras to leveraging passenger data onboard.
Attendees then heard from Tiina Tissari, VP Ancillary Business, Finnair, who shared how the carrier is leveraging its inflight entertainment and connectivity (IFEC) platform to increase ancillary revenues, while Pegasus Airlines and Immfly took to the stage next to present the latest revenue driven innovation in IFEC.
Another highlight of the conference was an exclusive deep-dive session on FTE's collaborative BARTA (Brands, Airlines, Retailers, Tech companies and Airports) initiative, which was launched by Budapest Airport, Wizz Air and Heinemann at FTE Ancillary in Dublin in June 2017. You can read the full report on the potential $1 billion benefits of the initiative here.
FTE Ancillary Awards recognise AirAsia, Finnair, easyJet and SeeVoov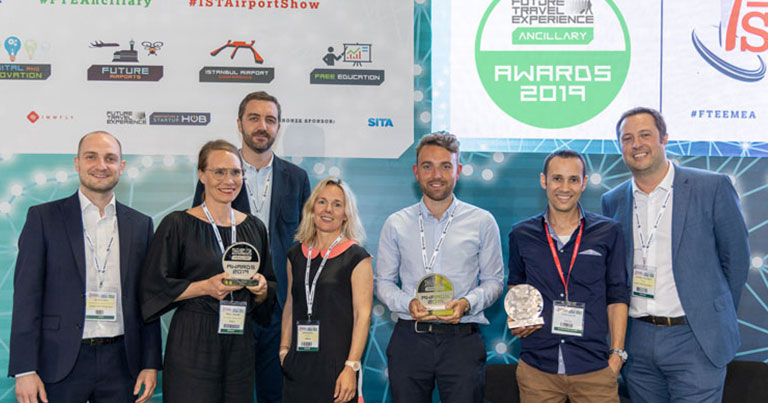 The winners of the Future Travel Experience (FTE) Ancillary Awards 2019 were also revealed at FTE Ancillary 2019. The FTE Ancillary Awards, now in their third year, recognise the most pioneering airlines that have tapped into digital advancements to successfully create new ancillary revenue streams across the end-to-end passenger journey. Three airlines – AirAsia, Finnair and easyJet – were rewarded for their ancillary innovation efforts. Meanwhile, SeeVoov was named the winner of the FTE Ancillary Startup Competition, following a pitch session, which included all 10 finalists in a special session on Day 1 of the FTE Ancillary conference. Read the full report here.
Digital & Innovation Conference – visions and learnings from Turkish Airlines, Avianca, Evelop, Schiphol, Viva Air Labs, Swedavia, Vueling and more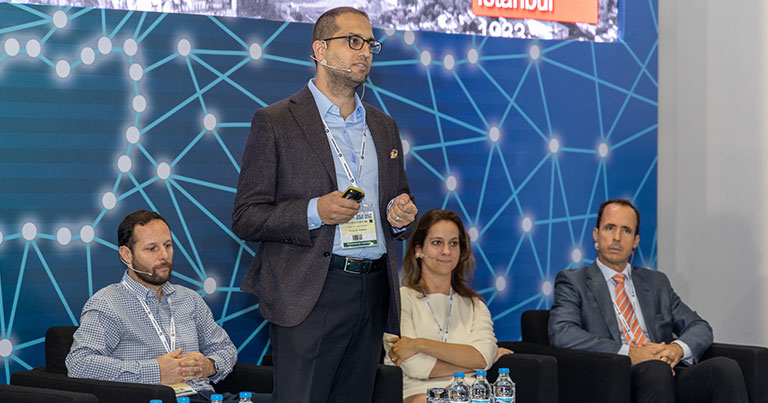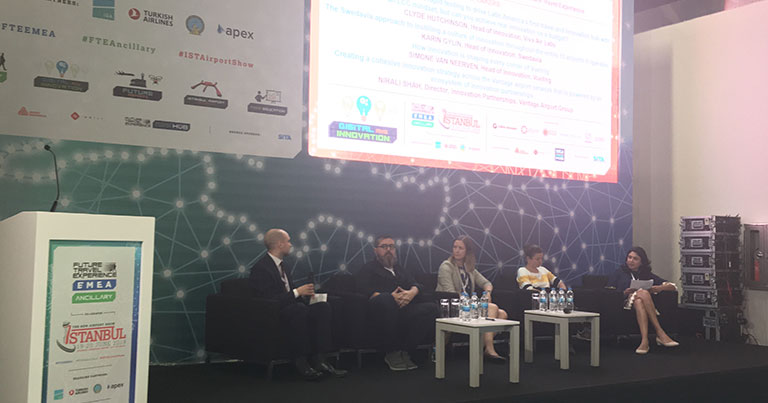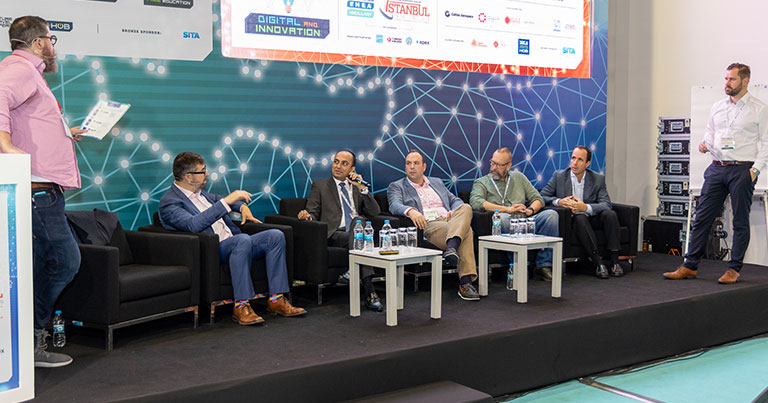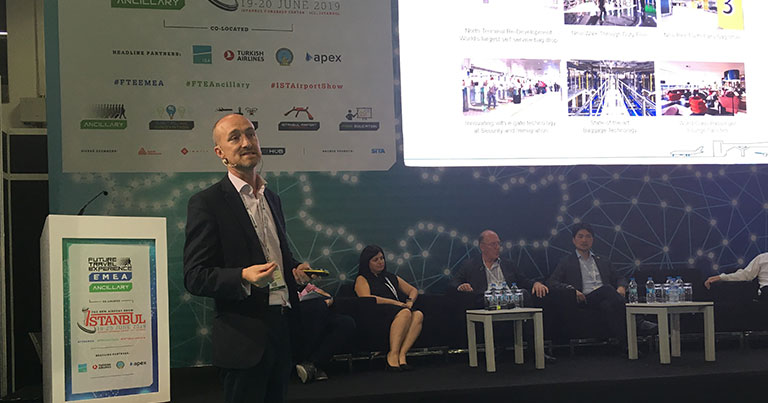 During the FTE Digital & Innovation Conference, delegates heard visions and learnings from organisations that are truly pushing boundaries with their innovation efforts. The first working session included presentations from Seyda Tartar, Digital Innovation Manager, Turkish Airlines; Santiago Aldana Sanín, CDO & CTO, Avianca; Rosanne van der Stam, Value Stream Owner for Customer Experience, Royal Schiphol Group; and Álvaro Coromina, CIO, Evelop Airlines, who all spoke openly about the challenges and opportunities of their digital transformation efforts. One of the biggest challenges that was highlighted is cultural change. To overcome this, the industry needs to adopt an agile mindset and experimentation culture – a sentiment very much echoed by Paul Armstrong's opening keynote speech earlier in the day.
As the day progressed in the Digital & Innovation Conference, attendees heard more inspiration from Clyde Hutchinson, Head of Innovation, Viva Air Labs; Karin Gylin, Head of Innovation, Swedavia; Simone van Neerven, Head of Innovation, Vueling; and Nirali Shah, Director, Innovation Partnerships, Vantage Airport Group. In a lively discussion, the panel shared strategies on innovation, data optimisation, new partnerships and the importance of engaging with the startup ecosystem.
The second day of the Digital & Innovation conference track continued with the FTE Sprint Sessions, which tackled long-held industry challenges of escaping the grip of legacy systems, improving on-time performance, and overcoming baggage headaches. During the course of the day, Viva Air Labs' Clyde Hutchinson and Thomas Hoff Anderson, Chief Operating Officer, Bengaluru International Airport, co-moderated each session and challenged panellists and the audience to come up with solutions to overcome these pressing topics. In the coming weeks, FTE will provide in-depth analysis and recommendations drawn from these debates.
The New Airport Show Istanbul – a deep-dive into the story behind the biggest airport in the world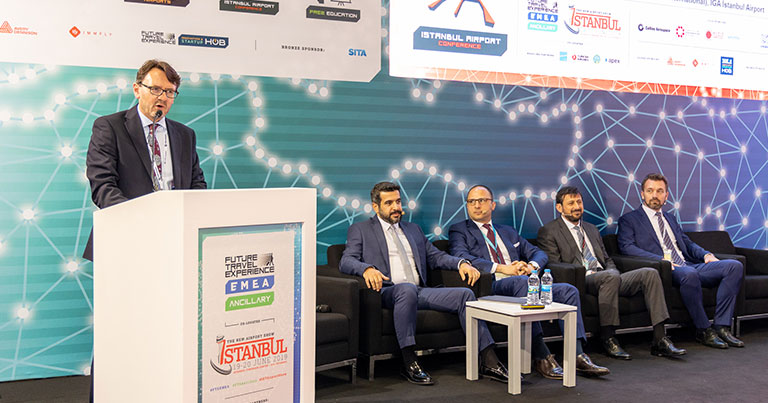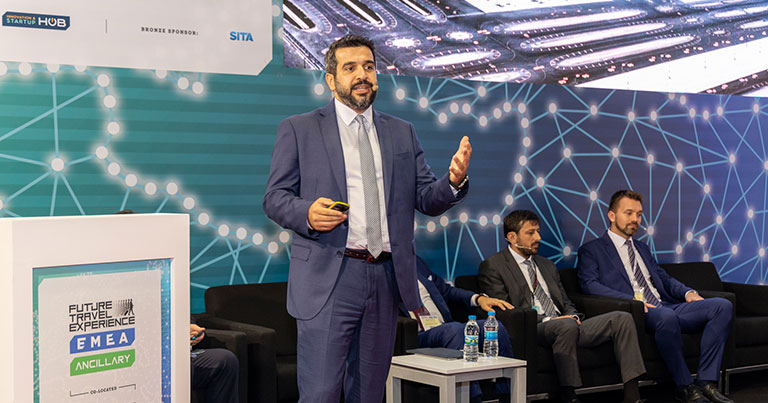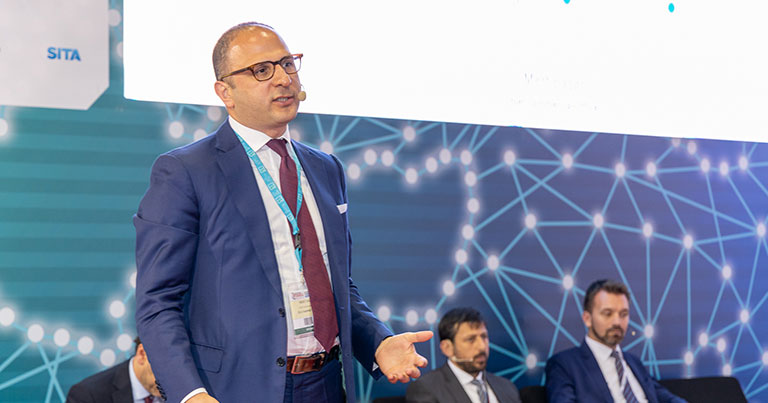 The first of the conference days also provided a deep-dive into the story behind the new Istanbul Airport mega-hub. Delegates heard a dedicated session on the design, construction and delivery approach for the new airport, moderated by İsmail Polat, Chief Technical Officer (CTO), İGA İstanbul Airport, who was joined by Graham Bolton, Global Practice Leader – Aviation, Mott MacDonald; Tomas Stokke, Director, Haptic Architects; and Andrew Thomas, Partner at Grimshaw.
During the course of the conference track, delegates had the opportunity to learn more on the environmental approach for the new airport, as well as hear case studies on the approaches taken to commercial, passenger experience, operations and technology utilisation at the new airport.
APEX-led customer experience innovation case studies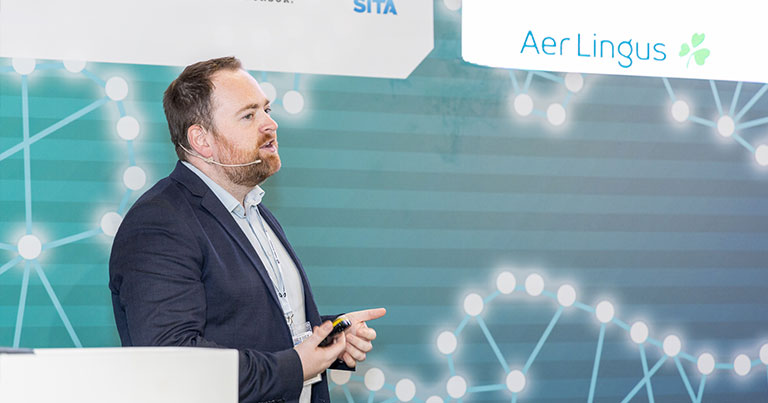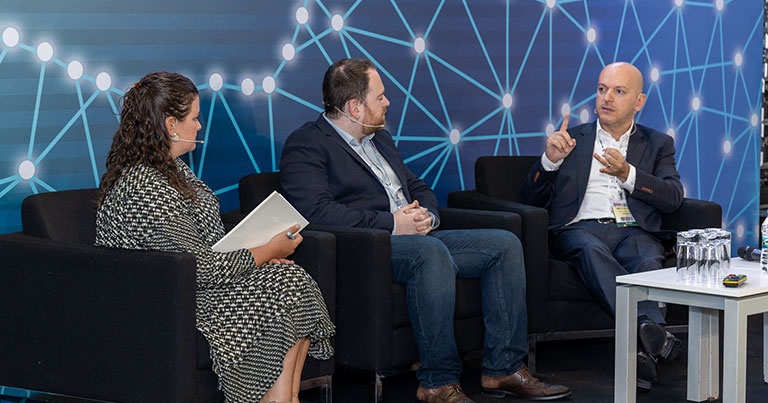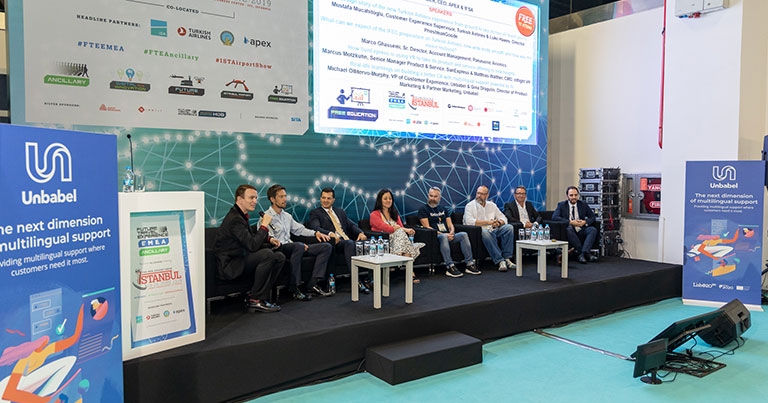 Two compelling sessions led by the Airline Passenger Experience Association (APEX) also took place across the two conference days. Moderated by Joe Leader, CEO of APEX and IFSA, the first session provided several customer experience innovation cases studies from Turkish Airlines, PriestmanGoode, Panasonic Avionics, SunExpress, Inflight VR and Unbabel. The second APEX-led session took place on Day 2 and was moderated by Lauren Costello, Director, Programs & Services, APEX. Attendees had the opportunity to hear insightful presentations from Aer Lingus and Atlasglobal.
Free-to-attend education sessions – memorable learning experience for all delegates; Biometrics Summit; Supplier Innovation showcase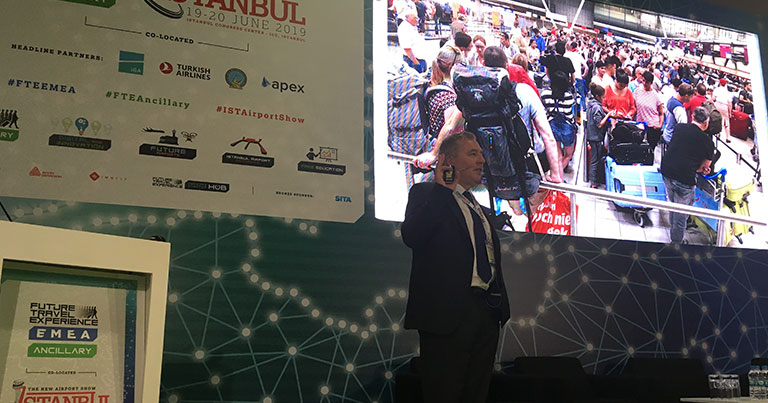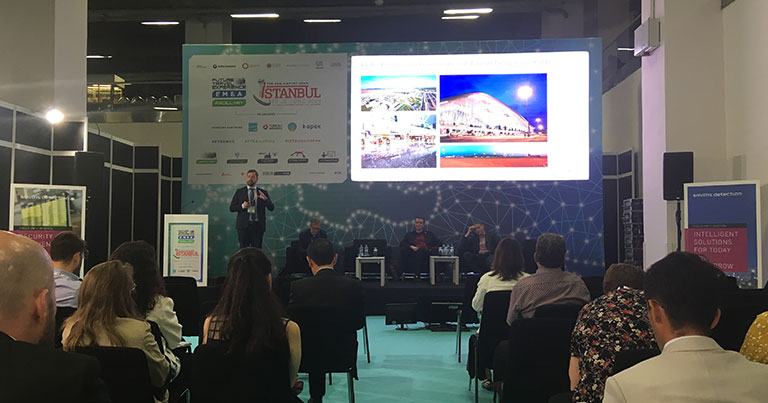 Through our many conference sessions, here at FTE we strive to provide a memorable learning experience to all attendees. New for 2019, FTE hosted free-to-attend education sessions throughout the show. A highlight was the Biometrics Summit (sponsored by Smiths Detection), which was moderated by Harald Jentsch, Head of Airports & Baggage Screening at Smiths Detection.
Delegates heard from Thomas Hoff Andersson, COO at Bengaluru International Airport, who provided details on how the airport will deliver the largest full deployment of end-to-end biometric solutions at an Asian airport. Joe Leader, CEO of APEX & IFSA, then took to the stage to share APEX's view on the significance of biometrics to the travel experience by proposing a single token end-to-end biometric ID, which enables airline customers to easily check-in, conduct biometric bag drop, clear airport security, and easily pass international borders. Prioritising biometric security, Leader highlighted that passenger biometric data must be individually encrypted so that the information would be useless, were it ever to fall into the wrong hands.
Ilya Gutlin, Chief Commercial Officer at Elenium Automation, also shared insights on Elenium's work with biometrics, including working with Amazon Web Services and biometric implementations at Hong Kong International Airport. Read an in-depth report on the Biometrics Summit here.
Future Airports & the 2020 passenger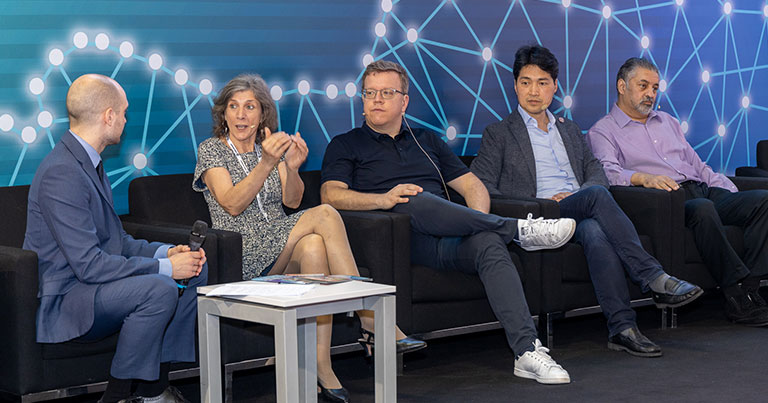 The Future Airports conference, which took place on Day 2, provided a peak into the future of the airport terminal and customer journey. Setting the scene was Jan Richards, Head of Insights & Planning at Dublin Airport, who emphasised balancing human interaction and technology throughout the journey to better understand the 2020 passenger. Richards was later joined by Guido Woska, Head of Passenger Experience Design at Lufthansa Group; Akira Mitsumasu, Vice President – Global Marketing, Japan Airlines & Member of the APEX Board of Directors; and Rohit Talwar, CEO of Fast Future.
Attendees also got to hear thought-provoking presentations on leveraging design and utilising digital tools to better serve the needs of tomorrow's passengers from Tan Lye Teck, EVP Airport Management, Changi Airport Group; Fiona Carleton, Director of Expansion Strategy & Future Operations, Heathrow Airport; and Elisabeth Huber, Innovation and Digitization Manager, Munich Airport Terminal 2.
FTE & Propeller Shannon Startup Pitch Session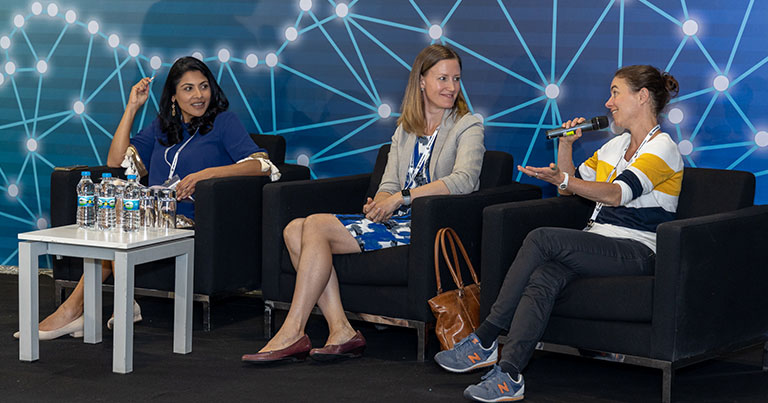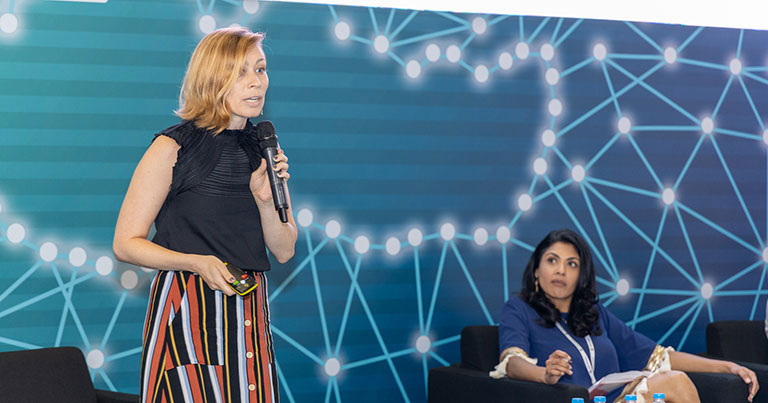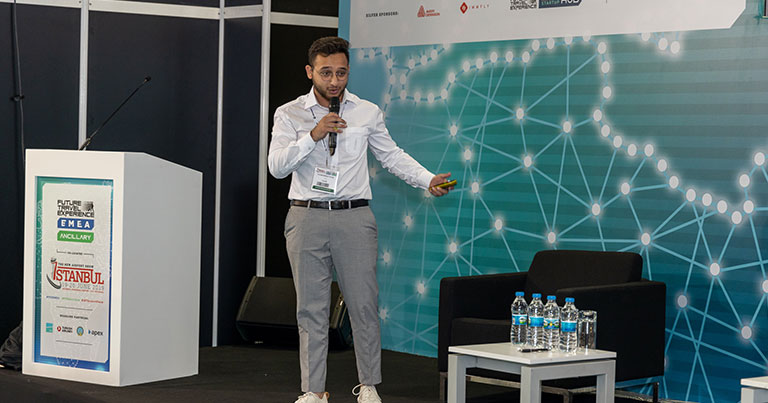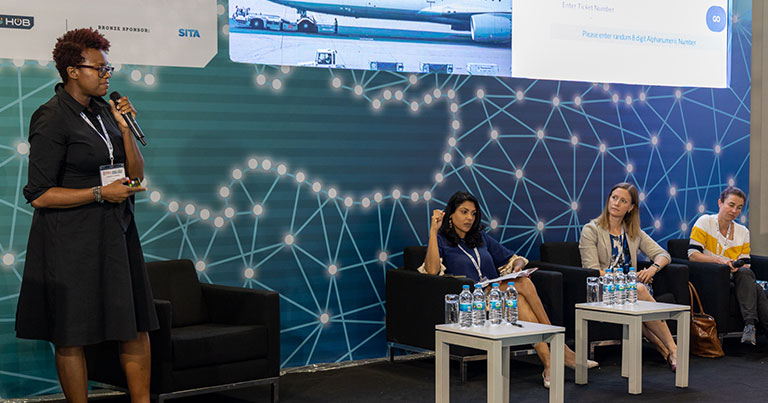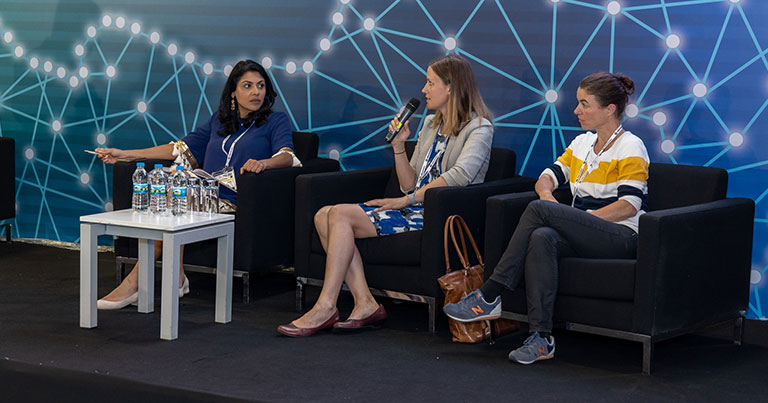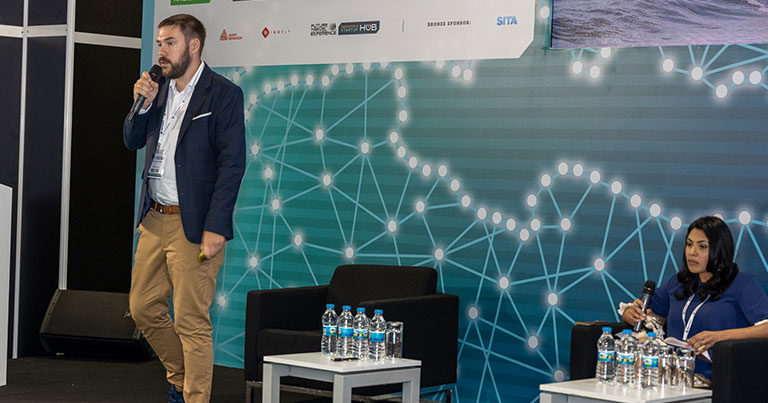 FTE teamed up with Propeller Shannon, a global startup programme for early-stage companies in the aviation and travel tech sectors, to provide a unique platform for a selection of startups to showcase their solutions at the FTE EMEA and FTE Ancillary events. Ten of their Cohort 2 startups – Countalytics, Drone Consultants Ireland, Flightbuddy, Navifly, OneAire, S-MAN, Trift, TrustaBit, WalkABit and Wanda – exhibited their products and services in the free-to-attend expo and had the opportunity to participate in a dedicated pitch session.
Following their Shark Tank-style pitches, each startup was quizzed by a panel of industry experts, namely Nirali Shah, Director, Innovation Partnerships, Vantage Airport Group; Karin Gaylin, Head of Innovation, Swedavia; and Simone van Neerven, Head of Innovation, Vueling.
Gala Evening courtesy of Turkish Airlines – "An evening beside the Golden Horn"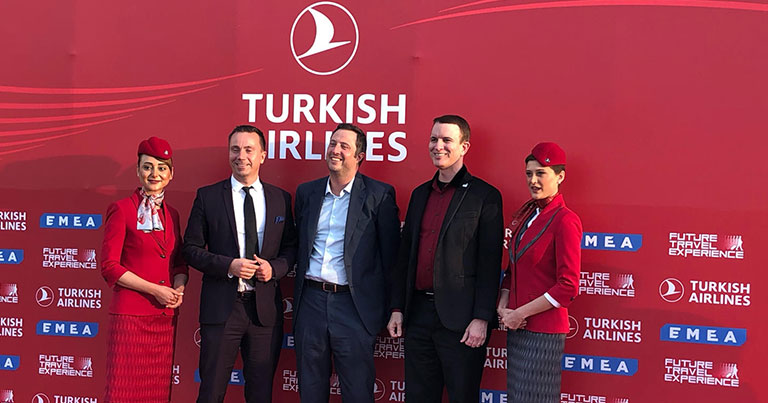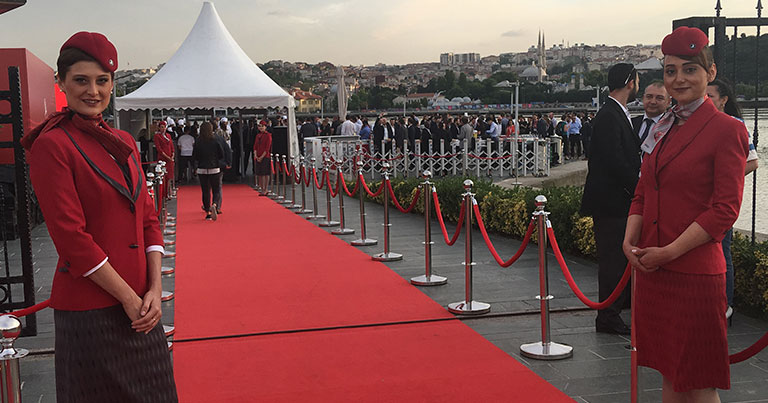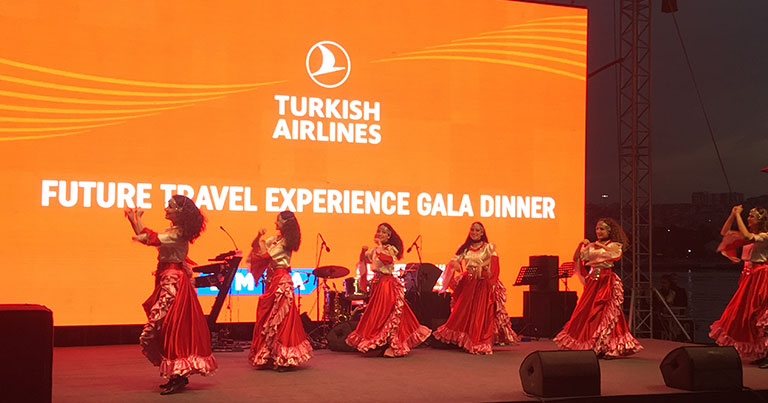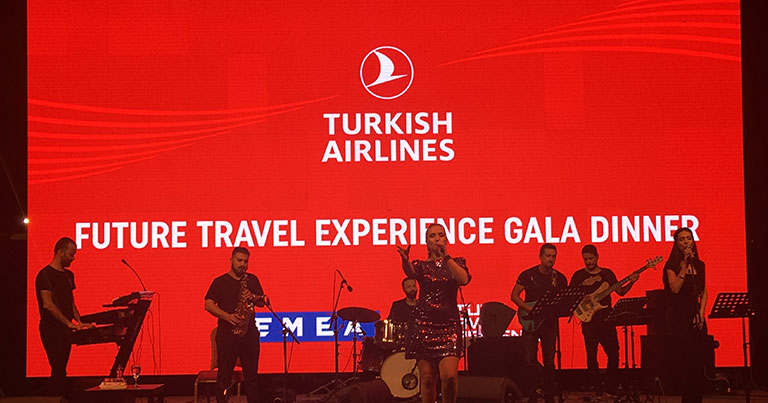 Turkish Airlines hosted a spectacular Gala Evening at the Haliç Congress Center where delegates enjoyed the finest Turkish entertainment, dining and hospitality alongside the Bosphorus. Attendees were given the red carpet treatment and surrounded by spectacular views of the Golden Horn, also known by its modern Turkish name Haliç, which is the primary waterway between the Bosphorus and the Sea of Marmara.
FTE Innovation & Startup Hub Live Day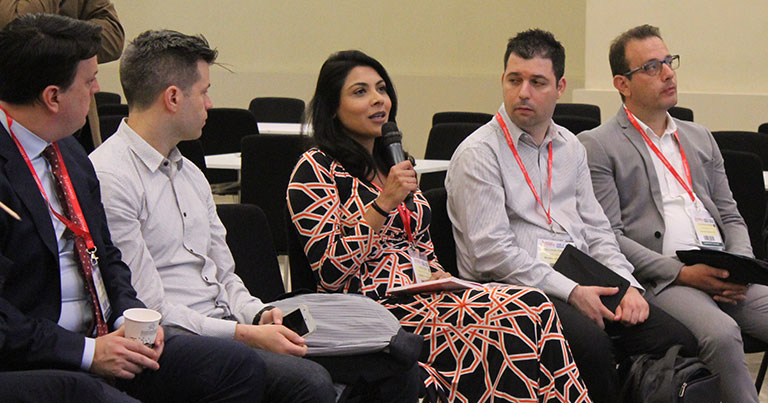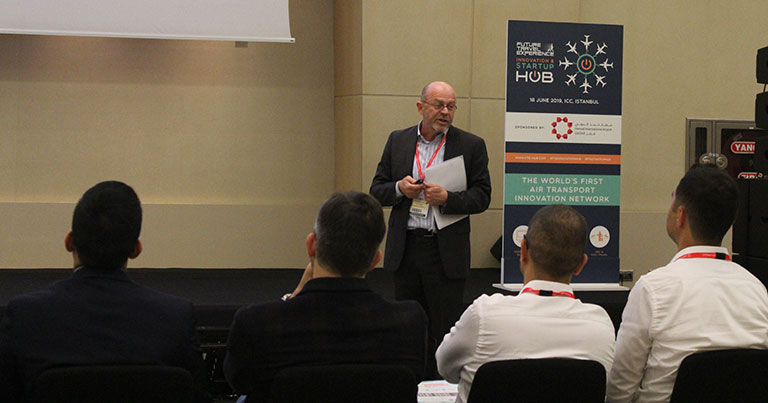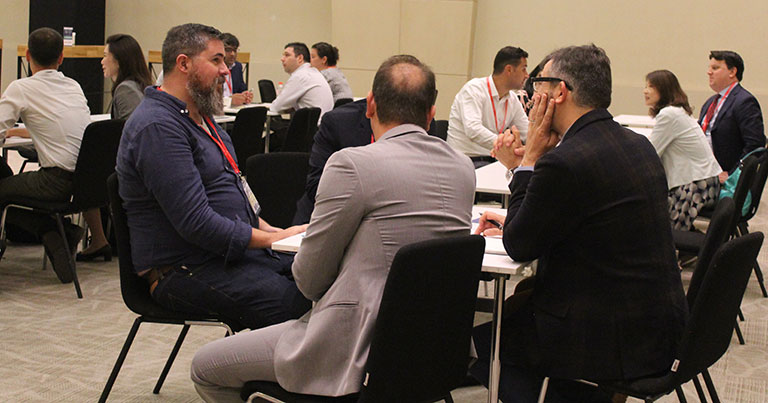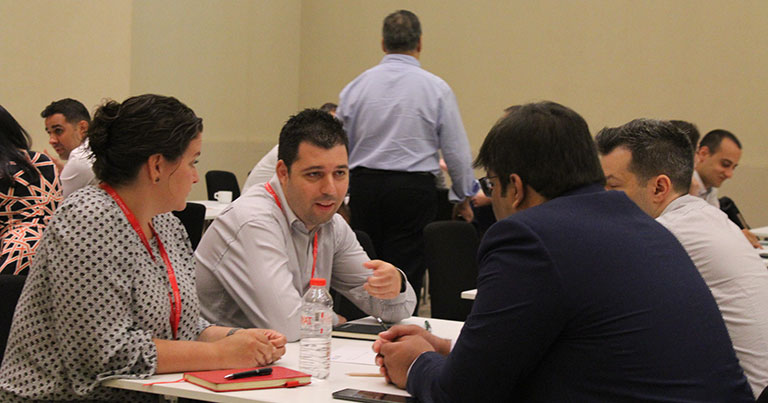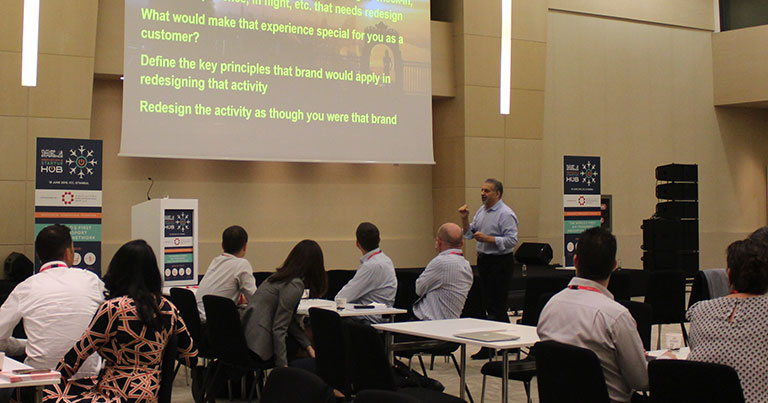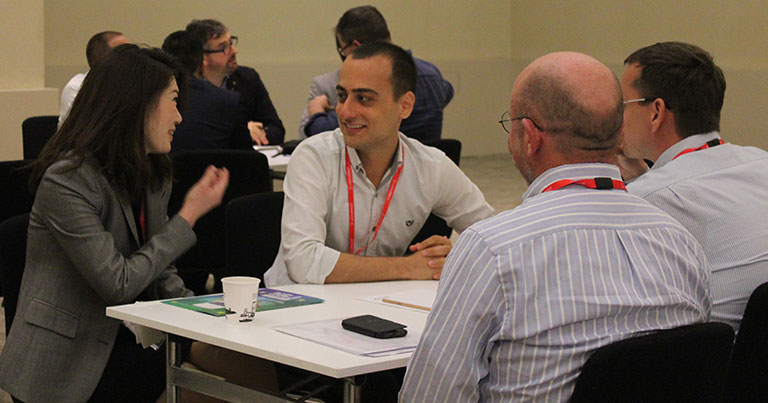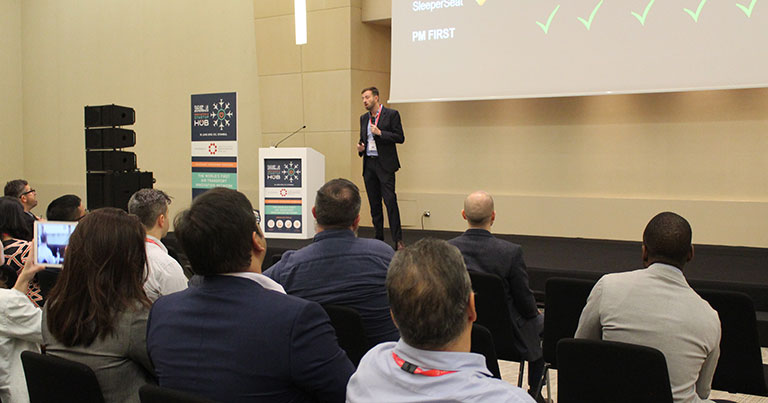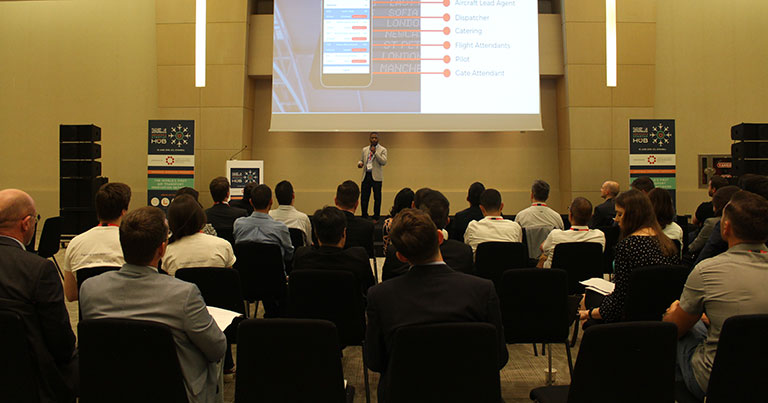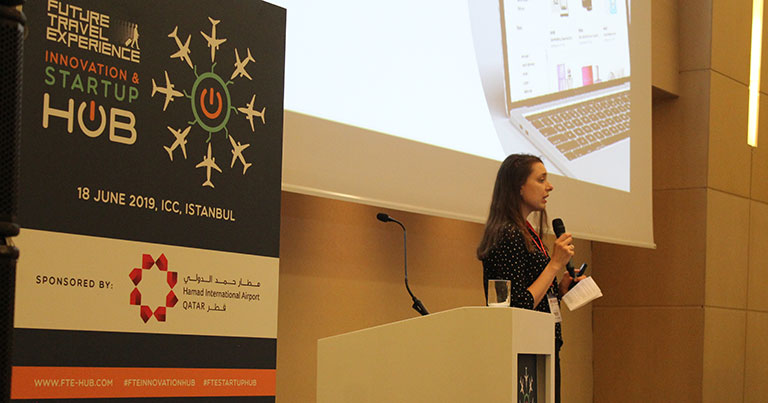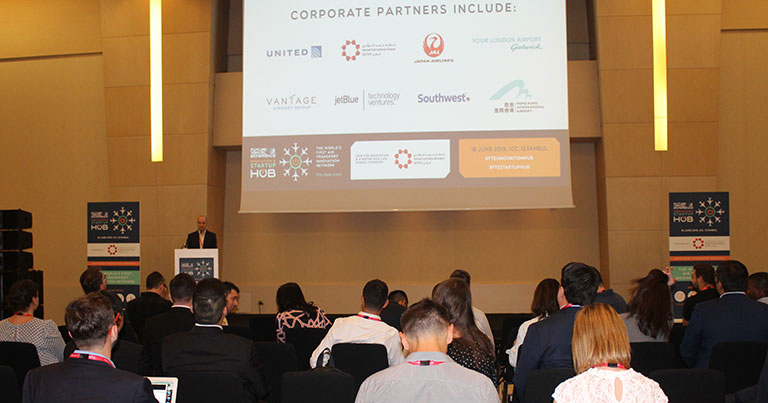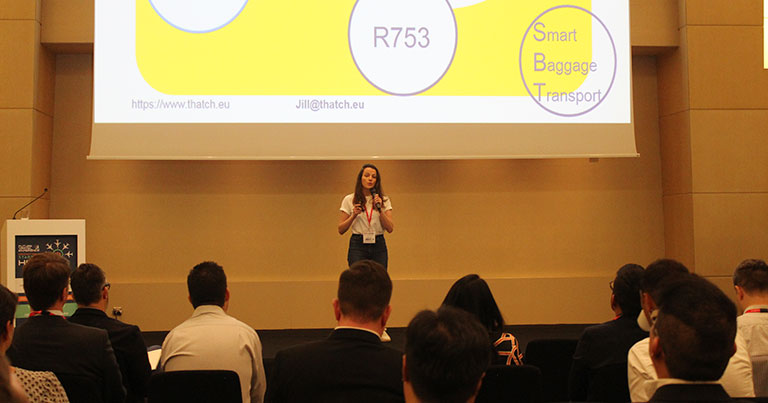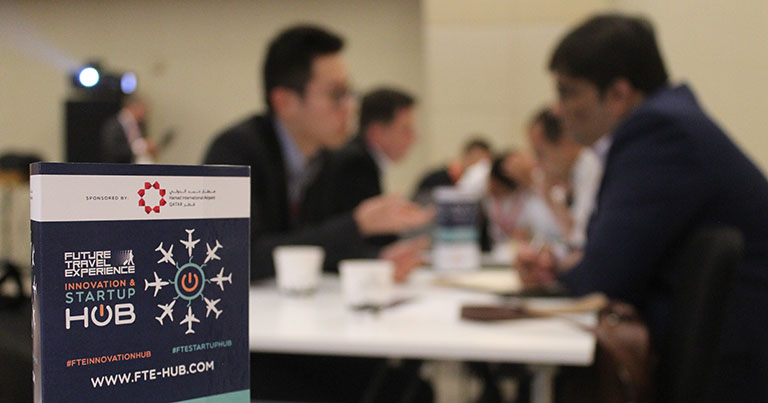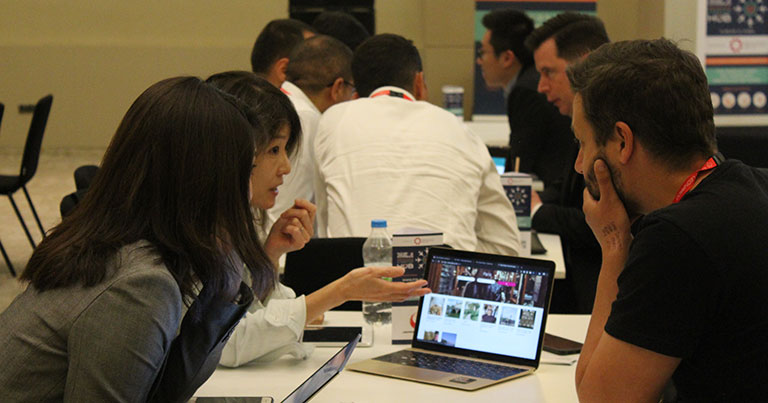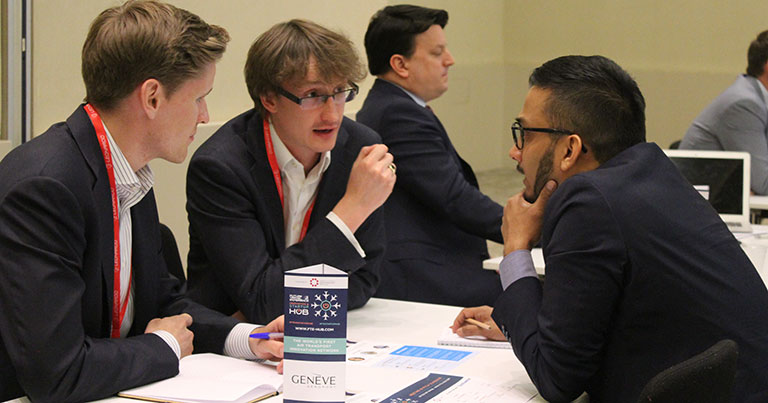 The 4th FTE Innovation & Startup Hub Live Day attracted more than 20 startups and scaleups from around the world, as well as Corporate Partners including Hamad International Airport, Southwest Airlines, Vantage Airport Group, Japan Airlines, Hermes Airports, Turkish Airlines, Geneva Airport, Viva Air Labs and Budapest Airport.
During the first half of the day, the airlines and airports came together for interactive sessions. The day kicked off with a stimulating presentation by David Feldman, Managing Partner of Exambela Consulting, followed by an interactive workshop led by Rohit Talwar, CEO of Fast Future and a renowned futurist.
Following the workshops and a networking lunch for the Corporate Partners, each startup had an opportunity to pitch their solution before engaging in one-to-one meetings with the airlines and airports to explore potential business opportunities. Read full report on the event here.
Dates announced for FTE EMEA and FTE Ancillary 2020: 3-4 June, Dublin