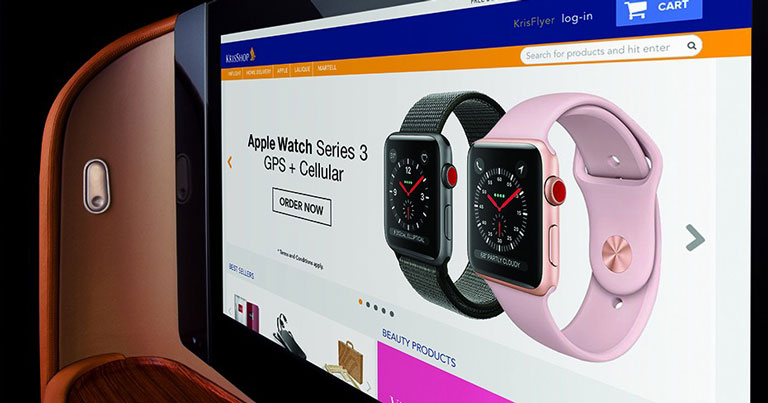 Singapore Airlines has announced that it has completely redesigned its KrisShop inflight offering into a separate subsidiary focused on global travel retail e-commerce.
Among some of the features of the model are pre-ordering goods up to 60 minutes before flight departure, mixed-cart transactions for inflight and home delivery, and integration of online travel agency Ctrip.
According to Singapore Airlines, the all-new KrisShop for inflight and online shopping is a further illustration of SIA's efforts to transform its business model to meet the challenges in today's complex business environment.
"We have been working ceaselessly to create a richer and smarter shopping experience for our passengers," said Chris Pok, CEO of KrisShop. "With our new KrisShop, we can now offer them the ultimate in customer convenience, while being able to react to the market with timely new content and targeted campaigns. The new solution provides us with a solid foundation for our digital business and will help ensure the success of our airline, now and in the future."
"We are excited that Singapore Airlines is our first airline partner in the Travel Retail space," AOE founder and CEO Kian Gould commented. "That this renowned and innovative airline is completely digitalising its travel retail business model through its own dedicated subsidiary KrisShop Pte Ltd. is a clear signal to the industry that such a model is crucial for the continued viability within aviation and travel retail. We are convinced that only those airlines that take a personalised omnichannel approach to their E-Commerce business will be capable of increasing customer loyalty and in creating new sustainable sources of revenue."
The KrisShop team placed particular emphasis on an appealing presentation of best-selling brands in its store. Premium brands such as Apple, Bang & Olufsen and Chloé benefit from the shop-in-shop concept – including own corporate design (images, logo, user experience, navigation, etc.). This approach makes it easier to reach a broader, more targeted audience, helping to generate new revenue streams – both for the brands and the airline. Customers can reach the other featured brands through a drop-down menu. KrisShop customers can currently choose from nearly 350 featured brands with more than 3,000 products on offer.
In addition, KrisShop also features Concept Stores, which are used to create customised, event-related pages, such as for Formula 1, KrisShop Cares, its Corporate Social Responsibility initiative, or for special offers, such as a campaign focusing on local products.
Moreover, passengers will be able to shop 60 days and up to 24 hours before departure. With selected goods that are readily held in stock and easy to transport, that window is further expanded to up to 60 minutes pre-flight. Delivery can be in-flight or to the customer's home – a valid flight number is required for duty-free prices. Mixed-cart transactions for in-flight and home delivery in one shopping cart are also possible. Payment can be carried out via credit card, loyalty points or a mixture of both.
In addition to its new in-flight offering, KrisShop continues to integrate new third-party vendors to create new sources for revenue. For example, when a passenger books a flight through Ctrip, KrisShop products are automatically offered and can be ordered directly when booking a flight.
The completely revamped KrisShop brand and platform is part of a joint venture between Singapore Airlines, 3Sixty and SATS. The joint venture creates innovative opportunities for all parties. Airlines, airports, retailers, brands and, most importantly, passengers will benefit from this innovative solution. The initiative represents an important step in the digitalisation of travel retail.