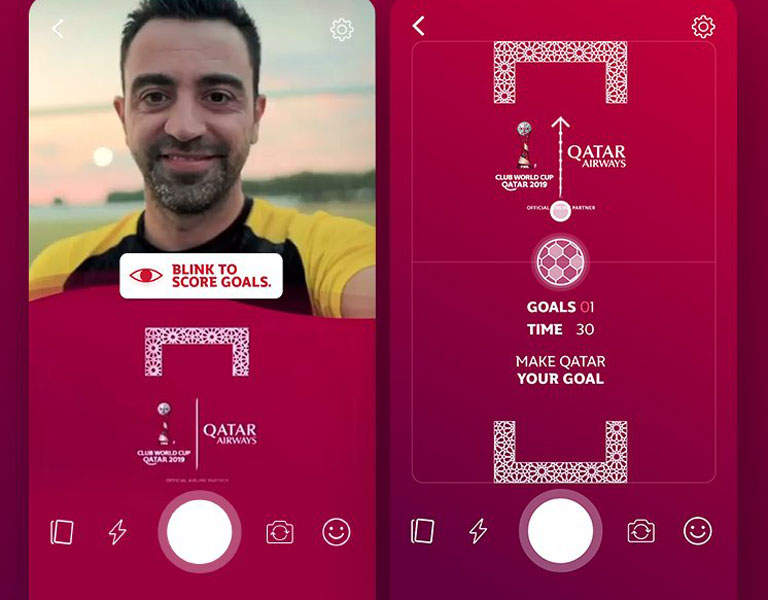 Qatar Airways has launched a new Augmented Reality (AR) experience that allows users to play an innovative football game on Facebook, where the player must 'Blink to Score'. The new initiative celebrates the launch of the FIFA Club World Cup Qatar 2019.
The airline has become the first regional carrier to leverage the newly launched Facebook AR ads format, enabling consumers to play the AR game directly from Facebook's newsfeed, without having to install additional applications.
Qatar Airways has also launched a creative campaign with football legend Xavi playing the AR game, delivering the first of its kind experience on the Facebook app to football fans across the world.
Qatar Airways Senior Vice President Corporate Communications, Salam Al Shawa, said: "Qatar Airways is constantly pioneering new ways to interact with our passengers, and we are grateful to Facebook for sharing our passion for innovation to enhance our customers' experience. Excitement is building as the FIFA Club World Cup Qatar 2019 gets underway and we are delighted to welcome the football world to Qatar, the destination of champions."
Facebook's Managing Director for MENA, Ramez Shehadi, said: "The use of AR is growing among people and businesses in our region. From try-on product experiences to immersive filters for games and movies, AR enables people to connect with businesses and products in new ways. We are excited to pilot this new ad format with Qatar Airways to build more engaging mobile ad experiences and boost audience engagement."
AR games have now been linked with Facebook ads, by incorporating call-to-actions within the AR experience. Customers can go seamlessly between engaging with the Qatar Airways brand to learning more about packages to attend the FIFA Club World Cup Qatar 2019.
As part of the 'Make Qatar Your Goal' campaign, the airline has also announced flight offers on Economy and Business Class tickets as well as packages from the world to Doha.