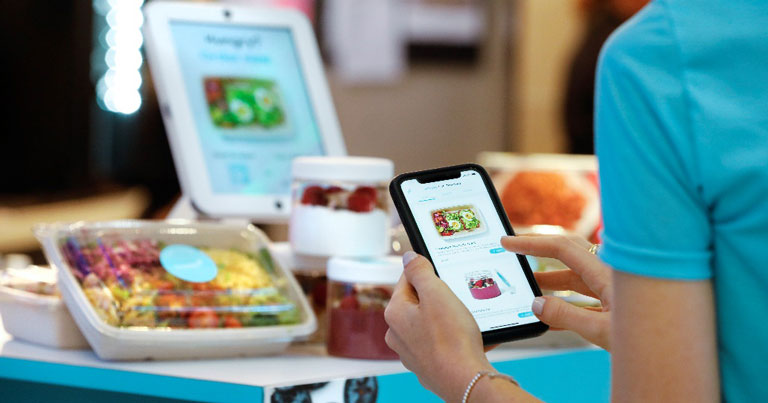 Los Angeles World Airports (LAWA) and Unibail-Rodamco-Westfield (URW) have teamed up with startup company Fly with Breeze to pilot an on-demand food service programme in Los Angeles International Airport (LAX) Terminal 2. The new food service offers guests healthy dining options and the convenience to order anytime, anywhere.
The pilot uses the concept of a 'ghost kitchen', in which food will be prepared in existing kitchen space within the terminal.
According to the airport, this innovative model supports sustainability and small business development at LAX without the need for new construction or infrastructure.
"The addition of Breeze provides our LAX Shop and Dine users with yet another online food and beverage offering that passengers can pre-order for convenient and speedy pick-up on their way to the gate or upon arrival," said Justin Erbacci, Interim Chief Executive Officer, LAWA. "Breeze is another great example of how LAX is leveraging innovative digital technologies to improve the guest experience, while also encouraging entrepreneurship and increasing opportunities for local and small businesses."
Breeze's healthy, fresh menu items include breakfast options ranging from $8-$14, and lunch and dinner options ranging from $14-$17.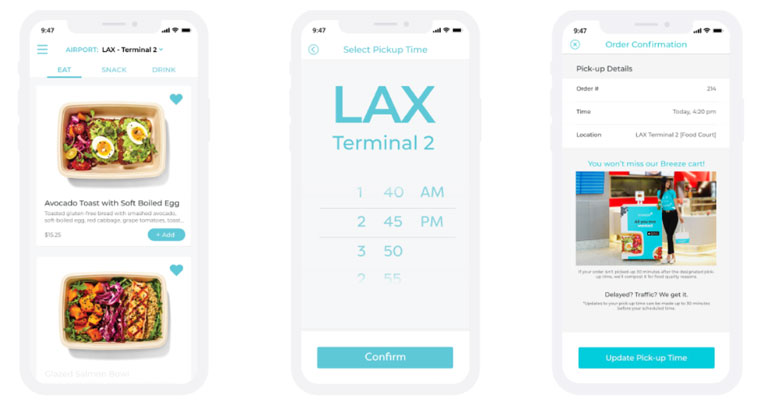 To order from Breeze, LAX guests choose from a selection of curated meals and snacks via LAXshopdine.com, or through Breeze's app. Food is then delivered to Breeze's kiosk inside the terminal at the customer's selected pick-up time, or within 5-7 minutes for immediate delivery. Menu options cater to a variety of diets and lifestyles, including vegetarian, vegan, gluten-free and paleo.
Passengers can order from Breeze in three ways:
Visit LAXshopdine.com. A full menu is available for immediate pick-up.
Download the Breeze app, Fly With Breeze, on the Apple App Store to place an order up to 24 hours in advance for a scheduled pick-up time.
If a guest is already in Terminal 2, they can follow the directions to text an order. Texted orders can be ready within 5-7 minutes.
Orders placed in advance can be picked up without the need to wait at the kiosk near the Terminal 2 dining terrace. Guests can pay through Apple Pay or any major credit card.
"Breeze manifested from a very personal pain point of mine," said Annabel Lawee, Founder, Breeze. "I was travelling frequently for business, and I have celiac disease – there were few, if any, options for me at airports. Breeze helps fill that void by providing access to wholesome and delicious food, while maintaining a seamless experience for LAX guests."
Dan Hough, URW's Vice President at LAX, added: "Breeze is a great example of how we can give customers more choices, more personalisation and greater convenience in the same space we occupy today. By finding creative solutions, utilising existing space and partnering with innovators both inside and out of the airport, we're enhancing the experience for everyone."
The pilot programme is part of LAWA's ongoing modernisation of LAX to make the airport experience more efficient and stress-free for guests. Last year, LAWA and URW Airports launched LAXshopdine.com, a digital marketplace that offers online catalogues of retail options and dining menus along with the ability to pre-order food at select restaurants.