Dear friends and colleagues,
This is an unprecedented period for our industry. The COVID-19 pandemic is a black swan event that has turned our world upside down and had a startling impact both on a personal and professional level. Here at Future Travel Experience we have been consumed by forging a plan for how we can best support the industry during these testing times, while maintaining our own long term survival.
It certainly hasn't been easy and internally we have had to take similar steps to those announced recently by many industry stakeholders such as staff redundancies, pay cuts and encouraging unpaid leave in the coming months as the COVID-19 crisis peaks. We have also been thinking hard about our event schedule. The reality is our industry is not in a position, or mindset, to take part in any meaningful mass gatherings in the short/medium term, and we don't like the idea of staging anything less than brilliant for our valued customers and partners.
So, I write today to let you know that we have made the decision to cancel our FTE EMEA/Ancillary show in Dublin this June, and to postpone our 15th Anniversary FTE Global show in Las Vegas from September to December 7-9. The FTE Global show will now include the FTE Ancillary conference and our FTE Innovate Awards, both of which were initially planned for the Dublin event. Our rapid-growth FTE APEX Asia EXPO show for the fast-recovering Asia market will go ahead as scheduled at the Marina Bay Sands in Singapore on November 10-11. Uniquely, we will now offer a level of complimentary VIP access to both of these shows for airlines and airports to support their essential need to plan for the future, whilst they operate on tighter budgets through 2020.
Our event websites have been updated with our latest plans, and the schedule for our upcoming shows is now as follows: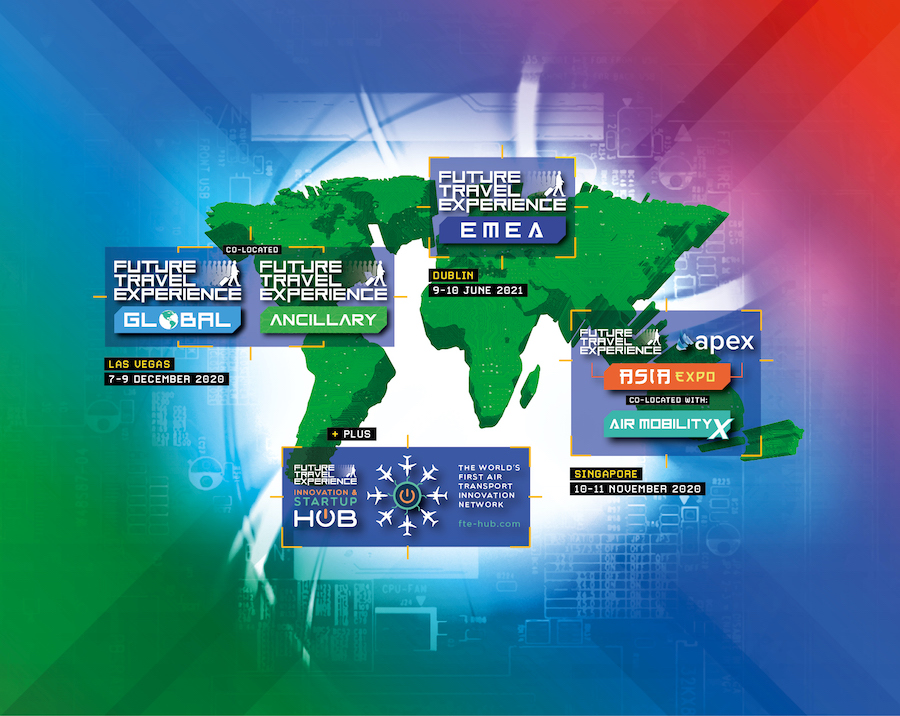 New approaches for a new world
We have talked to many industry executives over the last few weeks and have been very encouraged that the overwhelming consensus is that the current crisis will serve to accelerate the digital transformation, automation and innovation efforts of the travel sector. Traditionally this industry struggles under the weight of day-to-day operations but as those have been scaled back significantly there is a window here to reimagine what your organisation delivers, and how it operates, taking into account the momentum of collaboration across departments and between stakeholders that this crisis has created. Imagine what could be achieved if that same momentum was carried into solving other long-standing challenges or bringing new ideas to life. Now is the right time to seize such opportunities to ensure your organisation is geared up in the best possible way for the rebound that's on the horizon.
Stakeholders must still connect and engage to share ideas, propositions, visions and learnings, and whilst in the short term none of us can rely on the usual methods such as face-to-face meetings in offices or at industry events, we really want to inspire and help to keep the industry connected in other ways.
The FTE portfolio is uniquely suited to this as we have evolved our activities greatly in recent years, as is highlighted by the 2018 launch of the FTE Innovation & Startup Hub, the world's first air transport innovation network. This has become very successful in driving online engagement between our 15 corporate members, including the likes of Japan Airlines, Los Angeles World Airports, Southwest, Gatwick Airport, Viva Air, Hamad International Airport, JetBlue, Airport Authority Hong Kong and United Airlines (plus many more to be announced shortly).
We are now taking all of the lessons we've learned from these online and virtual activities and implementing them on a much larger scale to support the entire FTE ecosystem. To this end, you can now expect the following from us to cover industry-wide activities as well as very specific areas of interest:
1 – An enhanced focus on our media activities – Although many airlines and airports will not be issuing statements or press releases to share information on their disruption management approaches or how they are delivering new operational efficiencies in response to our changing world, we know that important work is going on behind the scenes. During the coming weeks and months we will be doing everything we can to share industry best practice and new ideas with our 60,000+ subscribers on a weekly basis. The FTE newsletter and website will be an important source of information for the sector, and a powerful platform for suppliers who are still keen to get their brand, and their capabilities, out to the market.
2 – FTE Virtual Events – As bringing the industry together at in-person events is not feasible in the short term, we will be hosting a number of online events and activities for the industry. I can today announce that we will be hosting an FTE Ancillary Virtual Event on Thursday 4 June. We know that airlines from around the world were planning to attend the FTE Ancillary event in Dublin this June to meet the most pioneering vendors in the ancillary revenue world, so we will invite airlines to our new virtual event instead and all airlines will be able to attend for free. This online event will include pitches from a selection of the most exciting ancillary revenue vendors, who will present their latest products and services. Airline participants will then be able to ask questions and follow-up directly with suppliers of interest afterwards. This ancillary-focused effort will also be complemented by two other virtual events which will be free to attend for airlines and airports. The first on Wednesday 13 May will focus on "Post-COVID-19 Airports" and the second will be on Wednesday 20 May and will focus on "Post-COVID-19 Airlines & Aircraft". Both will include insight from industry leaders on how the airport and cabin experience must be evolved quickly to restore consumer confidence and enhance operations. They will also include pitches from suppliers with unique solutions for this new world in which we have to quickly find ways for air transport to comply with social distancing practices and deliver a more contactless, seamless, automated, sanitised and digitally powered travel experience that puts the passenger in control of their journey.
3 – FTE webinars for all – Over the past two years, a key benefit for FTE Innovation & Startup Hub members has been access to our webinars featuring exclusive presentations by innovators who have shared their strategies, experiences and expertise with our Corporate Partners. We will now take this approach further with the launch of webinars on a variety of important industry topics. You can expect guest presenters, panel sessions, and discussions involving all participants. These will be free-to-access for FTE Hub Corporate Partners and low-cost for other parties who would like to get involved.
4 – Meet the world's best air transport startups virtually – We now have more than 300 outstanding startup members in the FTE Innovation & Startup Hub. So far our Hub efforts have been focused on supporting airlines and airports, but we know this is a time when many business are rethinking their strategies and partnerships for the new era that lies ahead. With this in mind, vendors who are looking to meet with the brightest new companies out there will also be able to meet with our startup members through virtual startup pitch sessions. Whether you're an airline, airport or established industry vendor, we will be able to connect you with startups that can help to improve your business.
The air transport industry has faced many challenges in the past and has always risen above them. I know we will do so again and the industry will be stronger for it in the long term but there will be casualties.
FTE is nimble and fortunate to have a diverse portfolio, great partners like APEX and Onboard Hospitality, an incredibly supportive Advisory Board, passionate team members and strong relationships with our customers, which are more important now than ever. We are taking a massive financial hit by making big changes to our event schedule and plans in order to try to deliver the very best output for our customer base towards the end of the year when we expect the world to be back to normal. I humbly request that when the time is right for you to start thinking beyond COVID-19 that you make FTE a part of your plans, so we too can get through this crisis and continue to drive innovation and collaboration across the globe for this industry, which we care so deeply about, for many years to come.
On a personal note, it is clear to me that we have all taken so much for granted in life, and in business, and I am convinced we will all be better people on the other side of this, which can only be good for humanity and our industry.
We will celebrate milestone anniversaries at our Las Vegas and Singapore shows this year and it will be very meaningful to connect face-to-face once again with the FTE ecosystem to collectively drive the industry forward, so I am certainly looking forward to that. In the meantime, please reach out to me if you would like to learn more about any of the initiatives outlined above or if you would like to ask for our assistance in supporting your ongoing transformation efforts.
Good luck, stay safe and let's be ready for the rebound.
All the best.
Daniel Coleman
Founder & CEO
Future Travel Experience
daniel.coleman@futuretravelexperience.com