As airlines are slowly starting to resume flights amidst the coronavirus pandemic, there is an enhanced focus on identifying new ways to increase revenues to strengthen the aviation business' financial position.
During our recent FTE APEX Ancillary Virtual Event, which took place on 4 June, some of the most exciting ancillary revenue vendors had the opportunity to present their latest products, services and visions to help airlines and airports evolve their commercial approaches.
Plusgrade: Accelerating the air transport industry recovery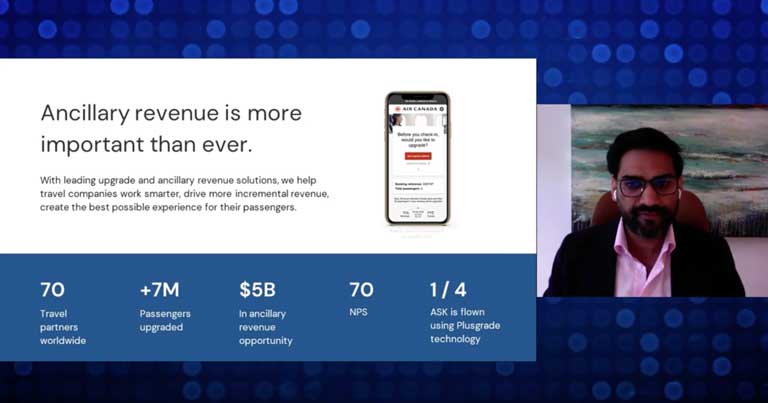 APEX member Plusgrade presented its new initiatives to support airlines as well as travellers during the COVID-19 pandemic. Pramod Jain, Chief Operating Officer, Plusgrade, introduced two key initiatives created to accelerate the recovery of the global airline and travel industry. "Many headlines are projecting that the recovery may take years, but while we hope for the best, we asked ourselves to find a solution built on our technology to help compress the timeline and accelerate the road to recovery," said Jain. To address this, the company has created the Travel Again programme, which allows travellers, either individuals or corporations, to purchase a travel certificate that grows in value over time. Jain explained that it is a custom-branded web portal offered at no cost to airlines.
As the industry moves through the challenging times, Plusgrade has also launched another initiative called Dynamic Seat Blocker. "Dynamic Seat Blocker is the simplest way for airlines to drive incremental revenue, capitalise on the changing travel economy and offer inflight innovation by adding a new type of enhanced seating option for additional comfort and space," he explained. Referencing a recent survey by digital commerce company PROS, Jain said that over 65% of people would pay to have no one sitting directly next to them. Through the solution, airlines can give passengers the ability to either purchase the seat next to them or offer this option for free, or even purchase the entire row. The Dynamic Seat Blocker uses machine learning algorithms to predict passenger ancillary revenue offering by passenger profile, route, day of travel, load factor and fare class configuration among other factors. "We believe that returning to travel will be about giving your customers choice and flexibility."
CarTrawler: Preparing for the bounce-back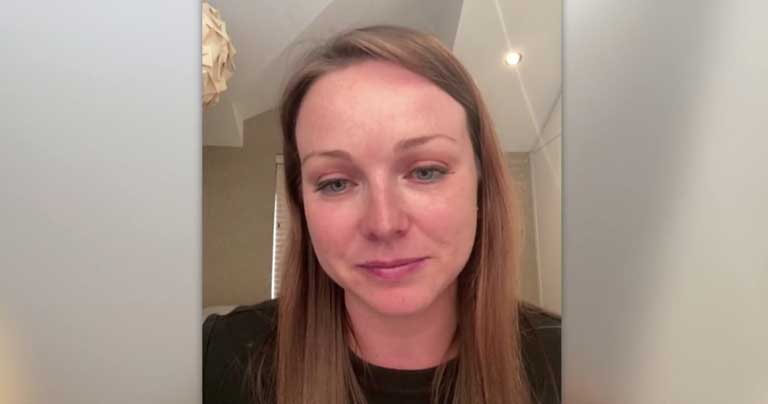 Another company that is successfully navigating through the COVID-19 crisis is leading B2B provider of car rental and mobile solutions CarTrawler. While the travel sector faces a period of acute pressure due to COVID-19, CarTrawler's broad offer and range of business partners position it well to benefit when demand recovers. "At CarTrawler we have just reviewed our strategic options to make sure we continue to be profitable," shared Aileen McCormack, Chief Commercial Officer, CarTrawler. Indeed, in May the company announced a new partnership with international investment management company TowerBrook, which has invested over €100 million in the company. The investment has been key to helping CarTrawler during this period of unprecedented disruption to the global travel market. McCormack also shared details around the company's new project, called Operation V, which has been designed to prepare the company and its partners for the bounce-back. As part of the project, CarTrawler is focusing on three key areas:
Merchandising – As consumers look for reassurance, CarTrawler is working with its suppliers to make extra efforts around sanitisation and consumer safety.
Customer relationship management (CRM) – CarTrawler is also supporting its partners with the planning of their future CRM campaigns, to make sure they are ready to launch sales to capture the bounce.
Providing insights – Another core service the company has been providing while working closely with its partners and suppliers is the sharing of data and insights to support their recovery. McCormack explained that the scale of the business gives CarTrawler a broad view of the industry as a whole across a number of segments allowing it to spot trends at a really early stage.
McCormack also said she remains positive that the car rental business will recover quickly, as consumers will want to be in control.
Air Black Box: Delivering revenue with managed interline solutions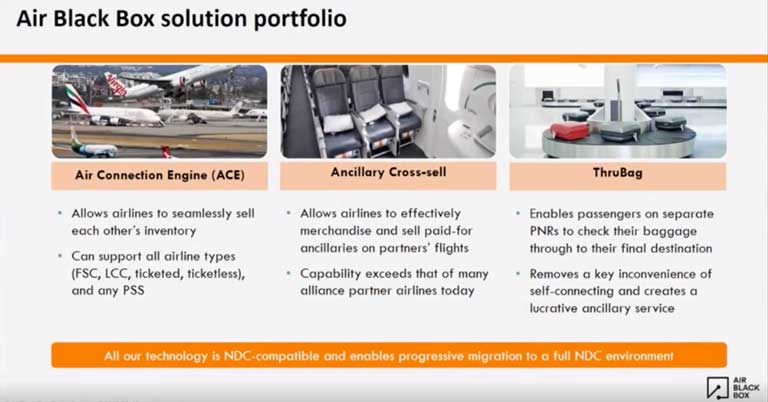 Patrick Edmond, Commercial Solutions Advisor, Air Black Box, shared the company's vision for an easier path forward for connecting passengers. Edmond explained: "We have seen how self-connecting travellers and itineraries have become even more important in the past few years. As low-cost carriers have taken more market share, more passengers have discovered that they can save money and achieve more convenient connections by putting their own connections together. But that brings its own disadvantages in terms of risk and inconvenience. As a result we have launched our vision and have worked with a number of airports and airlines to make this happen." Air Black Box helps airlines and their partners deliver managed interlining more easily and cost-effectively than current methods, growing network reach and ancillary revenue. The company has built Interline 3.0, which helps airlines cross-sell seats directly via their own channels to consumers, agents or OTAs. Network carriers and low-cost carriers can interline with each other and cross-sell seats and ancillaries on each other's flights. Air Black Box has three key solutions that it brings to airlines – Air Connection Engine, which allows airlines to seamlessly sell each other's inventory; Ancillary Cross-sell, which allows airlines to effectively merchandise and sell paid-for ancillaries on partners' flights; and ThruBag, which enables passengers on separate PNRs to check their baggage through to their final destination. Edmond highlighted that all solutions are quick to implement with no implementation fees.
Moviebill: Bringing inflight products to life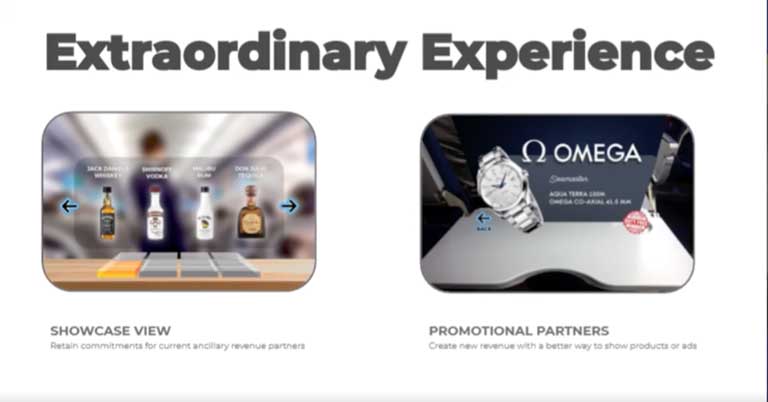 Moviebill has developed an augmented reality (AR) solution for touchless inflight menus, safety cards and magazines. Moviebill's solution addresses passengers' concerns around the current COVID-19 crisis, but it also prepares businesses for a future that is 3D, artificially intelligent and augmented. Moviebill already works with some of the biggest consumer brands in the world, such as Disney, Marvel, M&M and Coca-Cola, just to name a few, and has used its experience to develop a new inflight solution and bring inflight menus, magazines and safety cards into the augmented space. The user can simply scan an image marker on the tray table and the product comes to life in augmented reality.
So how does it work for airlines? Moviebill provides a custom built augmented reality SDK (software development kit) for digital delivery of inflight printed materials. The airline's current content is then loaded into Moviebill's SDK and then delivered directly to the user. The content can be updated instantly, for instance if there is a price change or a product change. "We believe our solution can provide a level of comfort by reducing contact and touchpoints between crew and passengers. We believe we can really increase hygiene by getting rid of these multi-touch sharable items in the seat pocket. And frankly it is more efficient. We can reduce costs of printing and shipping of all of these printed materials, while also dramatically reducing the weight across all flights." From an inflight duty free point of view, Felts also explained how AR gives customers a way to manipulate, touch and experience products in a way that physical magazines and material never would.
AtYourGate's mobile ordering and delivery app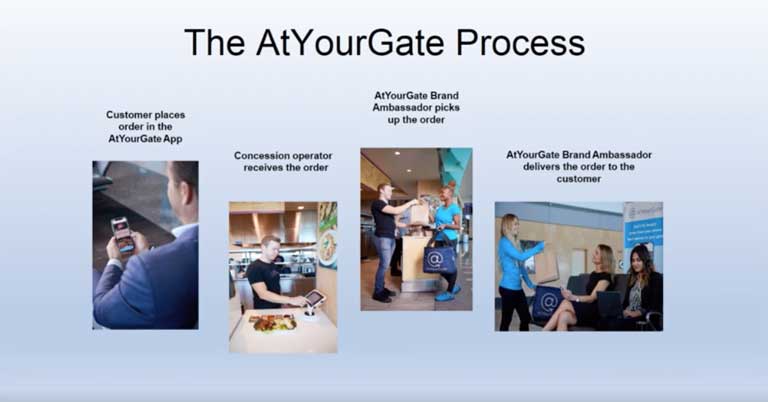 PJ Mastracchio, Founder & CEO, AtYourGate, said that one of the key learnings during the COVID-19 pandemic is that passengers and airport employees feel safer using a delivery shopping and dining option that keeps them out of crowded areas at the airport. He also stated that based on recent passenger surveys the company has discovered that the availability of a no/low-touch delivery option can influence a traveller's interest in returning to air travel and their decision to shop or dine at the airport. Addressing these trends, AtYourGate provides a platform for passengers to order food & beverage and duty free products in the airport terminal. The passenger can place their order using the AtYourGate app scrolling through a number of restaurants and retailers available on the app; once the order has been placed the concession operator receives the order and begins to process it; at the same time notification is sent to AtYourGate brand ambassadors at the airport, who are dispatched to the concession to pick up the order and then deliver the order to the customer either at the gate, break room or jet bridge. In order to ensure safety at the airport, AtYourGate has also implemented a number of procedures, including screening team members and enforcing the use of face coverings and other PPE.
AtYourGate currently operates in 10 airports, including San Diego, JFK, La Guardia, Newark, Boston, Minneapolis, Portland, San Jose, Ontario and John Wayne Airport.
Dubai Technology Partners: Common situational awareness app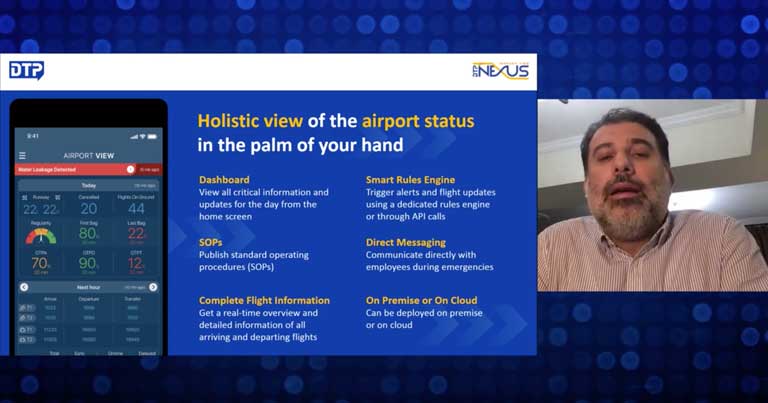 Dubai Technology Partners (DTP) Managing Director Abdul Razzak Mikati delivered a pertinent message around the importance of collaborative decision making between stakeholders. Resuming operations during and after a pandemic will bring about unique challenges in air travel and DTP has created the 'tNexus Airport View' mobile app to improve collaboration and provide real-time information, which will in turn help improve the passenger experience and satisfaction rates. The app can act as the information backbone and messaging platform of an airport. It enables all users to achieve common situational awareness and smarter decision-making. The app gives a real-time snapshot of the airport status, from landside to airside, and provides all the latest updates from different business units. Built-in analytics help detect, monitor, and predict irregularities, so stakeholders can take the necessary corrective or preventive measures.
airfree: Digitalising inflight shopping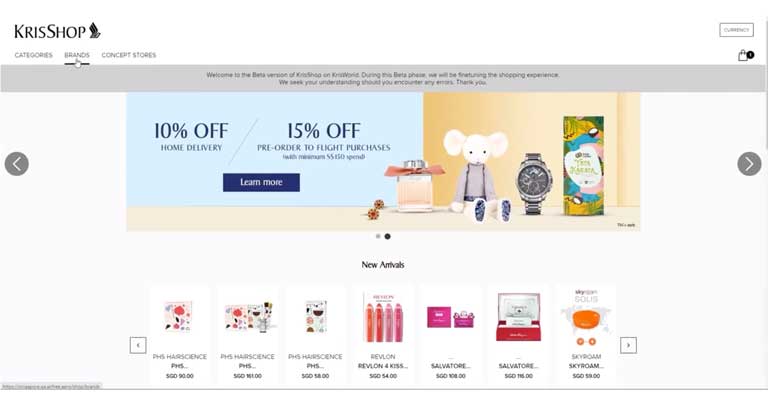 With traditional inflight sales facing a decline, even before the coronavirus pandemic, FTE Startup Hub member airfree has developed an inflight e-commerce solution to provide a seamless shopping experience for travellers. airfree is a white-label inflight e-commerce solution and the technology has been developed for its launch customer Singapore Airlines and is due to launch on Singapore Airlines' A350 fleet once operations restart. Passengers can access an unlimited product catalogue either pre-flight or inflight on their own mobile devices or on the seatback screen. Passengers can then have their product delivered at the airport, at home or inflight. airfree also includes digital payments, with the option of paying with your own personal device, even when a transaction is initiated on the seatback screen, in order to ensure a touchless customer experience.
InflightFlix: Creating destination experiences
"The problems we solve existed pre-COVID-19, but the challenges for airlines post-COVID-19 make our solutions even more relevant as a source of competitive advantage," said Martin O Regan, Managing Director, InflightFlix International Limited, during the virtual event. InflightFlix, another member of the FTE Startup Hub, enables airlines to inspire travel and enhance the passenger experience at every step of the journey through destination video guides, showcasing 100 great experiences in destinations around the world, featuring things to do, places to go, stay, eat, drink and shop. InflightFlix has developed a tech platform which enables airlines to curate high quality content in a globally consistent format, aligned to each airline's brand value. The company enables content distribution across all airline touchpoints on web, email and inflight. InflightFlix's destination content is already available as part of the inflight entertainment offering on all of Aer Lingus' transatlantic routes.
Gordian Software: Upsell distribution post-COVID-19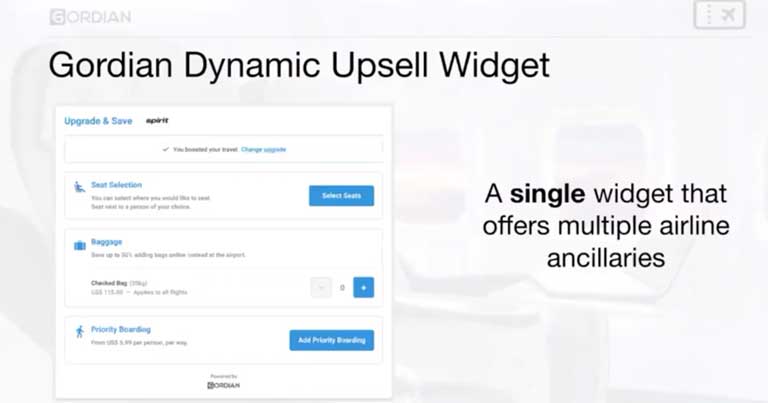 In the post-COVID-19 world it will be critical for airlines to maximise revenue per passenger by rapidly responding to their changing needs. According to Tsukasa Muto, Head of Business Development, Gordian Software, upselling will be key to achieving this. However, a large opportunity in indirect channel upsell is still untapped. Gordian Software has created a single widget that enables airlines to sell ancillaries via any third party website. According to Muto, the platform provides an immediate return on investment for airlines and the company has recorded a seven-figure incremental upsell revenue for its airline clients thanks to the high attach rates of 10-12%. The platform is also easy to integrate – once Gordian Software has received access to an airline's API it can then launch the platform within four to six weeks end-to-end.
FrontM: Driving intelligent collaboration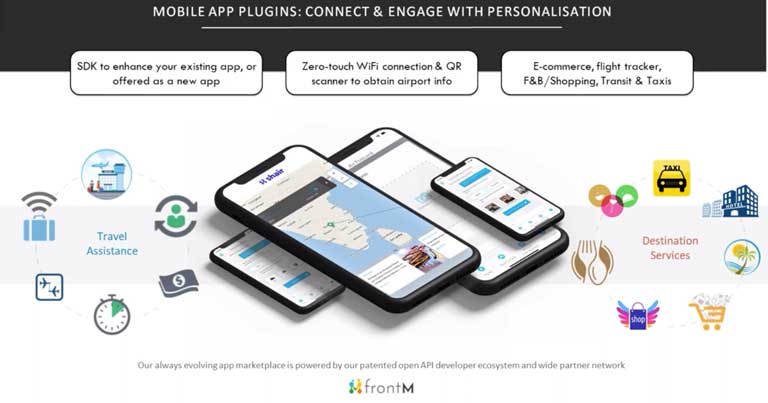 FrontM offers a suite of personalised passenger experience and ancillary revenue solutions, designed to enable airlines to seamlessly communicate, engage and reassure passengers and encourage them to fly, while simultaneously increasing ancillary revenues. A member of the FTE Startup Hub, FrontM is a pioneer in delivering customer experience and collaboration solutions for airlines and airports, delivering content process automation and contextual e-commerce, which can be implemented in less than eight weeks and at no extra cost. Kunal Mittal, Chief Product Officer, FrontM, explained that the company connects with travellers before during and after their trip in a seamless way, providing information to digitally take them through their journey from home to destination. For instance, the platform provides COVID-19 advisory through a live chatbot, maps plugin to discover airline routes currently in service, and flight status & tracking with SMS/email updates and reminders. Moreover, in the cabin, FrontM offers passengers a ground-like digital experience to explore, engage and shop, without using Wi-Fi.