Dear friends and colleagues,
I write today to share an important update on Future Travel Experience's plans for the remainder of 2020 and beyond.
It's been a challenging few months for all of us, but I am proud of the way that FTE has responded to play our part in helping to drive the industry's recovery. Since the outbreak of the COVID-19 pandemic, the FTE website and e-newsletter have continuously championed the best examples of innovation from around the world to highlight how industry stakeholders are adapting; our three FTE APEX virtual events and two webinars hosted with Fast Future attracted more than 4,000 attendees; and the recently-published and free-to-access FTE Post-COVID-19 Passenger Experience Think Tank, which was co-created with input from APEX and members of the FTE Innovation & Startup Hub, including a number of the world's largest and most progressive airlines and airports, has already been downloaded more than 1,500 times.
Event update: FTE Global, FTE APEX Asia Expo and the new FTE APEX Virtual Expo
We have had to evolve, streamline and pivot very quickly, and it is clear that we cannot stop innovating now. Our events have always been at the epicentre of our activities, and I have spent much of the last few weeks talking to our Advisory Board members and good friends and allies at airlines, airports and suppliers around the world to gauge their thoughts on our plans. For many reasons, the reality is that our industry is not in a position to meet in person and en masse in 2020.
With this in mind, I write to let you know that we will postpone FTE APEX Asia Expo until 3-4 February 2021, when there will be a new mindset in place regarding business travel and connecting face-to-face once again. It will be delivered as a hybrid event, powered by in-person participation onsite in Singapore and complemented by online participation to further amplify its reach.
We have also taken the very tough decision to cancel our FTE Global 2020 show in Las Vegas, but I am incredibly excited to announce that FTE and APEX will jointly stage a ground-breaking, interactive global online air transport industry trade show – FTE APEX Virtual Expo – on 8-9 December. This landmark event will be the air transport industry's first major digital trade show and we expect it to attract more than 8,000 participants.
What can you expect from the new FTE APEX Virtual Expo?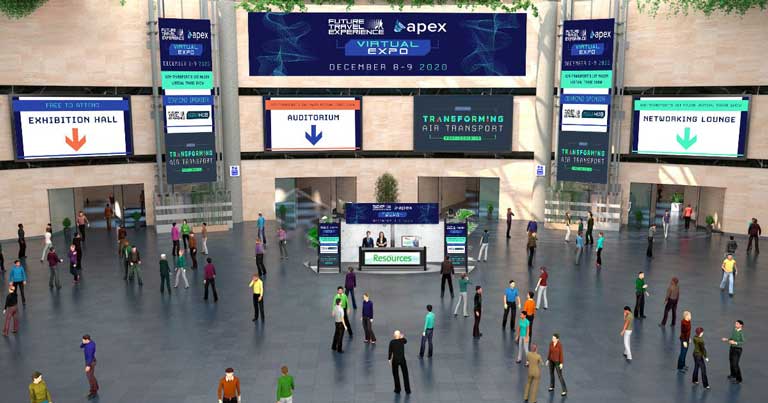 The virtual exhibition hall will be free-to-attend for all and during two live show days (8-9 December) delegates will be able to browse the exhibition and attend live online product demos and video calls streamed directly from suppliers' own offices and factory floors. Conference sessions will also be streamed online, and a networking lounge will enable all premium attendees to network via messaging and video calls. Following this, for a period of 30 days, all virtual attendees will be able to access the FTE APEX Virtual Expo portal at any hour of the day to watch conference sessions and supplier pitches, and revisit the exhibition hall to learn all about the products and services that can help them overcome today's challenges and then thrive in the post-COVID-19 world.
The launch of FTE APEX Virtual Expo enables us to host the air transport industry's first major virtual trade show focusing on reimagining end-to-end passenger experiences and business performance. It will create an unrivalled global audience comprising thousands of the industry's thought leaders and decision-makers, who will not have to worry about the costs of travel and accommodation, nor extended time away from the office.
Reinvention is absolutely critical for all of us, so the event theme will be "Transforming air transport post-COVID-19″. Exhibitors and speakers from all regions of the world will be championing their visions and solutions that can help airlines, airports and their partners deliver improvements in the following areas: Biosecurity; Touchless & Socially Distanced Travel; Digital Transformation & Automation; Cost Reduction & Operational Efficiency; Reimagined Guest Experiences; Protecting & Empowering Workforce; Offsite & New Processing Practices; and perhaps most importantly Commercial, Retail & Ancillary Innovation.
My recent conversations have reaffirmed that stakeholders are still desperate to connect and engage to share ideas, propositions, visions and learnings. This ground-breaking event will act as a beacon for industry recovery and bring global stakeholders together en masse to inspire one another through a leading virtual event platform, which can be easily accessed via a web browser on any Wi-Fi enabled device. You can get a real flavour of the scale, and creativity, of our plans for this exciting new venture from this exclusive explanatory video and our new FTE APEX Virtual Expo website.
Our much-loved FTE physical events will be back soon enough; as well as the new dates for FTE APEX Asia Expo, we have already booked our 2021 dates and venues for FTE EMEA and FTE Ancillary (9-10 June 2021, RDS, Dublin) and FTE Global (8-10 September 2021, Aria Resort, Las Vegas). In the meantime, we can promise that FTE APEX Virtual Expo 2020 will deliver an incredibly exciting, engaging and interactive trade show at a price-point that takes into consideration the times we are now living in.
This year we celebrate 15 years of Future Travel Experience, and this landmark virtual event will become a celebration of this as well as the industry innovation, collaboration and endeavour that will help to see the good times return to the air transport industry.
Good luck, stay safe and please reach out to me if you would like to learn more about the most important and transformational endeavour in FTE's history.
All the best,
Daniel Coleman
Founder & CEO
Future Travel Experience
daniel.coleman@futuretravelexperience.com