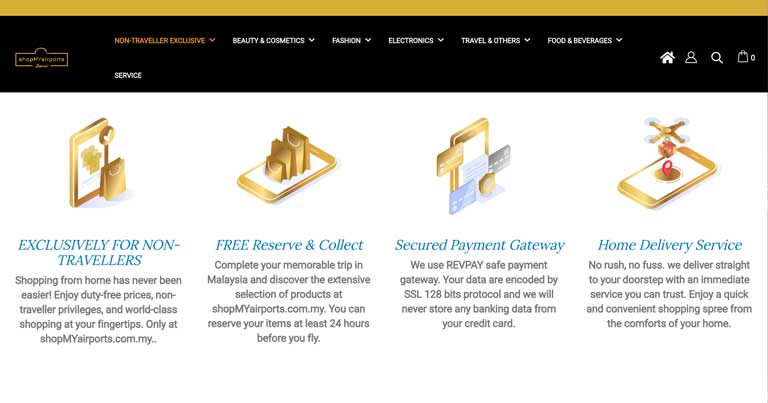 Malaysia Airports has launched a new travel retail e-commerce platform, aimed at providing airport retailers with the opportunity to expand their market beyond their physical outlets and create new revenue opportunities.
The platform, called shopMYairports, will allow the wider public to access and purchase travel exclusive and duty free products online and having these delivered to their homes.
Speaking at the launch, Dato' Mohd Shukrie Mohd Salleh, Group Chief Executive Officer, Malaysia Airports, shared that the introduction of the online platform is part of the company's wider Airports 4.0 plan under its digital transformation initiative to enhance passenger experience particularly on the retail front and as part of the airport operator's effort in facilitating business recovery of its airport retailers who have been severely impacted by the COVID-19 pandemic.
"The launch of shopMYairports is an important step in our journey to make our airports future-ready. As Malaysia's main airport operator, we have to ensure that we remain agile and relevant while navigating within a fast-changing consumer landscape. Malaysia's e-commerce contribution to the digital economy is expected to see a growth projection of 20% in 2020 and this means that there is significant potential growth for Malaysia Airports and our retail partners. Our aim is to see shopMYairports contribute to at least 10% of retail sales at the airports."
Using the shopMYairports platform, the public can browse through a diverse selection of products ranging from beauty, cosmetics, fashion, electronics and food & beverage, which are offered by Malaysia Airports' retailers including Eraman, Heinemann, Karyaneka, Nooodles, Retail One, Sama-Sama Hotel, and Sprint-Cass.
The first phase of the shopMYairports platform will focus on domestic travellers and local home shoppers. Malaysia Airports will also introduce on-ground services such as 'Click and Collect', which will enable travellers to shop online and collect their purchase at designated counters in the respective airports upon arrival. The airport operator is also currently working on providing concierge services that will enable purchases to be delivered directly to the gate or inflight.
For a limited time only, shopMYairports is offering free delivery with minimum spend of RM300 for customers who wish to commence their digital airport retail experience. The platform currently accepts payment methods including debit card, Visa, Mastercard, Alipay and Union Pay and will be expanding to many other payment methods soon.