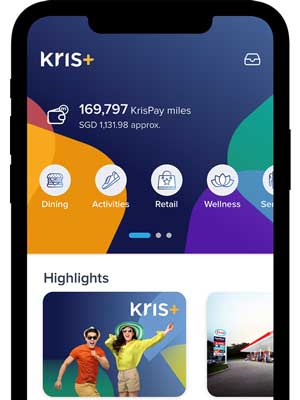 Singapore Airlines has rolled out Kris+, an all-new app that aims to bring payment, lifestyle and rewards services together in one platform for its customers.
Building on the airline's existing KrisPay app, Kris+ goes beyond being a loyalty wallet and aims to combine the best in dining, retail and entertainment discounts. It also offers customers the option to earn miles from everyday spend, or pay for purchases and experiences with these miles.
With an updated interface and user experience, Kris+ will allow Singapore Airlines to personalise offers for its global customer base via location-based or interest-based recommendations, offer discounts, miles-back, instant rewards and exclusive birthday and PPS privileges via an easy-to-use platform.
Kris+ has more than 150 partners with over 650 outlets in Singapore providing customised deals with privileges for SIA's customers. More partners will be progressively added in the coming months.
In addition, Singapore residents who travel abroad will also enjoy special offers and rewards from January 2021 when Kris+ brings on board overseas partners and merchants in selected destinations to the platform.
KrisPay, the airline's blockchain-based loyalty digital wallet, has also been integrated into Kris+. SIA has revealed plans to enhance it with other in-app payment options, allowing users to simultaneously earn more miles with each purchase.
The app has already been downloaded over 130,000 times at the App Store (for iOS users) and Play Store on Google Play (for Android users).
SIA's investment in Kris+ is part of the company's ongoing strategy to drive non-airline revenue streams in the coming years. The Kris+ ecosystem, which has been built to enhance customer-merchant relationships, is expected to further power growth for the KrisFlyer frequent flyer business and broaden its brand appeal and recognition. This will allow customers to enjoy attractive discounts on their everyday purchases while merchants are able to reach out to SIA's 4.7 million KrisFlyer base.
JoAnn Tan, Acting Senior Vice President Marketing Planning, commented: "Our vision is to create a comprehensive and updated lifestyle and payments ecosystem with Kris+. This will offer even more and better options and benefits for our global customer base, and bring additional value to our partners around the world."
To celebrate the launch of Kris+, SIA is also launching a number of promotions, including 30% instant miles-back on purchases redeemed with miles until 26 October 2020. Other deals over October and November include bonus miles earn campaigns, more mile-back campaigns, $1 and $2 deals from selected partners, one-for-one dining deals and discounts at selected retail partners in Singapore.