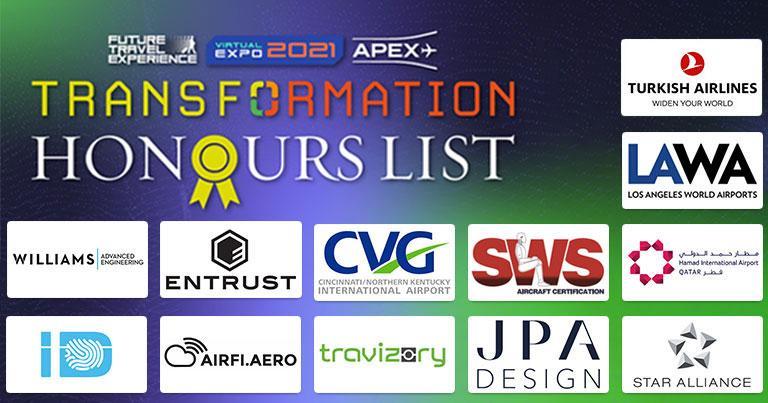 The FTE APEX Virtual Expo Transformation Honours List has been unveiled, celebrating those organisations that have demonstrated innovation and leadership during the COVID-19 pandemic.
The COVID-19 crisis has forced all air transport industry stakeholders to embrace transformation to future-proof their businesses and help to create a stronger, more resilient industry for the long-term. The Transformation Honours List recognises the organisations that have embraced innovation and transformation, and taken on a leadership role in helping to prepare the industry for a brighter future post-pandemic.
As part of the initiative, attendees at FTE APEX Virtual Expo (25-26 May) will get to hear the most inspirational stories from the Airline, Airport, Vendor, Sustainability and Startup categories.
Airline category:
Turkish Airlines – Turkish Airlines has been recognised for the launch of its 'Terminal' startup programme, designed to inspire the next generation of startups, test their products and services, develop potential collaborations, and support the international startup ecosystem. Hear the story of how Turkish Airlines created 'Terminal' from the airline's SVP Digital Innovation & Analytics Solutions, Serdar Gürbüz, in the Auditorium Conference at Virtual Expo.
Star Alliance – The airline alliance has been recognised for its Star Alliance Biometrics platform and Star Alliance Digital Connection Service. The Star Alliance Biometrics solutions offers passengers travelling within the Star Alliance network the opportunity to pass verification points without the need to produce a boarding pass. The solution was launched at Frankfurt and Munich airports in November 2020 and will be rolled-out progressively. The Star Alliance Digital Connection Services, also launched in November 2020 at London Heathrow Airport, marks a shift from the traditional Connection Centres towards a digital service. Christian Draeger, VP Customer Experience, Star Alliance, will present these case studies in the OnDemand Speaker Zone at Virtual Expo.
View the full conference agenda – early bird discount ends on 7 May >>
---
Airport category:
Los Angeles World Airports (LAWA) – LAWA has been recognised for the multiple pilot programmes and new innovations via its COVID-19 Recovery Task Force, including the Terminal Wellness Pilot Project, and the creation of an onsite, state-of-the-art COVID-19 Test Lab built using modular cargo containers and installed within the Central Terminal Area. With more than 60,000 tests completed for paying customers, it has been a huge success that points to the longer-term viability of such a facility to support confidence in air travel. Tune in for a presentation from LAWA's CEO, Justin Erbacci, during Virtual Expo to hear more about the project.
Hamad International Airport (HIA) – HIA has been acknowledged for its artificial intelligence (AI) and computer vision (CV) application, developed in-house initially for detecting whether face masks are being worn correctly by employees. Developed by the airport's Data Science and IT team, which is also responsible for the deployment of UV cleaning robots, touchless button lifts, smart helmets and many more innovations. These projects have also raised interest in using AI/CV technology for other airport use cases. HIA's Haider Hayat, Manager IT Projects – Apps, Information Technology & Muhammad Rizwan, Manager IT Systems, will reveal more about the project in the OnDemand Speaker Zone at Virtual Expo.
Cincinnati/Northern Kentucky International Airport (CVG) – CVG has accelerated its approach to innovation and transformative actions to continue its business operations during and post-pandemic conditions, rather than scale back. Case studies include ecological-based surface protectant, retro-fit autonomous ground service equipment, and management and oversight of a university-owned general aviation airport. Find out more from Chief Innovation Officer Brian Cobb on how the airport has advanced its approach to technology during the pandemic.
View the full conference agenda – early bird discount ends on 7 May >>
---
Sustainability category:
JPA Design, Williams Advanced Engineering & SWS Certification Services– JPA Design, Williams Advanced Engineering & SWS Certification Services have been recognised for their partnership on the AIRTEK programme, created by aviation innovators and a Formula 1 team to deliver the next generation of aviation seating. The AIRTEK lightweight seat programme aims to deliver both economic and sustainable benefits by reducing aircraft weight and making use of eco-friendly materials. Elliott Koehler, Creative Director, JPA Design; Stuart Olden, Senior Commercial Manager, Williams Advanced Engineering; and Nigel Smith, MD & Head of Design, SWS Certification, will deliver a joint presentation on the programme in the Auditorium Conference at Virtual Expo.
View the full conference agenda – early bird discount ends on 7 May >>
---
Vendor category:
AirFi.Aero – AirFi.Aero has been acknowledged for its collaboration with Scoot, SATS and KrisShop to implement a new way of selling products to passengers inflight. Passengers can browse and order products and F&B via their personal devices using the AirFi network. Crew then receive the order in the galley and payment can be made via the passenger's personal device. Vimal Rai, VP Global Sales & Marketing, AirFi, will provide some inflight ancillary inspiration from this recent collaboration in the OnDemand Speaker Zone at Virtual Expo.
Entrust – Entrust is a key stakeholder in the Chain of Trust project, overseen by Canada Border Services Agency (CBSA), which made the vendor worthy of Transformation Honours List recognition. Entrust has contributed to CBSA's vision for a non-stop touchless border of the future, which allows eligible passengers arriving at the air border to walk along a biometric corridor which uses facial recognition technology to verify their identity. The pilot project went live in March 2021 with first users of the system being Air Canada crew members arriving at Toronto Pearson International Airport. Hear more from Gordon Wilson, VP Identity Verification and Global Lead – Seamless Travel, Borders & Immigration, Entrust, who will offer a glimpse of a future, nonstop, touchless border.
View the full conference agenda – early bird discount ends on 7 May >>
---
Startup category:
Identy – Identy has been recognised for its use of touchless mobile biometrics in a safe and secure manner. Identy takes a picture of the user's fingers, face and ID using the mobile phone camera and extracts their biometric data. The biometric data is then securely sent to the back-end database to complete the verification process. The company recently received an innovation award from TSA, with TouchlessID selected as one of the winners of the Power of Passenger Challenge. Identy's Co-founder Antony Vendhan and CTO Marta Gomar will jointly present the startup's vision on touchless mobile biometrics in the OnDemand Speaker Zone.
Travizory – Travizory has developed a unique solution to make travelling safe, bringing together a range of technologies to make it simple for airlines, the relevant authorities and, most importantly, for passengers. In an industry-first, the solution combines biometric travel authorisation and eVisa systems, turnkey Advance Passenger Information (API) and Passenger Name Record (PNR) systems, facial and temperature verification corridors at entry and exit points, and virological passports. Renaud Irminger, CEO, Travizory Border Security SA, will present in the OnDemand Speaker Zone at Virtual Expo to provide more details on how the company has worked with the Republic of the Seychelles to deliver a series of solutions for safe travel.
View the full conference agenda – early bird discount ends on 7 May >>