The latest FTE Innovation & Startup Hub members-only virtual event brought together innovators from across the global air transport industry on 30 June 2021 to share their cutting-edge insights, visions and experiences. The FTE Hub is the industry's only network designed for the organisations and individuals who are at the forefront of innovation in the air transport sector. Attendees included some first-time participants – including airlines and airports who have recently signed up as Corporate Partners – as well as long-time members who have been actively engaged in the global innovation network since its launch by Future Travel Experience (FTE) in 2018.
Lufthansa Innovation Hub talks Air Travel 2.0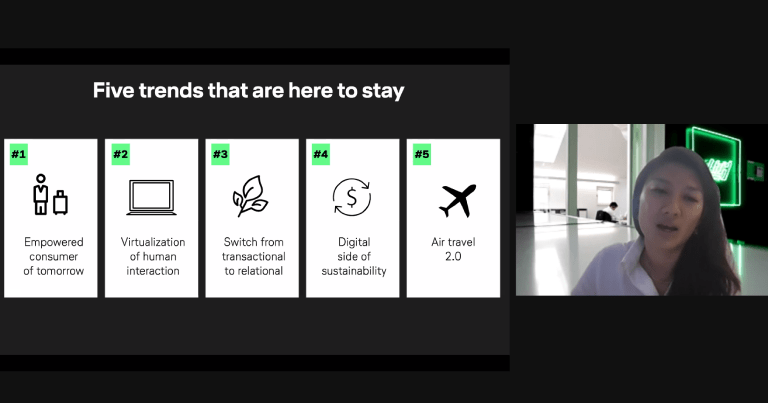 The first of the Innovation Keynotes was delivered by Christine Wang, Managing Director of Lufthansa Hub (LIH), whose mission is to shape the near and distant future of the Lufthansa Group with new, digital business models that go beyond flying. Wang shared how LIH has created value beyond flying by focusing on three value propositions – scaling potential, new business and thought leadership – before participating in an interactive Q&A session.
Having highlighted a selection of LIH initiatives and ventures that have enjoyed success in recent times – including RYDES, Compensaid and Swiss Flightpass – she offered insight into five trends that LIH believes will "prevail in the future": the empowered consumer of tomorrow; virtualisation of human interaction; switch from transactional to relational; digital side of sustainability; and air travel 2.0.
Elaborating on the air travel 2.0 trend, Wang explained that in the short term a significant focus on reinstating confidence into air travel, self-service, biometrics and health passports will remain, while in the longer term "we see there are some very interesting use cases such as air taxis and how we are going to engage with those new players in the market."
Hybrid Air Vehicles sets sights on zero emission aviation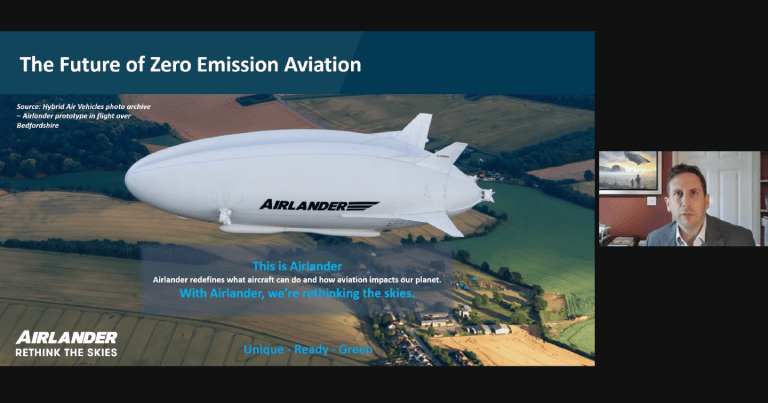 The second of the inspirational Innovation Keynotes was delivered by Tom Grundy, CEO of Hybrid Air Vehicles (HAV), who shared with FTE Hub members how the Airlander aircraft is paving the way for a future of zero emission aviation. "With Airlander, we're rethinking the skies," Grundy stated. From 2025 the hybrid-electric Airlander, with two combustion engines and two electric motors, will reduce emissions by 90%. By 2030 the all-electric configuration, with four electric engines, will produce zero emissions. As Grundy explained, Airlander does not require traditional infrastructure like roads and runways, and the aircraft's ability to operate without fixed infrastructure, and land and take off from any flat surface including water, further reduces its impact on the environment.
"Airlander is a new category in aviation," the CEO said. While Airlander has applications in communications and surveillance, air logistics and bespoke travel, Grundy revealed that in the last year HAV has seen a "real surge in interest" in using the Airlander for A-to-B commercial air transport. One example route that he highlighted was Liverpool to Belfast in the UK. An Airlander-operated flight would generate 4.75kg of CO2 emissions per passenger compared to 67.75kg per passenger on a standard air journey today, while the Airlander journey would add only 55 minutes onto passengers' end-to-end journey time. Seattle-Vancouver and Stockholm-Oslo were also highlighted as viable city-to-city examples.
Grundy also revealed that HAV has entered into an agreement with Air Nostrum for the technical and operational development of the Airlander 10. The airline's Technical Area will provide support to HAV in its Airlander 10 performance and maintenance studies, and Air Nostrum's Commercial and Customer Service departments will make their experience with passengers available to HAV to optimise the design of the aircraft interiors and airport operations.
Inspiration from the startup scene – from autonomous vehicles to inflight waste reduction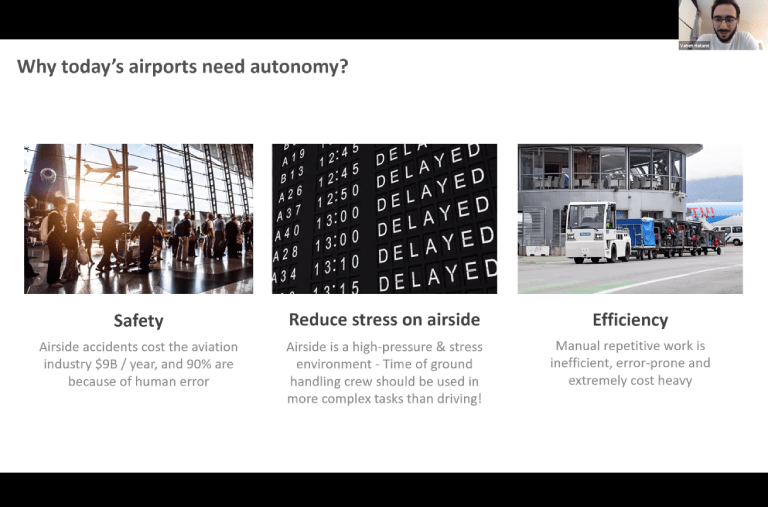 During the members-only virtual event, seven of our newest startup members – ThorDrive, Alcove Systems, The Concept, Airline Systems, EZ2Board, 3AS.ai and AI Nexus – presented their products and services to the Corporate Partners in two pitch sessions.
Ranging from autonomous vehicle technology for deployment at the airport to an on-demand luggage pickup and delivery network, and from AI-enabled healthcare screening kiosks to IOT-enabled inflight meal trays specially designed to help reduce food waste, the line-up of impressive solutions on show was carefully curated to appeal to the Corporate Partners in attendance, including a number of international airlines and airports.
Attendees also had an opportunity to ask questions of the startups in Q&A sessions, providing them with an opportunity to dig deeper into their products and services, and further gauge the potential for future collaborations.
Virtual Innovation Roundtables – promoting knowledge-sharing between members
In addition to the Innovation Keynotes and Startup Pitch Sessions, the virtual event included highly interactive Virtual Innovation Roundtables in which participants were able to join a virtual breakout room to share ideas, experiences and insights on two hand-picked topics – future air mobility and sustainability.
After a brief scene-setting introduction in each room, participants were invited to offer their own thoughts on the topic at hand and play an active role in the innovation network. The notes and key takeaways from each breakout session will be shared with all participants post-event to feed into their own work in these areas. Also, to further promote engagement between our Corporate Partners and startup members, the event wrapped up with an open networking session.
Interested in joining the FTE Innovation & Startup Hub as a Corporate Partner?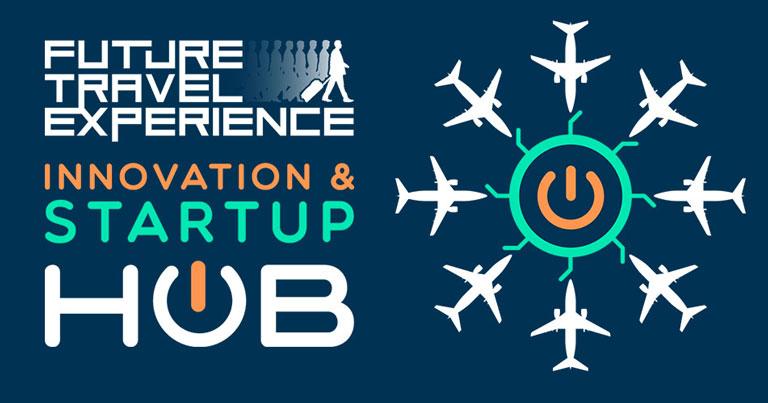 Are you interested in joining the FTE Innovation & Startup Hub as a Corporate Partner? If so, contact us today to learn more about our unique global air transport innovation network. Corporate Partner memberships include access to our virtual and in-person members-only events and activities, access to our online directory of 350+ approved startup members, delegate passes for our renowned conferences and expos, and much more. Annual membership prices have been reduced in light of the impact of the COVID-19 pandemic on the air transport industry, so now is the ideal time to join!
Also, early-stage startups can join for free. Find out more on the FTE Hub website.
Interested in becoming a Corporate Partner? Contact us today >>