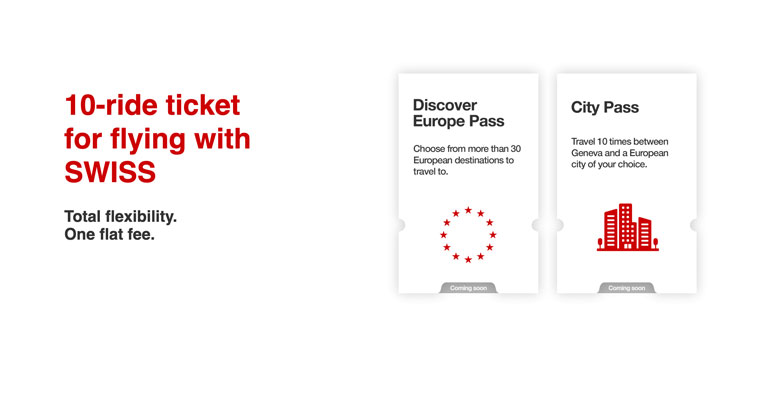 Following successful trials, SWISS has announced that it will introduce a new Flightpass product, offering 10 one-way flights within Europe from or to Geneva. The new product has been jointly developed with the Lufthansa Innovation Hub.
Customers can choose from a City Pass or a Discover Europe Pass, which can both be obtained from the swiss-flightpass.ch website from October 2019 onwards. Travellers who are interested in the initiative can register today and will be informed as soon as the Flightpass is available.
The number of passes is strictly limited. The two passes, which are available for as little as CHF 899 (€820), can be customised to cover selected groups of destinations and longer or shorter advance reservation periods, depending on the traveller's preferences.
The Discover Europe Pass offers 10 one-way flights within Europe from or to Geneva, and is targeted at people who wish to discover Europe with flexible reservation options and for a fixed fare.
The City Pass offers 10 one-way flights between Geneva and a single European destination of the holder's choice. Three fare categories are available, each covering a range of destinations. The City Pass should be particularly attractive to frequent travellers to and from the same destination.
For both types of pass, the customer can decide whether they wish to be able to book their flights at least 30, 14 or seven days in advance. This in turn will determine the final price of the pass. Once purchased, the Flightpass will be valid for 12 months.
The new Flightpass product offers numerous advantages, including substantial advance booking flexibility, price stability and a range of 38 European destinations served non-stop from Geneva. Holders can also take advantage of Flightpass' fast and efficient automated booking platform.