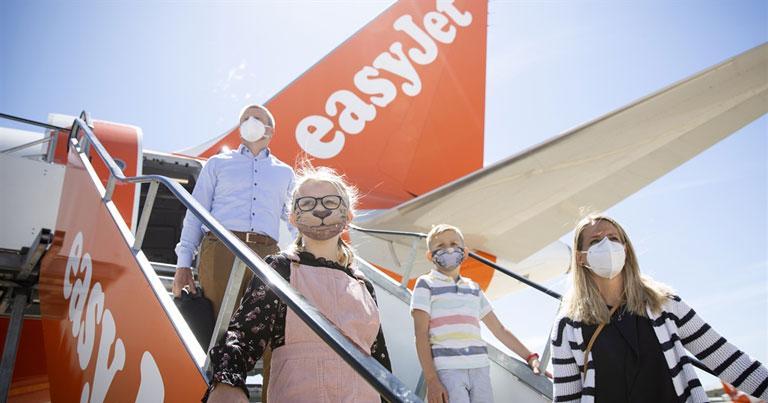 easyJet has embarked on a new food delivery partnership with Uber Eats for passengers returning home from their travels.
As part of the partnership easyJet and Uber Eats have created a special 'Post-holiday Fridge Filler' Menu from supermarket chain Sainsbury's, which will allow post-holiday passengers to order their food upon arrival.
The initiative is in response of a new research, conducted by easyJet, which reveals that the biggest annoyance for British passengers returning from their holiday is coming back home to an empty fridge.
Sophie Dekkers, Chief Commercial Officer at easyJet, said: "With many of us returning from summer travels in the coming weeks we wanted to try and ease the burden of our post-holiday chores. We're delighted to have partnered with Uber Eats and curate this special menu from Sainsbury's to ensure our customers can return home to unpack the suitcase and leave it to us to pack their fridge.
"We know that an annual holiday is incredibly important, this year more than ever, with 93% of those surveyed agreeing, so we hope this partnership makes it easier for our customers when they return and are hopefully inspired to recreate their holiday cuisine when home."
Sunjiv Shah, General Manager at Uber Eats, said: "Us Brits love our food, so it's no surprise that arriving home to an empty fridge after your holiday is our biggest post-holiday annoyance. Thankfully Uber Eats customers can now take advantage of this amazing offer with easyJet to get their hands on delicious food in as little as 20 mins".
easyJet has partnered with Uber Eats for the whole of September, offering a curated menu from Sainsbury's stores, offering easyJet customers landing in London Gatwick (LGW) or London Luton (LTN) 50% off when they spend up to £20 on a specially curated menu from Sainsbury's stores. easyJet customers returning to LTN and LGW will find a seatback promotion with a special code for unlocking the savings on their next grocery order.