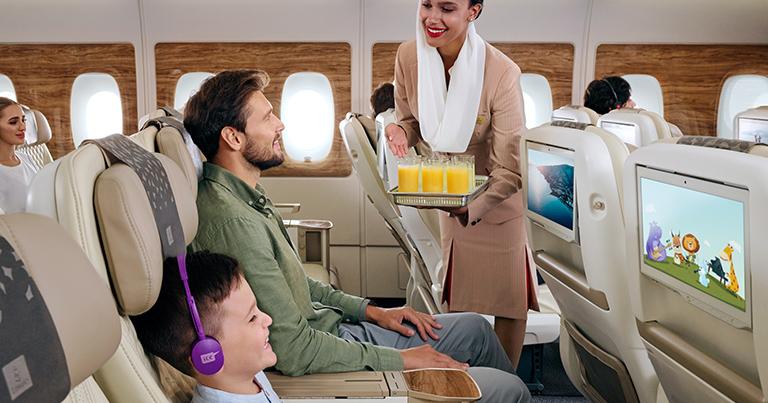 Emirates is investing in the travel experience of young passengers, both on the ground and onboard, with an array of products and services specially designed for children. The new phase of children's amenities considers the varying needs and preferences of babies and infants, younger kids, and older children up to 12 years.
New amenity kits feature global exploration and diversity themes, and are available as separate kits for 0-2 years, 3-6 years and 7-12 years, with new designs launched every year for the benefit of frequent travellers and Emirates collectors.
Emirates baby and infant kits contain all the essential items a parent needs onboard for comfort and hygiene – a reusable changing mat, diaper cream and cleansing wipes, a keepsake wipe-clean bib, a soothing vibrating plush toy that can be attached to a seatback or a stroller, and collectible 'blanket buddies', where an Emirates character soft toy representing a pilot or cabin crew is offered alongside a soft blanket.
Emirates amenity kits for children aged 3-6 years include a trendy belt bag, larger backpack, or duffle bag. Kids even get special headphones for inflight entertainment. The amenity kit also contains an engaging 'Fly with Me' activity pack, featuring kid-friendly world maps, puzzles, drawing tutorials, colouring pages, and educational activities about Dubai and protecting the environment.
Children between 7 and 12 years old are given high quality, reusable belt bags, larger backpacks, or duffle bags – designed with subtle and cool graphics that appeal to the age group. The unique design features emblems of Dubai, Emirates aircraft, cabin crew and pilots, as well as iconic landmarks from around the world. Children aged 7-12 years also get special headphones for the inflight entertainment.
On the ground, Emirates offers priority boarding for families across all international airports. In Dubai Airport, Emirates provides free baby strollers for infants and younger kids, as well as a dedicated family check-in area during peak travel periods. In the First and Business Class Lounges in Dubai Airport Concourse A & B, the kids play areas have arcade quality games and Sony PlayStation terminals.
Emirates also offers an unaccompanied minors service to children aged 5-11 years who are travelling alone, or if their parents are in a separate travel class. There is a dedicated Unaccompanied Minors Lounge with video games, free Wi‑Fi, comfy sofas, and children's bathrooms, where kids can enjoy drinks and snacks as they wait for their flight.