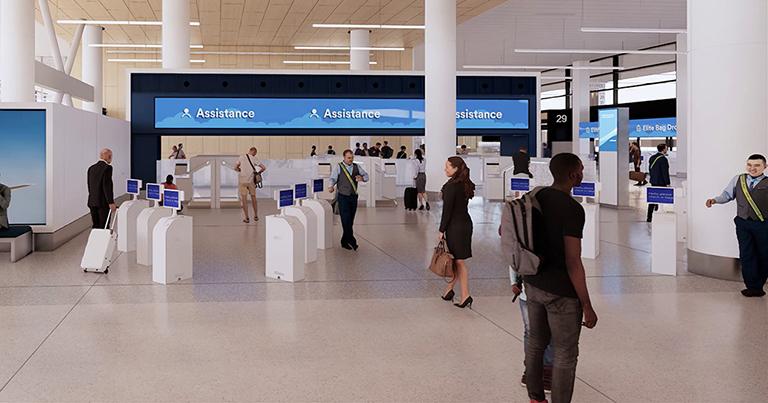 Alaska Airlines is investing $2.5 billion over the next three years in improvements to enhance the airport experience within its hubs and focus cities, including Seattle, Portland, San Francisco, Los Angeles and Anchorage, with what it describes as "a reimagined, more seamless travel experience".
The airline is working to ensure passengers are through the lobby and to security in five minutes or less, meaning reduced queuing. Much like technology widely used to access sporting events and concerts, your mobile phone is all you will need to fly through the lobby.
The first step starts on the Alaska Airlines app. Travellers are encouraged to check-in and secure a boarding pass before arriving at the airport. They can also check-in on a desktop and send a boarding pass to their phone or print one at home.
New bag tag stations will replace kiosks in lobbies where passengers will pay for and tag checked bags using iPad tablets. Airports have already begun changing to the new tablets, with Alaska Airlines reporting that travellers are adapting – 3 out of 4 passengers arriving with a boarding pass to airports with the new technology. Most airports will transition to the new bag tag stations by the end of 2023.
Beginning in spring 2024, the lobbies in Alaska Airlines' hub airports will be getting innovative technology that will allow passengers to drop off their bags with just a few quick scans. The machine scans the traveller's face, government-issued ID, and bags. From there, it takes their bags on a belt to be loaded onto the aircraft. The process takes less than a couple of minutes.
"As we thought about how to provide the most caring experience for our guests, it was clear the lobby was a pain point," said Charu Jain, Senior Vice President of Innovation and Merchandising, Alaska Airlines. "We realised the majority of our guests were doing most of the kiosk actions on their own phones and we could reduce the congestion in our airports. Alaska was the first airline to introduce kiosks more than 20 years ago, and we'll be the first airline to remove them. We're looking forward to offering the new full guest experience next summer."
Hear more from Charu Jain, Senior Vice President of Innovation and Merchandising, Alaska Airlines, at the co-located FTE EMEA and FTE Ancillary & Retailing events, taking place in Dublin on 23-25 May 2023. Jain will deliver a keynote on "How is Alaska Airlines using innovation to take itself to the next level?"
Register for FTE EMEA and FTE Ancillary & Retailing – one registration provides access to both events >>
See the inspirational FTE Dublin schedule at a glance >>