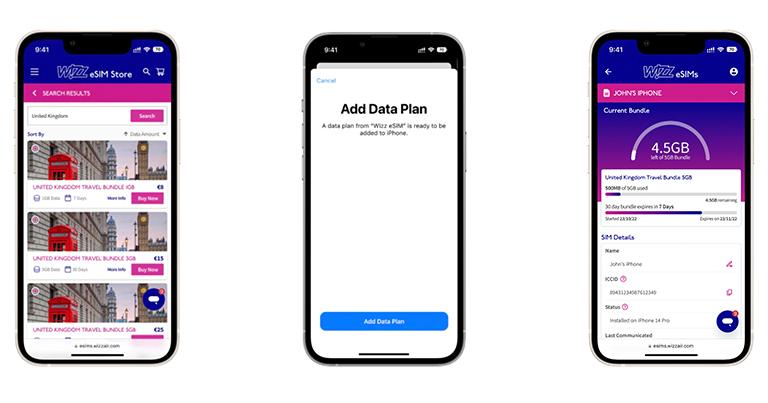 Wizz Air is launching an innovative, digitally-driven ancillary service offering mobile data bundles, utilising eSIM Go's Powered by Breeze solution that requires little to no technical involvement from the Wizz Air team.
"Wizz eSIM allows our customers to stay connected, quickly and easily through our smooth digital journey, while avoiding expensive roaming charges," said Dora Farkas, Wizz Product Portfolio Manager. "eSIM Go's business solution allows us to serve passengers with competitive data packages, as well as catering to the growing demand of data access wherever they travel. The key aim across Wizz Air is to connect our customers with the best rates and services when travelling, and we take pride in always staying one step ahead of the curve."
eSIM Go's Powered by Breeze solution allows Wizz to offer access to hundreds of data eSIM bundles at the touch of a button, for use in target destinations across North Africa, the Middle East, Asia and beyond where roaming charges for European travellers are highest. The product is fully supported 24/7 by Breeze, eSIM Go's dedicated affiliate division, and aligned with the Wizz digital app experience.
"Wizz Air has a terrific reputation for understanding customer needs and getting to the market first with innovative ancillary offers, which makes them the natural champion for easy access, low-cost, eSIM-enabled mobile data services," said Zacchary Couldrick, CEO, eSIM Go. "The reality is that travellers want mobile data when they go abroad, and eSIM offers far more convenience, choice and value than paying roaming charges or buying local SIM cards. The launch of Wizz eSIM in plenty of time for the forthcoming summer season is testament to the flexibility and scale of our platform and the turnkey nature of the Powered by Breeze commercial model."