London Gatwick recently announced the biggest-ever transformation of its North Terminal, which will be completed in early 2024. In this deep-dive interview, Rachel Bulford, Retail Director, London Gatwick, shares how the redevelopment will transform the passenger experience, "simplify the journey though the airport", and deliver more personalisation.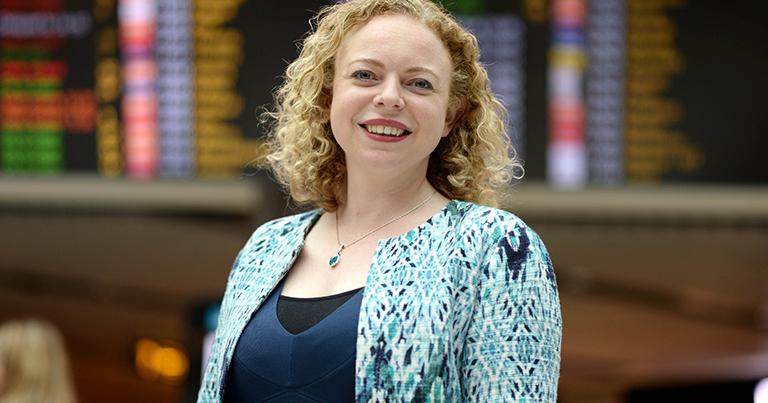 The launch of the £10 million project to transform the North Terminal follows the announcement of London Gatwick's new branding and vision at the end of April 2023, providing a platform for the airport's next phase of growth.
"We are really focusing on ease, efficiency and experience for our passengers," Bulford explains. "Our new vision at London Gatwick is 'To be the airport for everyone, whatever your journey'. We recognise we have very diverse and wide-ranging groups of passengers – from couples to groups of friends, young families, retirees and people heading off on business – so it's important we are able to offer each a personalised, relevant experience at the airport."
The idea behind the North Terminal departure lounge redevelopment is to provide an improved space and experience for everyone. Navigation will be easier and smoother, while better showcasing the commercial and retail offer. "We are really excited by our new orientation zone, which will have a unique, eye-catching design and digital artwork," says Bulford. "There will be different seating areas, tailored towards relaxing or working, and better configured for solo travellers and groups. All these seating areas will have power points, so passengers can charge phones, tablets and laptops as required. There will also be local artwork on display and a green 'living' wall with planting, so the whole space will be more welcoming, reflecting the beauty of London Gatwick's local region."
Offering passengers "a personalised, relevant experience"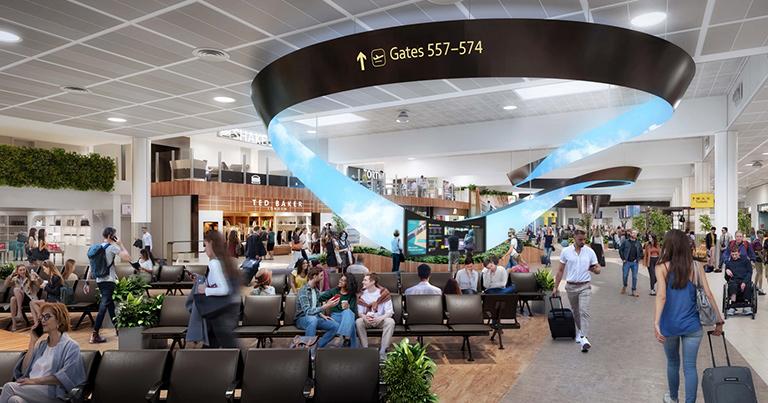 The idea behind the new brand and vision is to simplify the journey though the airport. "We understand airports can be quite a stressful experience for passengers, so our aim is to strip that back as much as we can to enhance the experience and ensure passengers get their holiday or business trip off to the best possible start – and even consider their holiday as starting at London Gatwick," Bulford shares.
London Gatwick is also continuing its recovery following the impacts of the pandemic and working to better reflect its status as a major international airport. In the past year, it has welcomed a number of new and returning airlines such as Delta, Air India, Norse Atlantic, Air China, Bamboo Airways, Saudia and Lufthansa.
"Slots at London Gatwick remain in huge demand, so for us it's the perfect time to invest in the airport and make sure our look, feel and offer aligns with this," Bulford adds. "It's important we offer our passengers a personalised, relevant experience at London Gatwick. This can be through having different offerings in terms of retail outlets, bars, restaurants and cafes, providing space to relax, work or keep the kids entertained before a flight, or simply improving the speed of getting through the airport to the aircraft."
Alongside the North Terminal redevelopment, there is also huge investment in the airport train station and other areas. A planning application was recently submitted to bring the existing Northern Runway into regular use alongside London Gatwick's main runway. If this is successful, it could be operational by the end of the decade and serving around 75 million passengers a year by the late 2030s.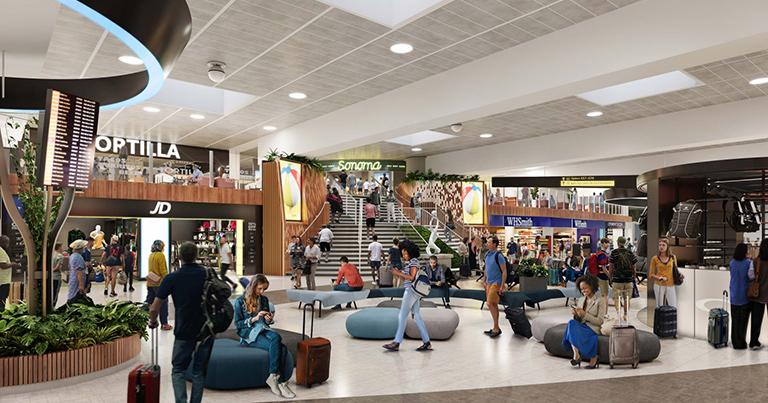 Bulford notes that it's important to create a unique sense of place for passengers, not only through the retail and restaurant provision, but also the look and feel of the departure lounge in the redeveloped North Terminal. "We want to recognise Gatwick's location as a London airport, while also celebrating being in the heart of the South East and all the fantastic things the region has to offer. We'll showcase local artwork, enhancing our connection to the community, and bring the outside in with our new planting and greenery, reflecting the beautiful Sussex countryside."
The airport is also working closely with retailers and food & beverage outlets to promote local products and produce. In one of the new stores – curi.o.city – travellers will find a range of gifts from London attractions such as ZSL London Zoo and the V&A Museum, as well as companies across the region, like Cambridge Gin. "In our new bar and kitchen, Vagabond, and its sister English sparkling wine bar, South Downs, you'll find a whole range of wines and beers from Sussex and Kent vineyards and breweries, as well as further local produce used in restaurant Juniper," Bulford explains. "We've also teamed up with World Duty Free this summer to offer a bespoke gin from local distillery, Silent Pool."
Bulford is clearly leading a progressive approach to the commercial and retail strategy at London Gatwick and FTE is committed to taking our engagement with airport commercial leaders to the next level, recently launching the FTE World Airport Retailing Working Group, which is free to all relevant industry stakeholders. The Working Group will be heavily future-focused with a worldwide view, aiming to identify and act upon opportunities to deliver positive change in the airport commercial space.
Looking ahead, Bulford adds that London Gatwick is exploring the implementation of innovative technologies as part of its efforts to enhance the passenger experience and improve operational efficiency. "We are currently trialling a few new technologies, which we will hopefully be able to speak more about in the coming months. If the trials are successful, these will provide real benefits to passengers in terms of ease, efficiency and experience as they travel through the airport."