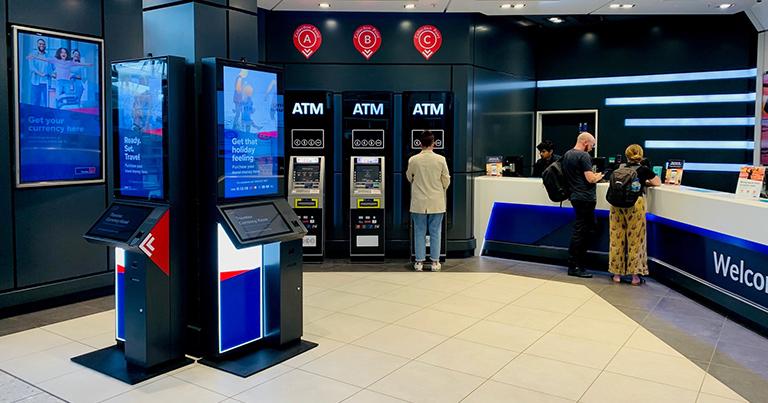 The first automated FX kiosk at Heathrow has been launched by Travelex, with the new self-service product offering travellers "greater choice, convenience, and flexibility in purchasing foreign currency".
Installed within the Travelex landside departures store at Heathrow Terminal 2, the first-of-its-kind kiosk enables customers to place their order at a touchscreen kiosk before collecting their cash from a designated ATM machine. The process is fully automated, meaning no human interaction is required.
"I am delighted that Heathrow's longstanding partnership with our foreign exchange provider Travelex continues to grow and evolve," said Fraser Brown, Director of Retail, Heathrow. "The launch of fully automated FX services is part of Heathrow's recent digital acceleration, offering passengers greater choice on how they journey through Heathrow and supporting our vision of delivering the best airport service in the world."
Customers can choose from an initial five currencies that reflect the main currency profiles in Terminal 2 (Euro, Swiss Franc, or US, Canadian or Australian Dollar). An initial two kiosks and three designated ATMs have been installed at the Heathrow Terminal 2 store.
"Convenience is at the heart of our proposition, and so we are really excited to launch a new digital product that complements our existing services and further simplifies our customers' access to travel money," said Richard Wazacz, CEO, Travelex. "As we continue to digitally transform both the front and back end of our business, the automated currency kiosk represents another significant landmark in that journey."
Heathrow is clearly taking a progressive approach to its commercial and retail strategy and FTE is committed to taking our engagement with airport commercial leaders to the next level, recently launching the FTE World Airport Retailing Working Group, which is free to all relevant industry stakeholders. The Working Group will be heavily future-focused with a worldwide view, aiming to identify and act upon opportunities to deliver positive change in the airport commercial space.