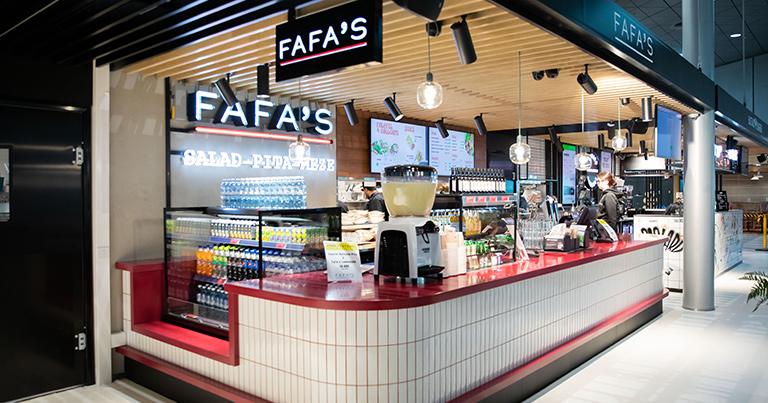 As part of Finavia's significant 'one roof' redevelopment programme at Helsinki Airport, it has opened a major food court in collaboration with SSP, featuring six brands.
"We are excited to further develop the food and beverage selection at the airport together with our long-term partner, SSP," said Nora Immonen, Director of Commercial Business at Helsinki Airport of Finavia. "We are positive our passengers will enjoy the new restaurants in the food court at the heart of our airport. The variety of restaurants significantly increases the supply of hot food options and takeaway products at Helsinki Airport."
Centrally located, the food court was designed to complement the architectural theme of the terminal and offers a diverse selection of concepts, designed to appeal to international travellers. Of the six units, three are bespoke brands, created by SSP Finland. Among them is free-flow restaurant and café, Café Tori, which is open 24 hours a day, offering a menu that includes a selection of Finnish traditional homecooked food, fresh pastries, and healthy options.
'Asian Corner' brings the experience of the best food stalls in Asia to the terminal. The menu is full of flavours from across the continent, and is changed regularly to reflect current tastes and trends.
In Pala Pizza Bar, dough rested for 48 hours and baked with fresh toppings makes for a delicious pizza. Pizzas are served from a service counter to make sure even the busiest travellers have time to enjoy their meals.
The Food Court also features three established international concepts. Bastard Burgers serves classic New York-style burgers with a Scandinavian touch. Middle Eastern-style Finnish favourite, Fafa's, offers filled pitas, mezes and salads with vegetarian and vegan options. For guests seeking a caffeine fix, iconic Finnish chain, Robert's Coffee, provides home comforts to Nordic travellers and new experiences to international visitors.
Guests at the Food Court are able to make their selections via a self-ordering kiosk, which allows quick and easy ordering and payment. In Tori Café & Kitchen customers can use self-checkout tills to pay quickly without having to queue. Meanwhile, a communal seating area allows passengers travelling in groups to each enjoy their own choices of food.
"These openings are a reflection of the hard work of our team, the efficiency of our operations at the airport, and our long history as a trusted partner at HEL," said Elena Heiska, Managing Director, SSP Finland. "With particular appeal to the airport's ever-growing percentage of leisure travellers, the new bars, restaurants and shops will offer something for everyone."