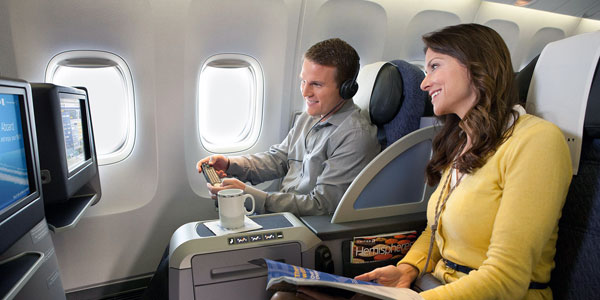 United Airlines has introduced its best premium cabin to date. For the first time, passengers will sit in flat-bed seats situated within an all-new interior. Each seat comes equipped with personal on-demand entertainment, power outlets, USB ports and Wi-Fi connectivity.
United will offer its 'p.s.' premium service on all non-stop flights between New York Kennedy and Los Angeles or San Francisco, a total of 86 flights per week.
Not only will these flat-bed seats replace reclining seats within the premium cabins but the configuration will also allow for 114 extra legroom seats spread across the economy and economy class cabins.
"With these investments in our p.s. service, United will offer an unmatched in-flight experience for coast-to-coast travel," said Jim Compton, Vice Chairman and Chief Revenue Officer at United. "As the airline with the most flights from the New York region, Los Angeles and San Francisco, we are committed to giving our customers convenient travel options and the premium service they expect from the world's leading airline."
These advances come as part of a $550m investment by United in onboard products.