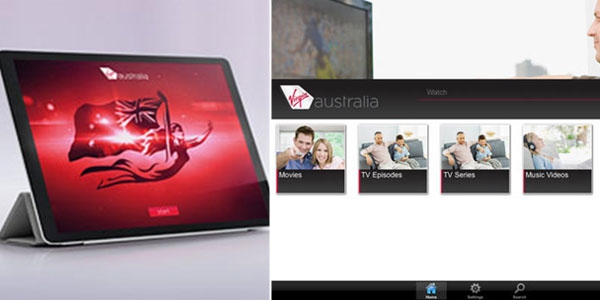 A new wireless in-flight entertainment (IFE) system has been introduced by Virgin Australia on domestic and short-haul international services, allowing passengers to stream content via their own tablets, smartphones and laptops.
To access the content, passengers must download the 'In-flight Entertainment by Virgin Australia' app to their iOS, Android or Windows device. A total of 37 aircraft have been fitted out with the new technology and the rollout across Virgin Australia's Boeing 737-800 and Embraer E190 fleet will be complete by the end of the year.
The airline's Chief Customer Officer, Mark Hassell, said: "At Virgin Australia, we are passionate about customer experience, and that often means redefining travel. We know that in-flight entertainment is a key driver in customer satisfaction. Our research shows that around 90% of our customers travel with at least one smartphone, laptop or tablet.
"We were instantly drawn to this technology because it represents a quantum change in the way entertainment is experienced in the sky. Our customers are the first in the region to be able to stream content to their very own personal device and the feedback we are receiving is fantastic.
"Wireless technology also gives us the freedom to constantly enhance the content and functionality, which is valued by customers who travel regularly on these short to medium-haul flights."