Implementing new products and services aimed at improving the airport experience for passengers is often done in a cautious, step-by-step manner, but American Airlines has taken a different approach, instead opting to introduce a wide-reaching concept that reduces queues and provides a more comfortable experience right from the point of check-in through to boarding of the plane.
The first implementation of the Next Generation Airport concept was completed in March this year at Dallas/Fort Worth (DFW) International Airport Terminal A and such has been the success, before the end of 2013, the concept will also be introduced at New York's LaGuardia Airport.
Ahead of the implementation at DFW International, American Airlines spent more than two years refining the concept and eventually decided that it would include free-standing kiosks in the check-in area where passengers can check-in, print their boarding pass and bag tags, before depositing their bags at a bag drop station; a dedicated priority check-in area for high-value passengers with direct access to a priority security queue; digital screens at the security checkpoint highlighting waiting times in real time; and work desks and power stations in the regenerated gate area, so passengers can continue working while they wait for their flight.
"It's a very fast process and really the focus of the check-in area is the efficiency, the flow forward and intuitive movement of customers without any queuing," explained Kevin Doeksen, Director, Customer Planning & Consulting, American Airlines. "Even during our peak time of day, we don't see any queuing in this space – it processes customers really, really well.
"The gates are really around reducing congestion, keeping customers connected, and by reducing congestion we're also hopefully keeping customers relaxed and keeping them at ease, which is really something American's focused on doing as we move forward."
Empowering the passenger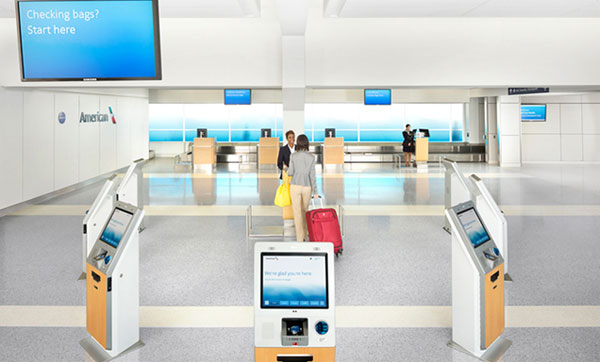 The way passengers queue while they are waiting to board is among the many areas of focus at the gate. One way in which American identified it could make the process easier for passengers, Doeksen said, was to introduce two separate boarding entrances. "The entrance to the main cabin boarding is separate from the priority customer, so we really spread out the customers that way, versus everybody congregating right in front of the boarding area, so that helps us reduce congestion and the anxiety that may occur when boarding," he told FTE.
For those passengers who do have to wait to be called, American has installed additional digital screens to ensure they are kept informed. Doeksen continued: "We're adding more signs in the hold room areas, so no matter where customers are seated in the hold room, they can look up and have direct line of sight to a digital sign, giving them the information they want to keep people seated and keep them relaxed until their boarding group is called."
Self-boarding – one for the future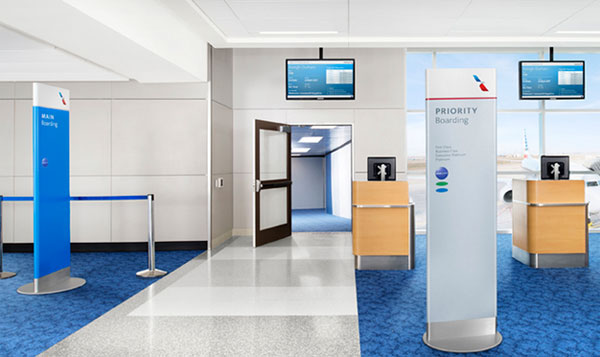 With so much focus on streamlining the boarding process, American was tempted by the idea of self-boarding – which is already offered at the likes of McCarran International and Vienna International airports –  but Doeksen explained that they eventually opted against it, for time being at least.
"For us, we couldn't put together a business case to justify it," he said. "It's something we're certainly looking at, but as far as implementing, executing and justifying, we didn't feel we were ready to make that step as part of this Next Generation Airport."
Change management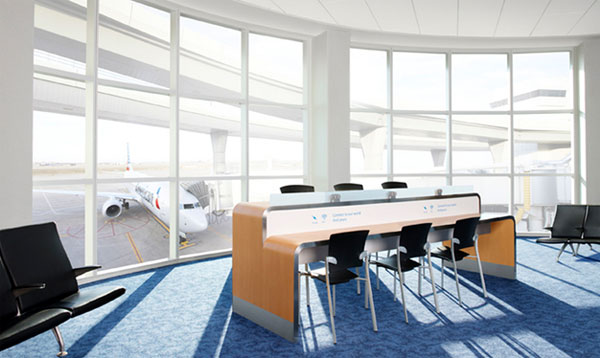 While American Airlines employees could be forgiven for being distracted by the ongoing merger with US Airways, it was important for the airline to keep them well informed about the reasons behind the implementation of the Next Generation Airport project and to ensure that any internal upheaval was kept to a minimum. To achieve a smooth transition at DFW Terminal A, Doeksen explained that all employees were kept in the loop throughout every stage of the process.
He said: "I think there is always that scepticism or resistance to change. We needed to make sure our front-line employees understood the 'whys' behind some of these changes, because they're the ones who have to deliver." Engaging all of these employees and "recognising that we can't do everything all at once" were key to avoiding any internal opposition. He also explained that technology means nothing if it is not supported by a successful implementation by a willing team. "No matter how great a technology is," Doeksen explained, "we can't deliver it if it's not going to add value to the customer."
However, any initial scepticism was quickly overcome and given the fact that staff have embraced the new model and passengers are enjoying shorter queues and a more relaxed experience at the gate, American Airlines now plans to introduce Next Generation Airport to other areas of DFW Airport, while LaGuardia Airport is currently being converted in time for an unveiling before the end of the year.
Given the positive reception it has received so far, 'Next Generation Airport' certainly seems to be a very apt and accurate name for American Airlines' admirable approach to enhancing the airport experience for its customers.