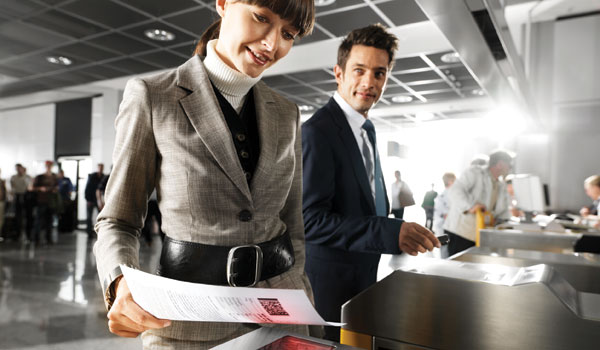 Lufthansa is rightly considered to be one of the pioneers of self-boarding and eight years after the first installation of its Quick Boarding Gates (QBGs) at Munich Airport, the second generation QBGs have recently been deployed at Frankfurt.
Any passenger with either a printed or mobile boarding pass can simply place the barcode facedown onto a scanner on the gate and after a short verification, the gate opens allowing them to board their flight, drastically reducing the waiting time.
While the first generation QBGs can currently be found at Munich, Hamburg and Frankfurt, only the latter also has the newest generation gates, following a successful two-month trial period. As well as a larger graphical user-display and a higher rate of throughput, each gate also includes a printer in case of any changes to the seating allocation.
"All participants benefit from the operation of self-boarding, since the identification process at the boarding point is so fast. It's a win-win solution for all parties involved," explained Ulf Lengemann, Senior Manager Gate Processes, Lufthansa Airlines.
"We have equipped 15 gates with the new QBGs and more will come in the next two years. Since our new QBGs support a standardised AEA (Association of European Airlines) protocol, it is quite simple to integrate them into the process.
"We plan to introduce the new QBGs at Düsseldorf and since they can be used by any airline which uses the specific protocol, we hope to get more airports to invest in them and offer them to the airlines to use."
Self-boarding at Incheon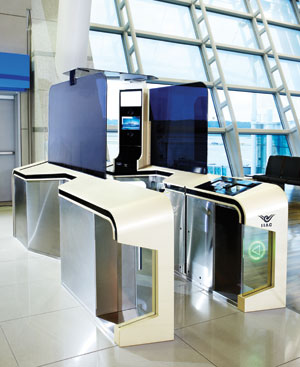 As part of its u-Airport concept, Incheon International Airport Corporation (IIAC) has introduced a number of innovations to South Korea's busiest airport in recent years, including self-boarding gates to heighten the efficiency of the boarding process.
"'Ubiquitous Airport' implies that anyone can access and use airport services regardless of time and place through information technology and biometric technology," explained Soonil Hwang, Manager, u-Airport Team, IIAC.
"In order to make our airport faster, more convenient and newer, we are now adopting the u-Airport project based on the passport and mobile phone. All processes, including self check-in, departure gates, immigration and boarding, will be able to be complete with just a passport and without a boarding pass. In other words, it will be a paperless, stopless airport."
Incheon International Airport has boasted self-boarding capabilities since 2008, and in July last year four brand new gates were implemented, utilising Machine Readable Passport (MRP) and facial recognition biometric technology.
Hwang said: "When passengers present the picture page of their passport to the passport reader in front of the boarding gate, the gate opens for them to enter if their name and passport number is on the passenger list for the flight. We have also introduced the new self-boarding gates adding facial recognition technology to ensure a high level of security." As a direct result, the passenger boarding time has been reduced to just 13 seconds.
In addition to the u-Boarding Gates, the u-Airport Master Plan also outlines proposals to roll-out u-Departure Gates and u-Immigration facilities on a widespread basis in Incheon International Airport Terminal 1 and Concourse A, to introduce CUPPS (Common Use Passenger Processing System) for airlines serving the airport and to unveil the new 'Cyber Terminal', all-in-one web concept. A second passenger terminal, due to be complete before the end of 2016, will also adopt the u-Airport concept, allowing passengers to travel through the facility using just their passport.
Industry standard
While the Lufthansa and IIAC self-boarding gates may differ in terms of the technology applied and the scale of implementation, both Lengemann and Hwang conveyed an almost identical opinion on the future of the self-boarding process.
"We expect self-boarding to become an industry standard and it will be integrated in the airport infrastructure of most airports – at least the major airports," Lengemann explained.
Echoing this view, Hwang added: "We're absolutely sure that self-boarding will become the norm in the airport of the future."