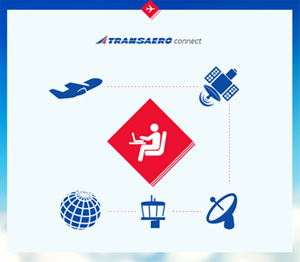 Russian airline Transaero is expanding its in-flight connectivity and mobile communication service, with 30 aircraft to be connected by early 2014. The service, known as Transaero Connect, is currently available on 13 aircraft.
During the winter season, ten Boeing 737-800 aircraft flying from Moscow to a combination of domestic and international destinations will be equipped.
Among these destinations are Sochi, London, Rome, Milan, Frankfurt, Dubai, Vienna, Yerevan, Shymkent, Aktau, Almaty, Tomsk, Krasnoyarsk, and Yekaterinburg. The airline's new Boeing 737NG aircraft are also being equipped.
Transaero has also confirmed that the A380 and B747-8 aircraft that it has on order will be equipped with the eX3 entertainment system from Panasonic Avionics.