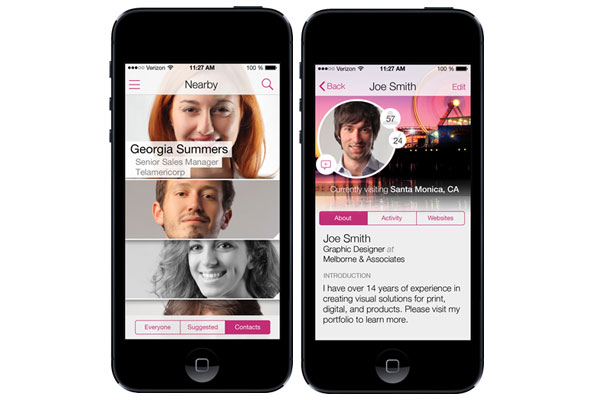 Virgin America is renowned for being one of the most innovative airlines, and in keeping with its admirable mindset of never being afraid to try something new, it will launch the first ever in-flight social network before the end of this month.
The Silicon Valley-based company labels itself the "airline that is reinventing the flying experience", and its latest project alongside Here On Biz and onboard connectivity provider Gogo is certainly another step in this direction.
Passengers can download the Here On Biz app and use it to search for, and connect with, other travellers at the airport, on the flight and at their final destination. Travellers simply need to have downloaded the app and have a LinkedIn profile to make use of the service, which relies on Gogo's in-flight Wi-Fi network.
"Our Virgin America guests tend to be a very entrepreneurial and connected bunch who are loyal to us in no small part because of the business-friendly amenities, including in-flight Wi-Fi available on all our flights," Jennifer Thomas, the airline's Director of Corporate Communications, told FTE. "The partnership with Here On Biz has allowed us to respond to a desire that some of our most frequent travellers had identified to us – specifically in a 2013 survey of our Elevate frequent flyers, the ability to network in-flight with other flyers was a top requested feature by guests who fly with us the most. So, when Here On Biz came to us with their idea to take their app to the skies, we jumped at the opportunity."
As for Here On Biz, they were equally delighted to be able to team up with the airline that they had identified as being the perfect launch partner. The company's CEO, Nick Smoot, told FTE: "When we first thought up Here on Biz we said 'Virgin America would be a perfect use case to show what our app can do'. Now, a year-and-a-half-later, we are partners. The process of getting to know them was fun and I couldn't think of a better brand to be aligned with; smart folks with a vision we love."
The challenges to making social networking in the sky a reality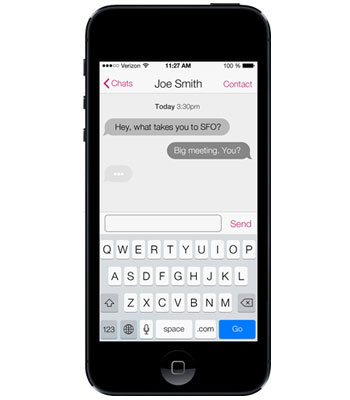 So, is creating a social network 35,000 feet in the air as complex as it sounds? Well, according to Smoot, "this has been no small task". He commented: "The development of it has been about six months in the making. It isn't a major shift in what our platform provides for business professionals on the ground, but recreating the experience in a plane has been interesting. The two largest hurdles so far have been keeping our chat real-time and providing privacy controls that satisfy every different air travellers' scenario."
Keeping passengers connected, engaged, informed and entertained
Given the popularity of social media channels such as Facebook, Twitter and LinkedIn in our everyday lives, perhaps Virgin America has now taken the first step to creating a new craze – social networking in the air. "I believe we have a unique opportunity to show the world how interest-based, location-aware social networks actually make sense and provide real value," Here On Biz's Smoot stated. "I hope not only to see more airlines embrace this concept, but other industries and interest groups as well. Our commitment is to business travellers, but it would be a lie to say we don't see many interest groups where our platform fits with ease."
If in-flight social networking remains unique to Virgin America, though, it won't be a bad thing for the airline, which can use the platform to further highlight how willing it is to embrace innovation for the benefit of the passenger.
Ash ElDifrawi, Chief Commercial Officer, Gogo – which will complete the roll out of its ATG-4 Wi-Fi service across the Virgin America fleet this year – said: "To us, that's what it's all about – creating a great in-flight experience that will help keep passengers connected, engaged, informed and entertained."
He added that he sees this groundbreaking project as "just the start", adding: "Obviously, we think this is a great product and service for in-flight, but we see a huge opportunity for other developers to also leverage our platform to create really cool experiences in-flight."
Leading the way to enhance the passenger experience
While others will no doubt be keeping a close eye on how the Virgin America/Here On Biz/Gogo partnership evolves, and how passengers react, the airline is more than happy to lead the way. "As you might expect, given our home in Silicon Valley and the network of tech-focused cities that we serve, our Virgin America guests expect us to continually innovate to elevate the flying experience," Thomas stated.
Launching social networking in the air is the latest example of how Virgin America is meeting these high expectations, so now it just remains to be seen whether it catches on among passengers. If it does, who knows, maybe sky-high social networking will become a common feature of the future onboard passenger experience.