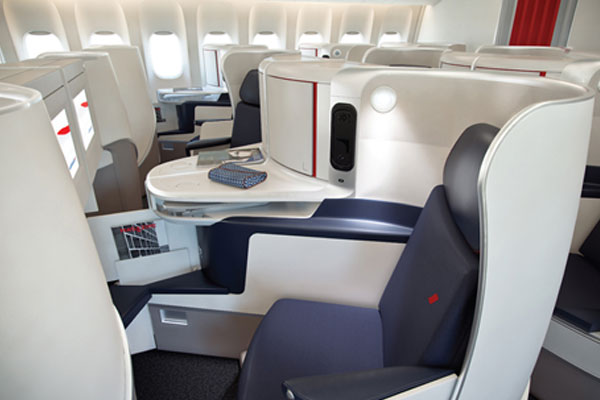 Air France has unveiled its new Business class seat, which will be installed on 44 Boeing 777s between June 2014 and summer 2016. According to the airline, the seat has been designed to offer passengers "cocoon-like comfort" while flying.
The new seat was developed around the concept of '3-F' – full flat, full access and full privacy. Each seat converts into a fully flat bed, offers direct access to the aisle and provides a bubble of privacy.
Specially designed for Air France, the seat was developed in collaboration with Zodiac Aerospace, and its unique design was created by Mark Collins of Design Investment and Brandimage.
In the Business cabin, passengers have access to a 16-inch in-flight entertainment (IFE) screen, which has a newly redesigned interface and is available in 12 languages. In total, more than 1,000 hours of entertainment is available on-demand.
The IFE system can be controlled using a touch-screen handset, while each seat also includes an electrical outlet, USB port and noise reduction headphones.