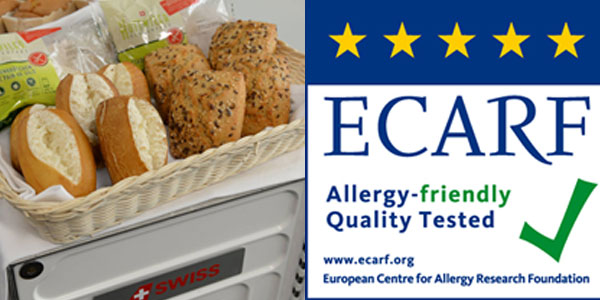 Swiss International Air Lines has teamed up with the European Centre for Allergy Research Foundation (ECARF) to establish how it can improve the travel experience for passengers with allergies. Based on the research, the carrier will start implementing changes both onboard and in its airport lounges.
Lactose- and gluten-free food and beverages will be offered as an option on all Swiss flights, while travellers with other intolerances will be able to request special alternatives to suit their needs. As at present, allergy sufferers will also be able to order special meals across all classes on long-haul flights, and in Business Class on intra-European flights. Alternative food and beverage options will also be offered in all Swiss lounges in Switzerland.
Also, in First and Business Class, passengers will be offered pillows stuffed with synthetic materials as an alternative to the down-filled products, while decorative flowers and air fresheners that may cause nose and throat irritations will be removed from the cabin.
Frank Maier, Head of Product & Services, Swiss International Air Lines, said: "We have seen a steady increase over the past few years in our customers' need for an air travel environment that pays due regard to any allergic conditions. So, we've been working with ECARF to provide a concrete response to these demands and make everyone's air travel experience as pleasant and problem-free as possible."
Torsten Zuberbier, Director of ECARF, explained that Swiss becoming the first airline to meet the ECARF 'allergy-friendly' criteria is a significant milestone, because "over 30% of Europe's population is directly affected by one or more allergies".
Swiss will start implementing the allergy-friendly changes from the start of May 2014.